Rich Moyer Sells Ham Helsing Vampire Hunter as Graphic Novel Series
Cartoonist Rich Moyer has sold his very first graphic novel, out of the blocks, to Emily Easton at Crown Publishing. A comedy vampire story for middle graders, it stars Ham Helsing: Vampire Hunter. The first book in the series is scheduled for summer 2021. His agent Timothy Travaglini at Transatlantic Agency negotiated the deal. No more details save that it's a porcine parody of Bram Stoker's Dracula, one might presume it is an anthropomorphic cartoon pig take on the vampire legend. Steaks through the heart maybe? Garlic bulb in the mouth? Sorry, I'll stop. But we did find the image below when rooting through art examples on his website that may give us an inkling.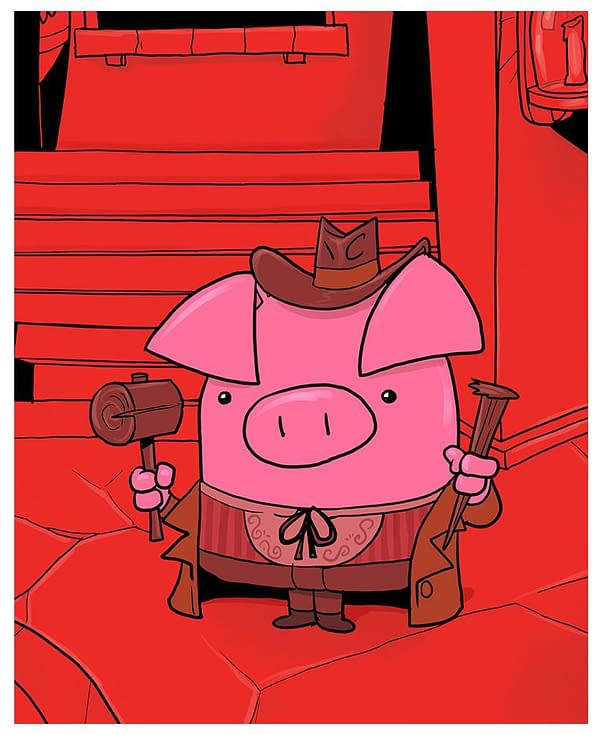 Moyer is a cartoonist who started my career writing and drawing the gag cartoon 'ick'. Moving into animation, he is developing several projects with Curious Pictures, major movie studio, creating animated shorts and working in advertising. He's also been creating the webcomic Be More Funny. He describes himself on his own website, thus.
"My name is Rich Moyer. I'm an award-winning independent animator. I specialize in "sticky" advertising that blurs the lines between entertainment and advertising. I started my career as a syndicated single-panel cartoonist with Tribune Media Services in Chicago. After 45 newspapers and a 5 year run, I traded newsprint for the digital world of entertainment and advertising. I now combine my 2-D cartooning skills with motion graphics and 3D. As a studio we create explainer videos, humorous shorts, TV advertising and mixed media to create compelling videos you can't look away from. My skills are being a creative who has the power to write, conceptualize and bring stories to life. I work with several collaborators to make sure I provide a full service shop, at a price that can work for both independent entrepreneurs and ad agency type budgets."
Working on a number of kids books, he's also now he's sold his one graphic novel series And while have only the briefest glimpses of the Ham Helsing: Vampire Hunter comic book above, Moyer's Pinterest interests reveal a trail, from colour schemes he might use for the comic, other animal cartoon characters in official roles something called Sam Helsing that may provide clues, and more besides.