Richard K. Morgan on Writing Altered Carbon Graphic Novels For Dynamite
Altered Carbon seemed to do quite well Netflix. The TV show based on the sci-fi stories of Richard K. Morgan. And now a series of original graphic novels to be published by Dynamite. And publishing just before season two drops…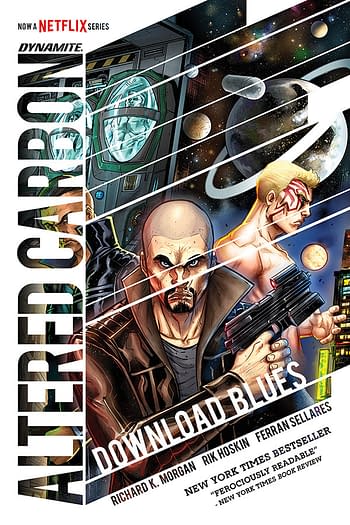 Altered Carbon: Download Blues, written by Richard K. Morgan, Rik Hoskin and drawn by Ferran Sellares is the first Altered Carbon graphic novel and his first major new story in over a decade.
In the world of Altered Carbon, technology has advanced to allow human consciousness to be stored digitally. Following death or for other reasons, people can be transferred into new bodies, nicknamed "sleeves." This has drastically overhauled the criminal justice system, as well as unlocking interstellar travel. Series protagonist Takeshi Kovacs is a former soldier turned PI, plenty experienced with sleeves himself.
The original Altered Carbon novel was released in 2002, winning the Philip K. Dick Award. Two sequel novels followed, Broken Angels and Woken Furies. In 2018 the novel was adapted for a Netflix TV series of the same name starring Joel Kinnaman. A second season will release, with Anthony Mackie taking on the Kovacs role as a new sleeve.
Morgan already written two Black Widow comic bok series and wrote the tie-in comic series, to his video game Crysis 2.
"When you go to Dynamite for a sequential art incarnation of your much loved anti-hero, you know you're not going to get short-changed. These, after all, are the guys who took on The Boys without blinking. No compromise, no punches pulled," said Richard K. Morgan. "I couldn't wish for a happier, more hard-boiled home in which to have Takeshi Kovacs make his comic book debut."

"What a wonderful extension of this incredible world and what a delight to have the creator of Kovacs himself – Richard Morgan – overseeing the entirety of our first graphic novel. Rik and Ferran have done a masterful job bringing the pages to life and pushing Kovacs into a bold new direction," said Executive Editor Joseph Rybandt.

"The mythos Richard K. Morgan has created is so rich, it's easy to see why the novels are so successful and how it has become a huge hit on Netflix. We're honored that Richard is allowing us to work with him to create new stories to continue to grow this universe.Dynamite has experienced great success with retailers and fans creating original stories of popular prose series in the graphic novel format, striving to offer something wholly original for hardcore fans," said Nick Barrucci, Dynamite Publisher/CEO. "Altered Carbon is one of the true masterpieces of sci-fi and we can't wait for fans to check out this story!"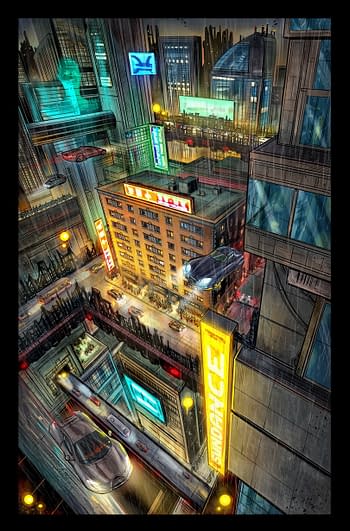 Here's the solicitation:
ALTERED CARBON DOWNLOAD BLUES HC
(W) Richard K. Morgan, Rik Hoskin (A/CA) Ferran Sellares
In the distant future, the human body is a temporary and interchangeable commodity – if you can pay. For the interstellar elite, bodies are swapped out and reused without a second thought. You never grow old; you never die. However, some bodies are more temporary than others…
Takeshi Kovacs was once a member of the Envoy Corps, stormtroopers for the Interstellar Earth Protectorate, ultra-lethal adepts in switching bodies across the stars. While he served, he was known by a variety of names – Mamba Lev, One Hand Rending, the Icepick–all testament to his capacity for rapid response and extreme violence in whatever flesh he wore. Now he's out of the service and trying to live a different life. But the Protectorate hasn't changed its spots, no matter what world Kovacs drifts to, and with that old combat rage still burning deep inside him, will he ever really be able to walk away?
Created by Richard K. Morgan, Altered Carbon was previously adapted as a Netflix television series. This original graphic novel, written by Rik Hoskin (Brandon Sanderson's White Sand/Pierce Brown's Red Rising, expands upon the Altered Carbon universe.In Shops: May 15, 2019
SRP: $24.99