Ripping Apart the Last Known Copy of a 50-Year-Old Comic in Order to Save It…
Nat Gertler of About Comics writes,
Last week, I ripped apart the last known copy of a cartoon book more than half a century old.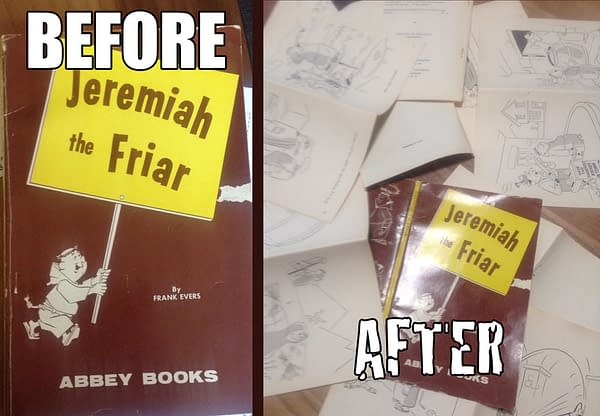 Jeremiah the Friar was originally published in 1962 by Abbey Books, a publisher that for a decade specialized in original books of Catholic-themed gag cartoons. This book was the second they had published by Frank Evers, who is better known for his sports and editorial cartoons. (He would go on to win a National Cartoonists Society's award for editorial cartooning for his work at the New York Daily News.)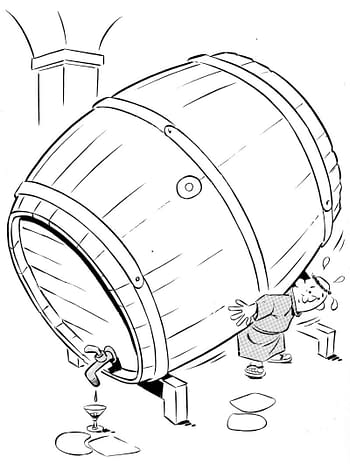 I had stumbled across this book on a listing on a used book site, where the title had been misspelt. As part of my About Comics publishing line, I've been rereleasing mid-twentieth century Catholic cartoon books. This has included reprinting a number of Abbey Books titles, but I hadn't heard of this one. This book of cartoons about a cheerful but goofy monk appears to have been the last book Abbey Books published, coming years after their previous book. I tried to research Jeremiah. The only listing that Google had for the title was in an advertisement that the publisher had run the following year. WorldCat, an index to the contents of over 10,000 libraries, showed that none of them have a copy. Amazon.com, which keeps a listing for every used book sold through their marketplace, did not have a listing for the book. I checked Lone Star Comics and Mile High Comics, which similarly keep listings for books they have carried in the past; neither has any record of this title. No one has ever reviewed it or listed it in their collection for GoodReads. So I bought that copy from the used book site.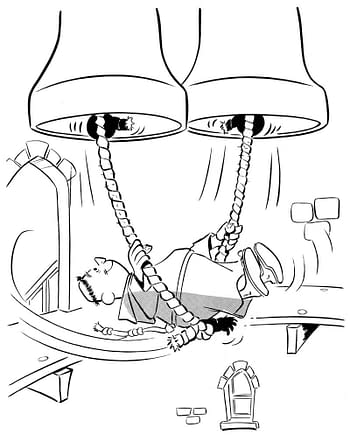 I had to tear it apart in order to save it. I wanted to reprint this book, to make it available so that others could enjoy it. Sometimes I can reprint a book from a printed copy without major damage to the book, other times I just have to crack the book's spine enough to get it flat on the scanner, but in this case, that wasn't going to work. The artwork went too far into the inside gutters of the book. The only way to get the art flat to scan it would be to tear the book apart.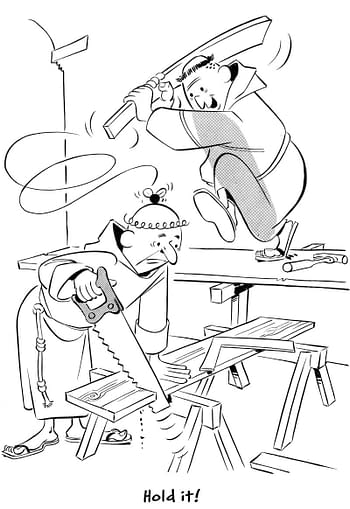 This is not the first time that I've destroyed books to reprint them. If you look at the work that I did for Fantagraphics on the last volume of Complete Peanuts, for example, I had to rip apart a number of books to scan them correctly… but then, as in every other case, there were other complete used copies out there. (In fact with the Peanuts stuff, I owned multiple copies myself.) Tearing this apart felt like I was destroying history, but I had to destroy it in order to save it. If I didn't do this, no one else might ever see these cartoons again. There may be other copies in existence, sitting on someone's shelf somewhere, but there is no way that I could find for any cartooning fan or academic to locate one if they wanted it. It's always painful ripping up a book, because I like books. But there was extra pain in destroying this, knowing that I might have ruined a unique object.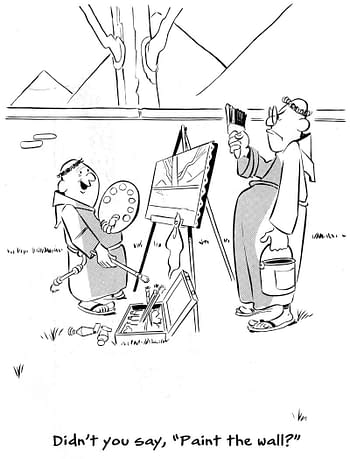 I tore the paperback's worn cover off, gently as I could, trying to keep it in one piece. I pulled out staples that held the book together. Some sections that were glued could be left glued; with the staples and cover gone, they could be opened wide enough to scan. But most of the book is now separate pages of paper, each with four pages of the original book.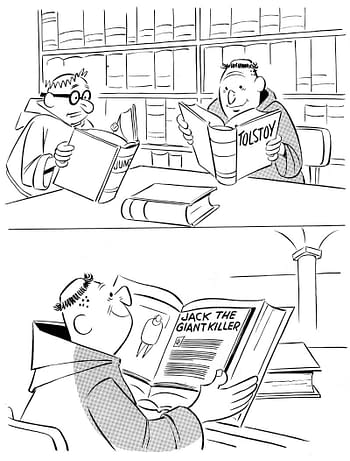 I scanned the book, cleaned it up as best as I could from years of wear (although the inside was not in bad shape; I doubt this copy had been read much, despite the cover damage.) And less than a week later, taking advantage of the modern convenience of print-on-demand technology, the About Comics edition of this book is available. It can be ordered for immediate shipping from Amazon.com for a fraction of what that one used copy cost me (and for Kindle for a fraction of what the print edition costs.) So everyone else who wants it gets a book, and I get a pile of unbound papers and the satisfaction of knowing that I saved this small piece of history.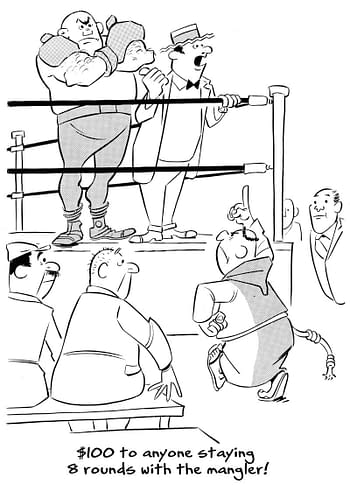 Nat Gertler is the publisher of About Comics