Risso, Albuquerque, Templesmith And Bengal Lead An International Collection Of Contributors To Hugo Broyler Graphic Novel Kickstarter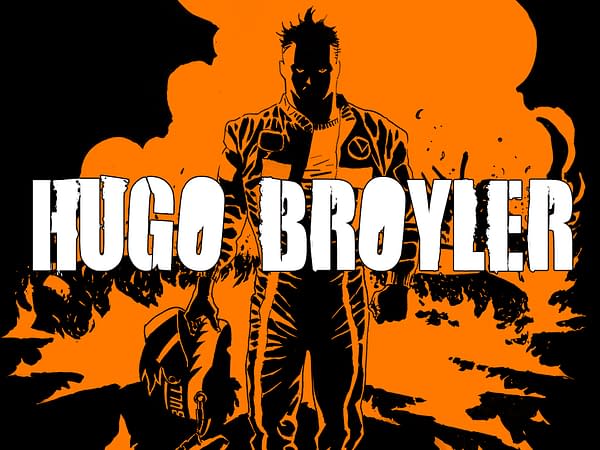 Written by Mike Kennedy
Cars, guns, and money — a recipe for one hell of a grindhouse ride. Mix in high-speed levitation racing, corporate espionage, and cybernetic implant hacking, and that ride shifts into sixth gear. Then boost that speed even further with an injection of high-octane comic book talent from around the world, and you're looking at a rocket-ride into the future.

That's pretty much what you can expect from Hugo Broyler, a high-speed, sci-fi, grindhouse graphic novel we're Kickstarting through Neurobellum Productions right now through August 14th. Together with illustrator Francisco Paronzini (Stormwatch PHD, The Immortal Iron Fist, Star Wars Tales), we've created a fast-paced, future-noir thriller, where smart cars roam the streets and hacking is indistinguishable from possession and insanity. The action spills off the breakneck tracks of Static Velocity Levitation Racing, where international mega-corporations sponsor fearless racing teams who risk life and limb for fame and fortune.
If Mad Max and Speed Racer had a baby, this is what he'd look like.

Packed full of high-speed action and psychological intrigue, the story is brought to life by a killer lineup of top comic industry artists contributing pieces from around the world. Hailing from Argentina, artist Paronzini has rounded up an immense lineup of top-shelf contributors from South America, including cover art by Eduardo Risso (100 Bullets), and pieces by Rafael Alberqueque (American Vampire, Blue Beetle), Leandro Fernandez (Punisher, Hulk, The Names), Marcelo Frusin (Hellblazer, Loveless), German Peralta (Moon Knight, Axis: Carnage), Max Fiumara (BPRD, Abe Sapien), and Renato Guedes (Wolverine, Superman). We then broadened the global network further to friends and peers in France, Italy, Brazil, and the US, with pieces being contributed by fan-favorites such as Bengal (Batgirl, Naja), Ben Templesmith (30 Days of Night, Wormwood, Squidder), Zach Howard (Wild Blue Yonder, The Cape), Djet (Poet Anderson), Matteo De Longis (VOX), Francisco Ruiz Velasco (Pacific Rim, Hellboy), Nathan Fox (DMZ, Haunt, Blue Estate), Ben Caldwell (Prez, Dare Detectives), Caio Oliveira (Super-Ego, No More Heroes), Daniel Warren Johnson (Ghost Fleet, Space Mullet), and Bryndon Everett (The World of Cassyno).

Neurobellum seeks to raise funds to colorize, re-letter, and print the completed 104page graphic novel, which will include an additional 24 pages of supplemental world-building story material illustrated by the collection of guest contributors. This extra content will further flesh out the intricate world of cyber-crime, psychological manipulation, and levitation racing revealed in the main storyline. The complete graphic novel will feature a stylized mixture of half-tone and full-color art, exuding an air of retro 70s and 80s nostalgia.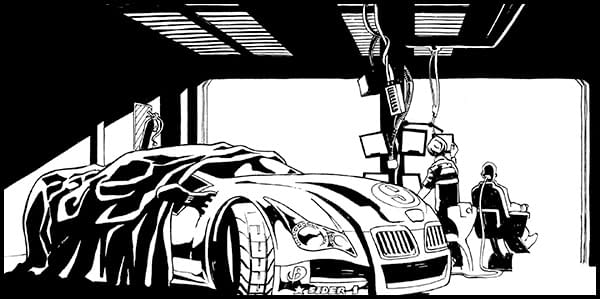 The campaign not only offers copies of the book itself in soft- or hard-cover, but also offers a mix of 70s/80s style paraphernalia that evokes a retro grindhouse flavor, but with a future-sci-fi twist, like modern collectables from an alternate future.

This is Neurobellum's third Kickstarted project, following the success of both Super-Ego by Caio Oliveira and The World Of Cassyno with artist Bengal. And as both of those previous projects found great support from Bleeding Cool readers, they are again offering an exclusive reward to BC readers who back at a physical reward tier of $21 or above. Any backer who follows their pledge with a message through Kickstarter with the words "BLEEDING COOL" in the subject or body will receive an exclusive set of six retro-style trading cards featuring pieces of artwork from six of the star-studded backmatter contributors. These cards will be extremely rare, and only printed in sufficient quantity for BC backer fulfillment. And if that's not enough of a draw, one Bleeding Cool backer will be selected at random for the opportunity to appear in the world-building backmatter as a fictional corporate sponsor, illustrated by one of the artists.
Check out Hugo Broyler today, and help us reach the finish line in one piece!