New Mutants #98 by Rob Liefeld and Fabian Nicieza was the first appearance of Deadpool. It currently sells for hundreds, even thousands of dollars. And Rob Liefeld is happy to charge to sign copies.
But with Major X #1, his new series out on Wednesday from Marvel Comics, he goes a lot further. He recreates New Mutants #98.
Remember that issue of Deadpool by Joe Kelly and Ed McGuinness that everyone really raves about? That has Deadpool go back in time, knock out Spider-Man and take his place in a pre-existing story by Stan Lee and John Romita.
Well, this feels like Rob wanted a bit of that. But doing some dimensional and time-travel crossing, with some new versions of familiar characters jumping in to disrupt the timeline.
Let's do a little compare and contrast…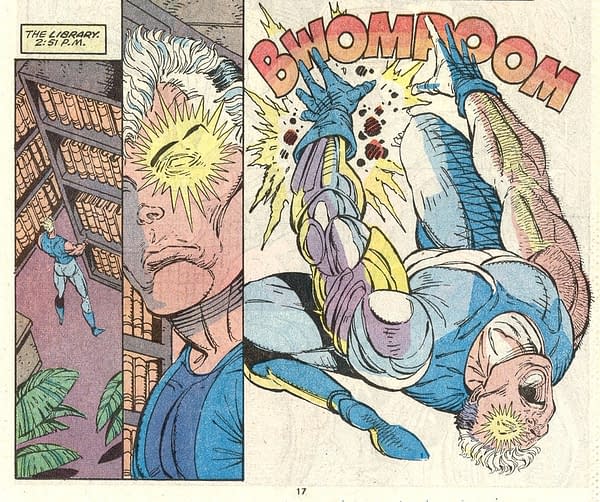 It starts with an explosion and a sound effect, as Major X has entered the scene.

And the first appearance of Deadpool.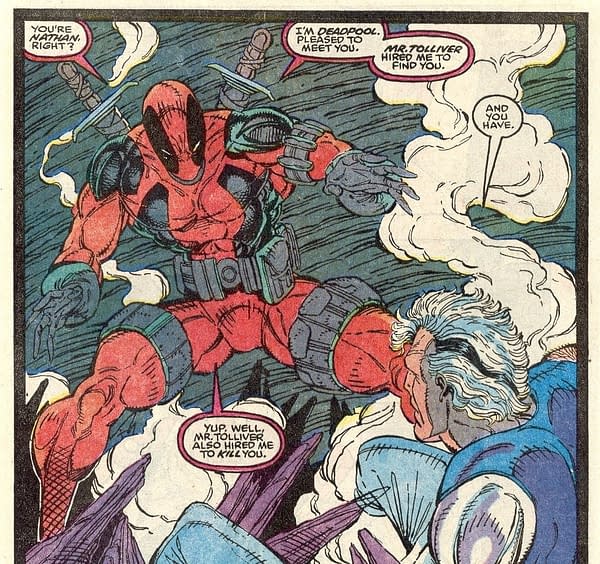 Now replaced with his transdimensional version..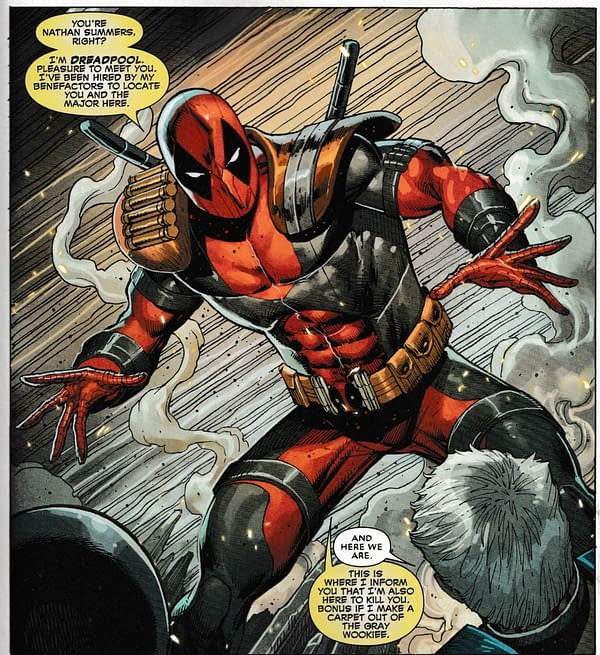 …welcome Dreadpool. Like Deadpool but with Judge Dredd shoulder pads.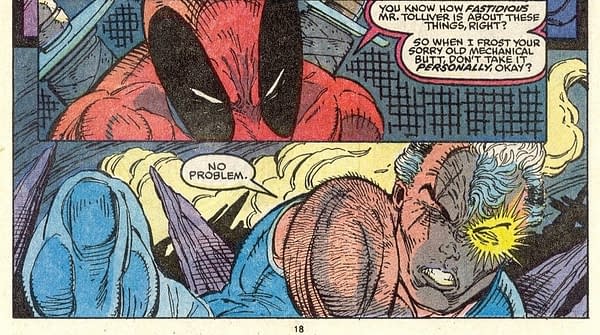 And he keeps the layout going through the page.

And even goes meta with it, the 'little familiar'… has Rob been taking notes from Mr Morrison?
And yes, the tall panel did feel very familiar… but nothing like the dialogue that was to follow. As Cannonball burst onto the scene again.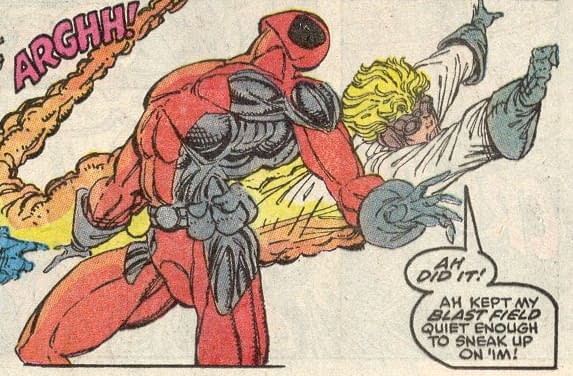 And treated Dreadpool just like Deadpool – say, does Fabian Nicieza get any royalties for this?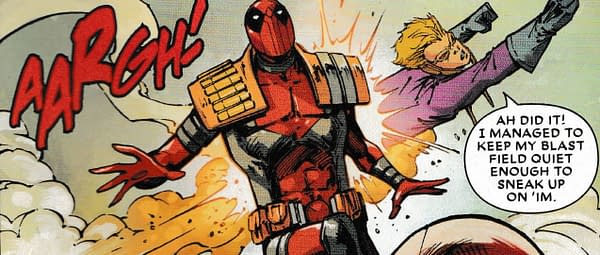 It is a great way to see how Rob Liefeld approaches things as a fifty year-old man opposed to a twenty-year-old. Hair less permy, legs akimbo that could actually not split a man in half, and even perspective.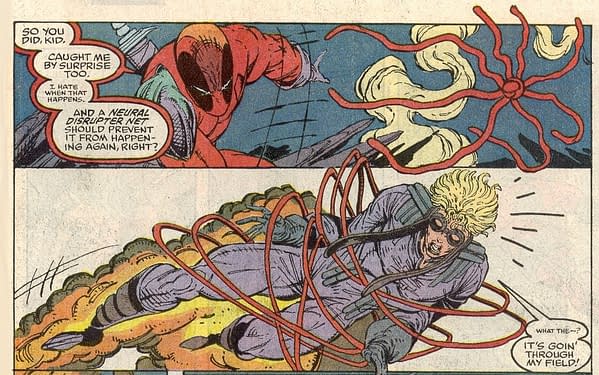 And Deadpool and Dreadpool have similar ways to dealing with such surprises as well.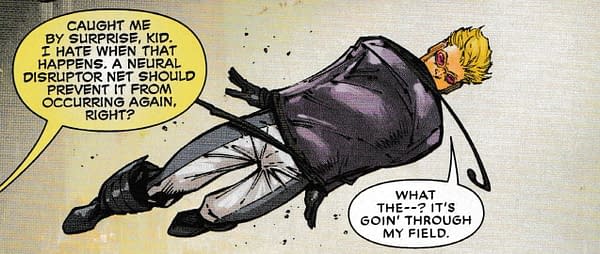 And Rob even recasts an action or two from Cable..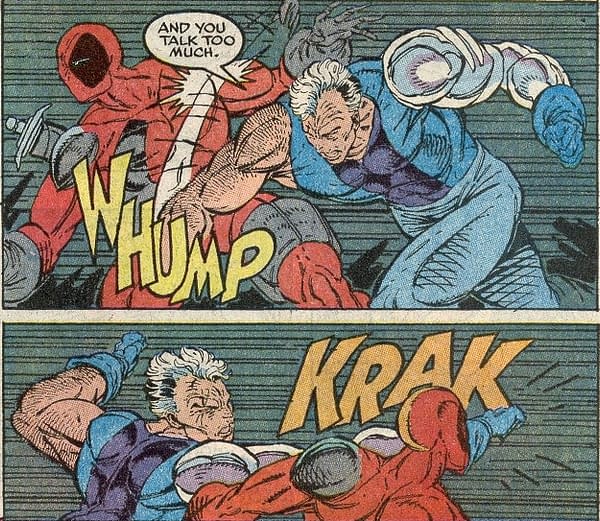 …to the not-actually Domino…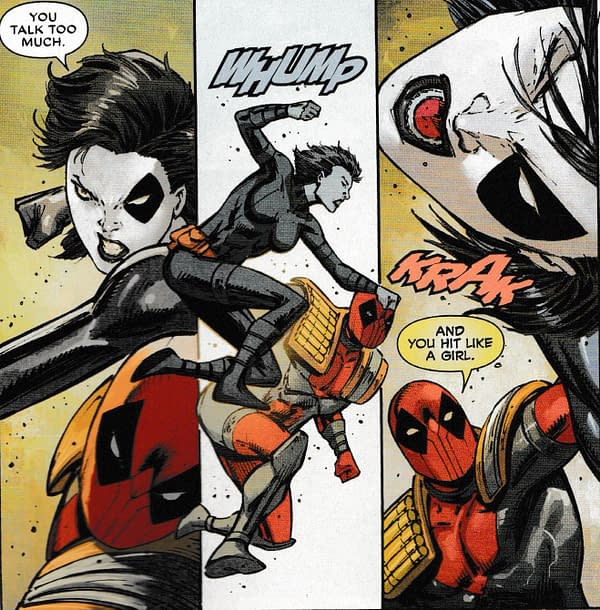 Oh, Dreadpool, did you have to go there? At least the sound effects remain….
There's lots more to be said about Major X– and we will – but this felt a very fun way to start. And kudos to Rob for doing something a little different. You know, by doing something the same…
Who will be the first Dreadpool cosplayer?
MAJOR X #1 (OF 6)
(W) Rob Liefeld (A/CA) Rob Liefeld
WHO IS MAJOR X?
• A mysterious new player enters the Marvel Universe and the X-Men are in his crosshairs!
• What is his mission and how can the man known as Cable hope to stop him?
• Writer/artist Rob Liefeld introduces a new wrinkle in the saga of Marvel's Mightiest Mutants!
• The Mystery of MAJOR X continues in issue #2 as he forges a union with Cable – and races against time to save mutantkind from certain devastation!
Rated T+In Shops: Apr 03, 2019
SRP: $4.99
Enjoyed this article? Share it!