Last week Dynamite published Project Superpowers #0 kicking off the new series, for 10 cents an issue, written by Rob Williams and drawn by Sergio Davila. Williams looks through his process in this issue, with the first few pages for illustration.
PROJECT SUPERPOWERS #0
(W) Rob Williams (A) Sergio Davila (CA) Francesco Mattina
Superpowers #0: Project Superpowers is Back! Written by Rob (Suicide Squad) Williams, illustrated by Sergio (Swords of Sorrow, Superman) Davila, and featuring an all-star roster of cover artists, this introductory priced issue is the perfect starting point for the most ambitious superhero story of 2018.

An all-new threat faces the Earth, while the team faces turmoil from within and must overcome all obstacles to prove their worth and value in a world that desperately needs its heroes. The Death Defying Devil, Samson, Black Terror, Masquerade, Green Lama, Scarab and more are all here as the adventure begins again.

Featuring an introductory story leading right into the all-new #1 next month, Project Superpowers #0 is action-packed and introductory priced. Includes bonus materials and 16 pages of original story. In Shops: Jul 04, 2018 SRP: $0.10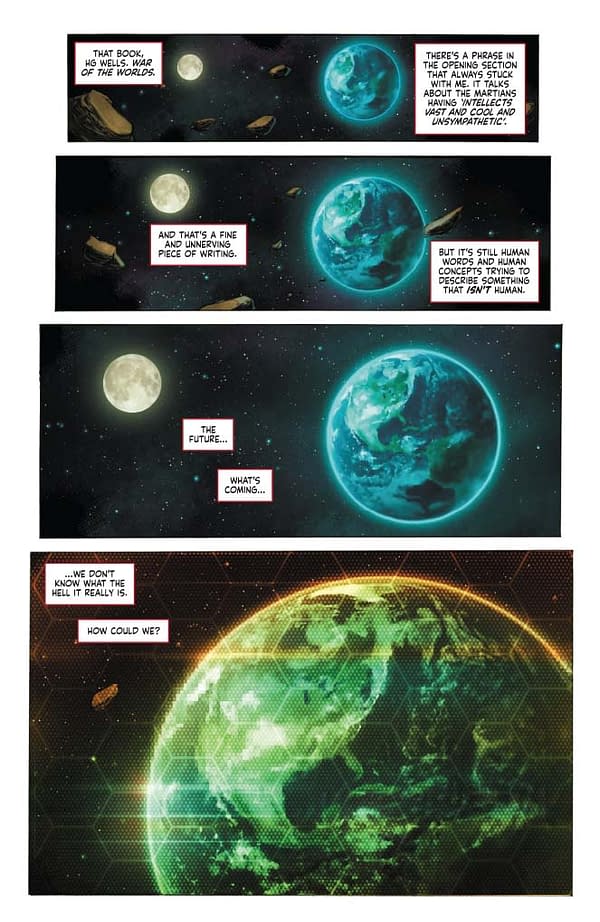 This is all about that line from War of the Worlds, "Intellects vast and cool and unsympathetic." Such a good, creepy line. So I'm piggy-backing on that and trying to build some tension straight away. Something's looking at our world and it's hungry, and it's coming. Immediate danger and tension.
Page 2:
A splash page that immediately says what this is: "Superpowers". A superhero book. A cape. Gravity being defied.
Page 3: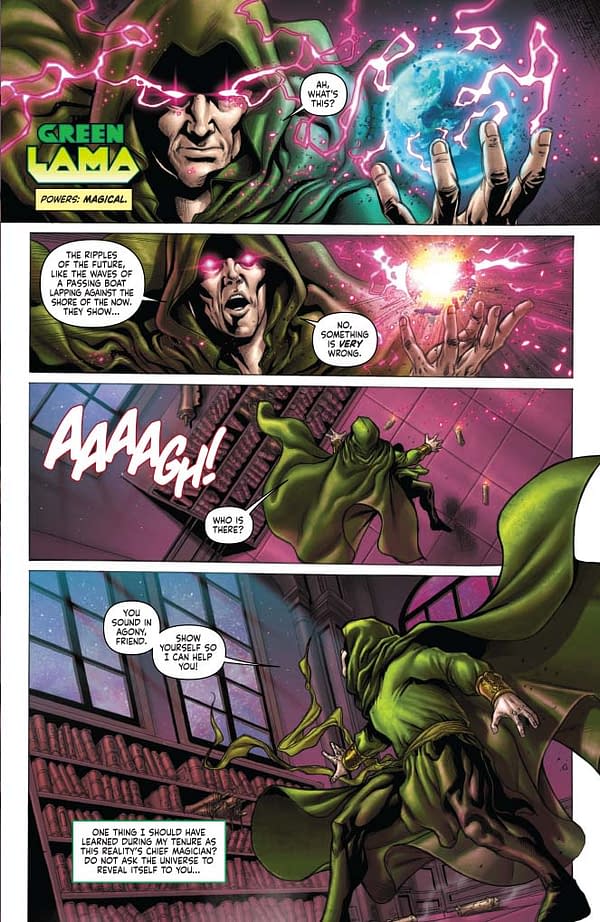 Me trying to shorthand introduce these characters to new readers with as little exposition as possible. So identifiers saying who they are and what their powers are — a quick, tight way of doing that.
Page 4: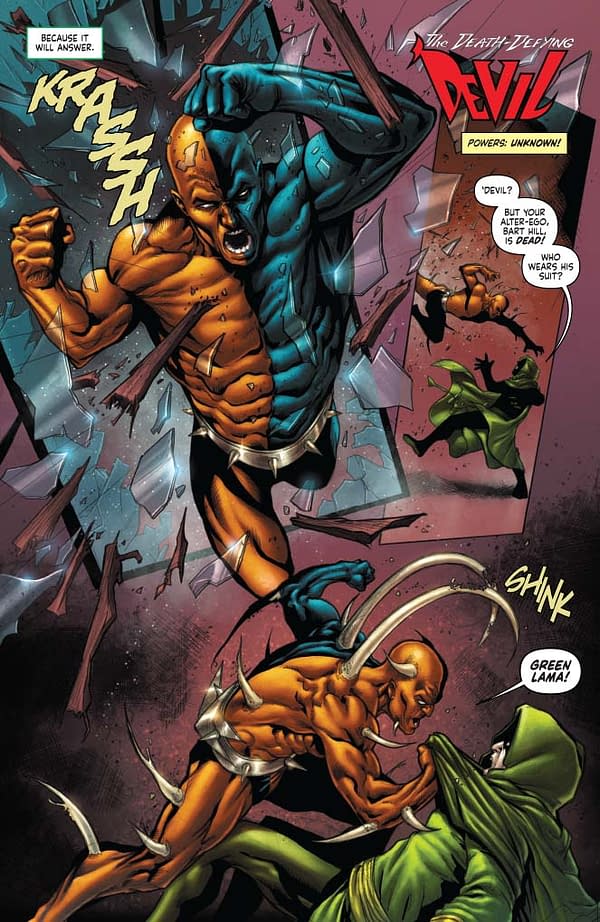 Some clunky exposition here with the "Bart Hill? But your alter-ego is dead." But sometimes needs must. There's way more graceful ways of doing that dialogue, but we don't have a lot of space here, with 16 pages. So: mea culpa. And I wanted the Death-Defying Devil to be a threat here, and to have the space for some cool visuals. We've not seen his suit do this before. And if his alter-ego is dead, who is this?
Page 5:
I wanted this to be… freaky. Which Sergio's done very well. And it's also thematic. This story is about finding heart and substance in these characters, so, there's no one inside the Devil's suit anymore… no substance. That's our series arc — find substance in these characters.
Page 6:
Back to the past. In this specially priced 16-page issue zero, I wanted to set up the new series and storyline so it's not just an info dump. There's got to be a dramatic "want" here. But also I needed to bring new readers up to date with who these characters are. Flashbacks are kind of dramatically dead, so a handy spot of trippy time-travel takes our characters back to where the Project Superpowers cast came from: the 1940s and World War II.
Page 7:
Just an awesome superhero image by Sergio.
Page 8:
Exposition. Backstory. But it looks great, thanks to Sergio. Still, from the writer's POV, you feel guilty writing this stuff and the creeping voice tells you, "Yes, this is necessary, but get on with the narrative ASAP." Stories are like sharks. They have to move forward to live. This is looking backwards. So, necessary evil, but move on!
Page 9:
Thematic. "We were the past." These characters came from the 40s. They're golden age. So, one of the main thematic tethers of this series is, do these characters matter in 2018? Back in WW2 there was a binary war to fight. Good guys vs bad guys. Now, the world is way more disparate. One of the things our new series is doing is giving these characters a definite bad guy to fight against. Good vs evil. That's when superheroes work.
Page 10:
And now we time travel to the future. The Death-Devil is blatantly the ghost of Christmas past/present/future in this story. if you're going to steal from people, steal from Dickens and Wells.
Page 11:
I like that Green Lama of the future can see "our" Green Lama here. It's kind of dreamlike and creepy, hopefully.
Page 12:
More Sergio splash page awesomeness. A giant destructive Death-Defying Devil. Visually, he struck me as the most interesting of the Project Superpowers cast. Hence, this.
Page 13:
Panel three here's an interesting choice by Sergio. I'd have put the camera with our protagonist down below, so we could see the massive foot coming down to crush "us". But hey ho. One thing that's interesting about the comics process is every artist you work with takes your script and makes different choices with it. It's always so subjective.
Page 14:
Tension build "It… is… coming…" What? You'll need to buy the main series to find out. This issue zero has to work as a tease.
Page 15:
I like the tragedy of the Devil here. He's being used for evil. And he hates that. Suddenly there's some pathos there we can play with later. Makes readers care for these characters, hopefully.
Page 16:
The Spirit of the American Flag — that's such a cool image. And it's searching for a new host — searching for substance. Well, there's all sorts of allegory there, eh?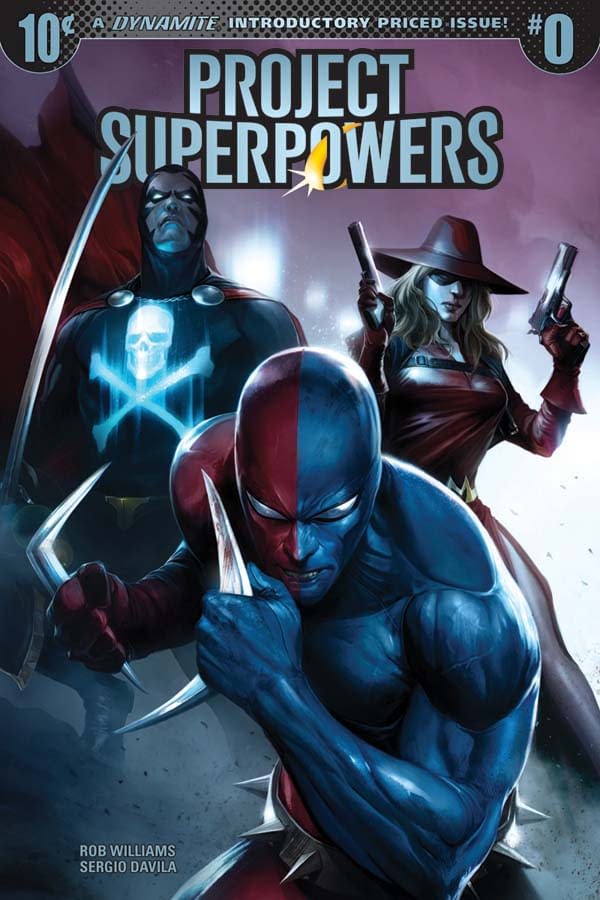 Enjoyed this article? Share it!