A Writer's Commentary: Rob Williams on Project Superpowers #6, on sale from Dynamite, now.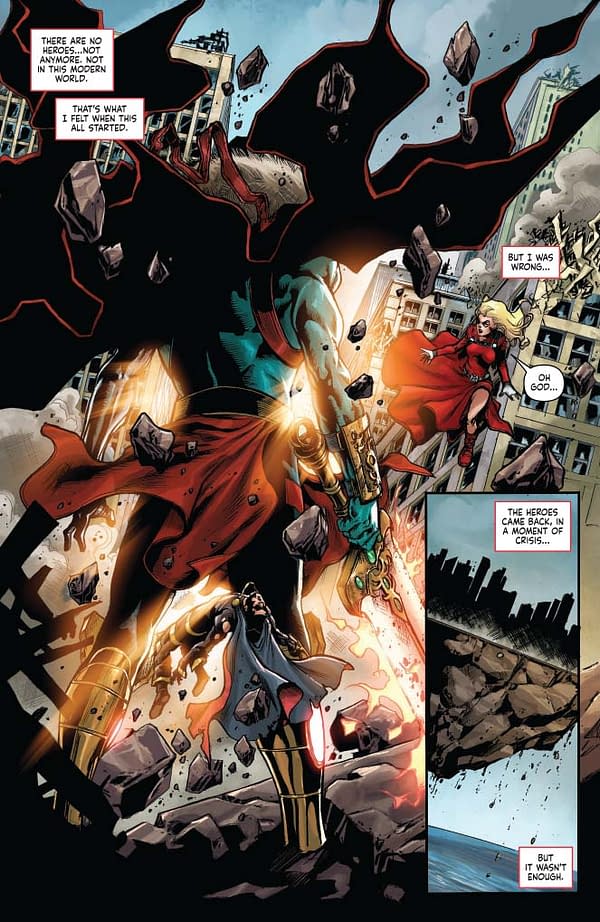 PG 1 – A spot of symmetry. This was always the theme of the series. Old Golden Age heroes. Do they have a place in a world where the bad guys aren't as obvious as they were in World War 2? Back then, things were a lot more black and white. Do heroes even exist in this modern world?
Hence my using a villain who is very broad and very obviously a villain — and one powerful enough to rip the island of Manhattan out of the Earth and raise it up to the heavens.
So immediately we have stakes, theme and our heroes being very much the underdogs.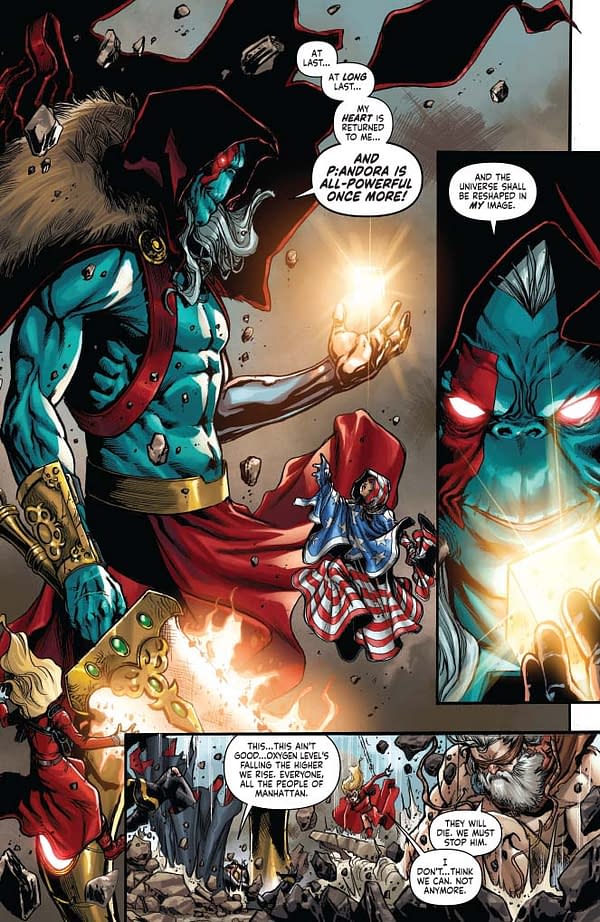 PG2 – P:Andora has been searching for his 'heart' across the universe and has finally found it here. This is 'Pandora's Box'. The alien despot has a hole in his chest and if he puts his 'heart' back in there, the whole of reality is done for. Stakes couldn't be higher… All beautifully drawn by Sergio Davilla and colored by Ulises Arreola.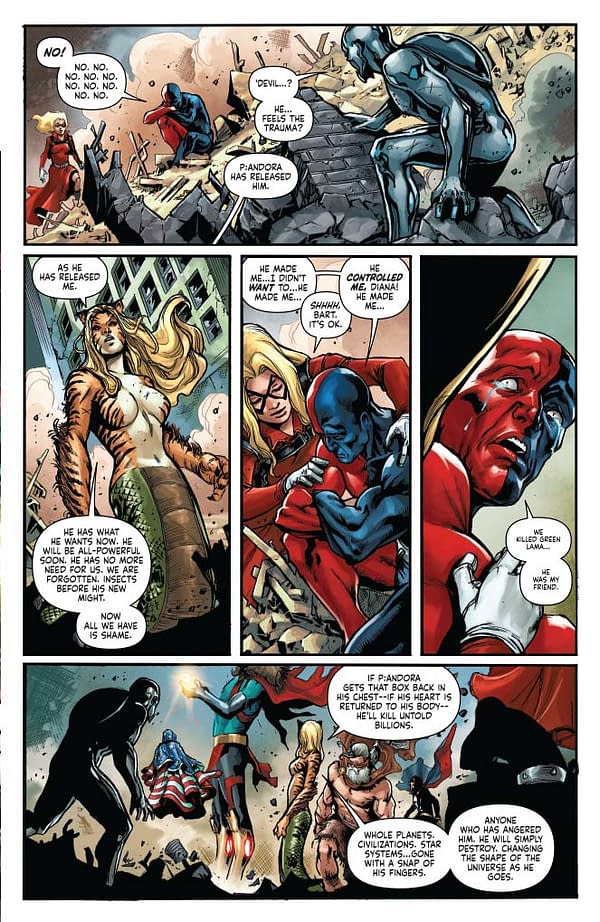 PG3 – The Death-Defying Devil has been controlled by P:andora throughout. Now, he has been released as P:Andora no longer needs him. And the guilt and shame of what he's done — including killing his friend, The Green Lama — comes back to haunt him. Yeah, we're meant to feel sorry for the Devil here. And he's not a man any more. He's a shape-shifter. Made up of tiny nanobots. We've established that throughout the series.
PG5 – I am weirdly pleased with P:Andora taunting the heroes and asking if they have run away, crying in search of their 'maternal teat'? He's the big bully. The biggest bully. Pushing some pretty core buttons here, hopefully. We all want to see the bully get his.
PG6 – 'Onward to Imbecile's Head Removal!' – battle cries for our times.
PG8 – Do like how Sergio draws P:Andora with such size and power. It does make how formidable he is shine through visually. And, again – Die Child! Not a lot of subtlety to his villainous nature. This is big broad superheroics. Old school in intent in many ways.
PG9 – It's one thing on film to have an American flag acting with its own intelligence, grabbing swords out of the air and throwing them back, it's another to convey that effectively on the comics page. Sergio & Co. do a great job with the sense of movement here.
PGS 10-11 – Awesome DPS here. Real power in the shot of P:Andora ripping apart the American flag. That's been such a big weapon for the heroes. Structurally I wanted to do that here, at the midway point of the issue. We're heading into the 'All is lost' section at the end of the issue's second act, before we twist into the third. Writing a 20-page comic the act structures are set out pretty easily. Act 1 – PGS 1-5, Act 2 6-10 etc. Many story structures have a 'moment/beat of death' before we go into the final act. The reader, the audience should ideally go 'oh no!' at this point.
PGS 12-13 – And P:Andora gets what he wants. His heart is returned. Now we're in DEEP you-know-what. Again, this is the 'beat of death' for our heroes.
PG 14 – Twist! It wasn't P:Andora's heart at all. It was the shape-shifting Death-Defying Devil who, once inside P:Andora's chest, turns himself very sharp and spiky and hurts P:Andora badly. A beat of HOPE!
PG15 – That immediately is dashed and turned to tragedy as P;Andora disintegrates The Devil. Sacrifice! Anger. All these things are pretty big powerful story beats that we're hopefully hitting here. Now we should REALLY want this guy to get his come uppance. You're trying to pull the reader this way and that.
PG16 – Act twist into hope. Final five pages now, so this is our ending. Every person in Manhattan is now covered by the American flag. Whatever their sex or race or whatever. All stand together as one. A big beat of noble heroism and positivity. And a great visual.
PG 17 – P:Andora is imprisoned within his own box. If you want something that badly, you don't control it. It controls you.
PGS 18-19 – And our final sequence ties back into the issue #0 future vision that Green Lama had, of an alien spaceship hovering over New York and being used as Project Superpowers' new base. Hope for the future. A team comes together and…
PG20 – A final tease for what might follow.
Enjoyed this article? Share it!