Robbie Does Dubai – The Middle East Film and Comic Convention 2013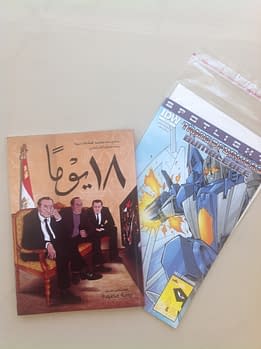 By Rob Cave
While many comics pros and fans from around the world were flocking to New York for the Museum of Comic and Cartoon Art festival (MoCCA), there was another convention happening two continents away in Dubai in the UAE. This one might not have had as many guests from the comics industry, but for fans in this part of the world it was certainly awaited just as eagerly.
The first Middle East Film and Comic Convention (MEFCC) took place in April 2012. I reported on it for Bleeding Cool here. Its attendance of over 15,000 was considered a great success, and ecstatic fans were still sitting by the stage at the end of the show, not wanting the event to ever end, even as crews arrived to put everything away. A year on, I came back, with the keen eye and self-interest of a comics fan whom lives in the UAE, a land without a single comic shop, to see how the show had progressed. My initial impression as I took my first look around the venue was that the con had cemented its existence as an annual event, rather than a one-off.
It even had its own con-exclusive comic – IDW printed a special MEFCC cover for its Transformers Spotlight: Bumblebee – collectors, start scouring eBay for your copy now.
But before I go on, I should probably pause to describe Dubai a bit for those who have never set foot in this particular piece of the Middle East. I suppose you could think of it as being a bit like LA, but more futuristic; a sprawling city of skyscrapers that look like they were ripped from the pages of a comic book, spread out over a wide area and served by a giant seven-lane highway, but with more desert, fewer mountains and less of film industry than the city of angels. OK, Dubai and LA aren't really that much alike, but aside from Dubai's lack of a comprehensive weekly comic deliveries, most consumer products from around the world can be found here.
Just as Dubai is not LA, MEFCC is actually very different to your average US or European comic convention. Firstly, it is far more diverse, both in terms of its attendees' nationalities and what it covers. Here, Emirati nationals rub shoulders expatriates from across the globe, and the local national dress of kanduras and abayas mixes with cosplay costumes that run the gamut of film, TV, comics and videogames.
The MEFCC caters for much broader tastes than just those that like comics and film, boasting a gaming tent (for both videogamers and table-top RPGing), educational workshops on comics, film and animation, a tent to supply all your cosplayers costume needs and and even a stall from Samsung promoting their latest phones and tablet computers. Well, this is the high-tech Middle East.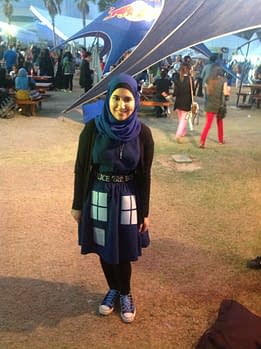 Just as last year, the 2013 convention was held at The Dubai Marina Club, an actual marina with moorings for lots of very expensive-looking boats. Its seafront location allows MEFCC to really take advantage of the warm weather, as does its open-air stage for bands and cosplay competitions and various covered seating areas. The irrepressible Max Landis, son for John and the writer behind superhero-themed film Chronicle, was frequently on the stage to keep everyone entertained between the various other events and attraction. Not many cons can boast roping in a successful screenwriter to serve as an Emcee, and the resultant feel of the event is that it is less of a convention, and more of some kind of outdoor festival. Film and TV actors were the main draw for many, including the local media. Stars on hand included Warwick Davis, Alan Tydk, Sean Astin and Manu Bennett, who plays Deathstroke in Arrow, the TV series based on DC Comics Green Arrow. Voice artists Yuri Loenthal and Tara Platt also capturing a fair amount of attention. For fans who like comics first and foremost there were artists Tim Seeley, Jock, Rufus Dayglo, James O'Barr, and plenty of publishers. Boom Studios, Udon and Renee Witterstaetter's Little Eva Ink, joined returning guests from IDW and Top Cow.
For the pros who were coming to Dubai for the first time, many were surprised to discover their works were already available in the UAE through Kinokuniya, the bookshop in Dubai Mall whose graphic novel department is better stocked than most US-based comic stores. Their task was more to connect with readers and potential readers, which was fairly easy, as the demand for sketches and signings was simply voracious. Tim Seeley told me he had done over 100 by the morning of the second day of the con and sold out almost all of his stock, and he was by no means alone in this.
The MEFCC also serves a valuable role of spotlighting the skills of Middle Eastern artists, something that caught the attention of con guest Co-CEO of Archie Comics, and former art teacher, Nancy Silberkleit. Archie is incredibly well-distributed in the UAE, and Nancy, whose duties at the publisher include all its scholastic and live theatrical endeavours, was keen to see what female Emirati artists were doing.
It was an interest that was eagerly reciprocated. For Nancy, comics are a powerful tool for promoting literacy and should be available to all at an early age. As she put it: "comics + children = reading + knowledge + confidence +creativity."
For some regional creators, MEFCC has already served as a gateway to further opportunities: Sohaib Awan so impressed the folks at IDW with his comic Jinnrise at the first MEFCC in 2012 that they agreed to publish it. Hopefully, Sohaib's success will be far from unique, as a number of regional creators look to bring their work to a wider audience. Egyptian artist Hanan Al Karargy's 18 Days, covering the 2011 uprising in Egypt that swept Hosni Mubarak from power looks especially intriguing – will it find a western publisher willing to produce an English language edition? I was also impressed by the work of Jordanian Diana "Dee Jusan" Abbadi – but she sold out of both volumes of her book halfway through the con's first day, before I even had a chance to see them! Making my way through the cosplayers (as a Doctor Who fan, I was gladdened to see so many people dress as characters from the series, including one woman in a TARDIS dress), over at the gaming tent, the centrepiece was a competition for Injustice: Gods Among Us, a new fighting game featuring the heroes and villains of the DC Universe. Apparently the most popular character in the title is The Flash, with one attendee winning 20 bouts back-to-back as the crimson comet. Moving away from comics tie-in gaming, there was also the chance to get hands-on with The Last of Us, the highly-anticipated PS3 survival horror title that dominated E3 last year. This is the kind of opportunity for serious gaming that you seldom get at US-cons, with their comparatively narrow focus.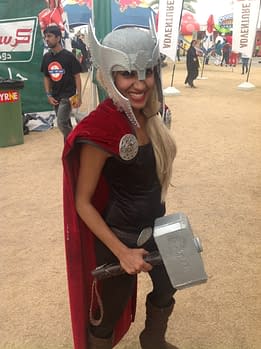 But no matter what your particular interests, there really is something for everyone at the MEFCC. Chatting to my fellow fans, it soon became obvious that while they were excited to see the screen stars and meet/buy sketches from comic creators who would be unlikely to visit the Middle East otherwise, just as important was the chance to meet other people who appreciated the same things that they do. In the end, that was what bound us all together, cosplayers and comic readers, film fans and gaming geeks even up to the end of the event when Dubai was engulfed in a spectacular sand/rain/electrical storm. The rain, a rare event in the country, spoiled no-one's enjoyment and I'm sure it won't put anyone off next year when MEFCC returns for its third year. I'm looking forward to it already. After all, it is a regular event now.