Action Lab Entertainment ate bringing back Rob Espinosa's Adventure Finders with a second volume. The story of a small-town girl and her friends who want to make it big as renowned fighters – Clariette: part Barbie, part Xena, and all heart, out to make the world a better place. Ariarra: Pragmatic wandering cleric and healer, fiercely independent. Jolfe Endarion: Clari's cousin, an apprentice wizard with a love of adventure and good food. Together they set out in an age of constant warfare, across a world ruled by a monolithic empire, to battle enemies and monsters, make allies, save people in trouble, and find adventure.
And two years later they return…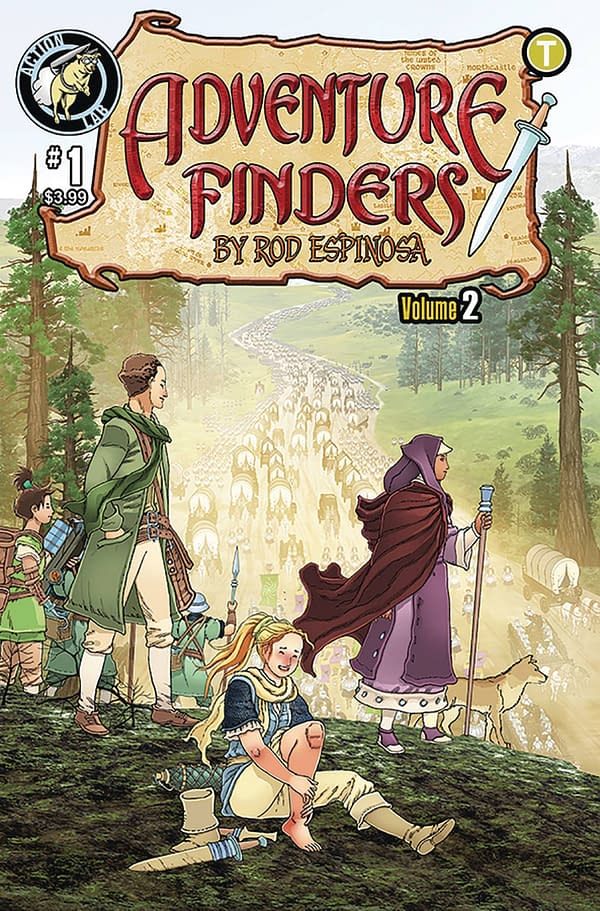 MAY191273
ADVENTURE FINDERS VOL 2 #1
(W/A) Rod Espinosa
Clari is bubbly as Barbie, noble as She-Ra, and as violent as any anime warrior princess you've ever seen! Young Clariette and her friends Jolfe the Wizard and Ariarra the Healer are tossed directly into a full scale battle as thousands of orcs, beasts, and ogres attack the gigantic convoy of the noble Lord Justinius as they prepare to take up their post guarding Clariette's home town of Good River! When all seems lost, an unexpected ally appears! (STL122780)
7×10, 32pgs, FC SRP: $3.99
And here's a look at what else Action Lab are publishing in July…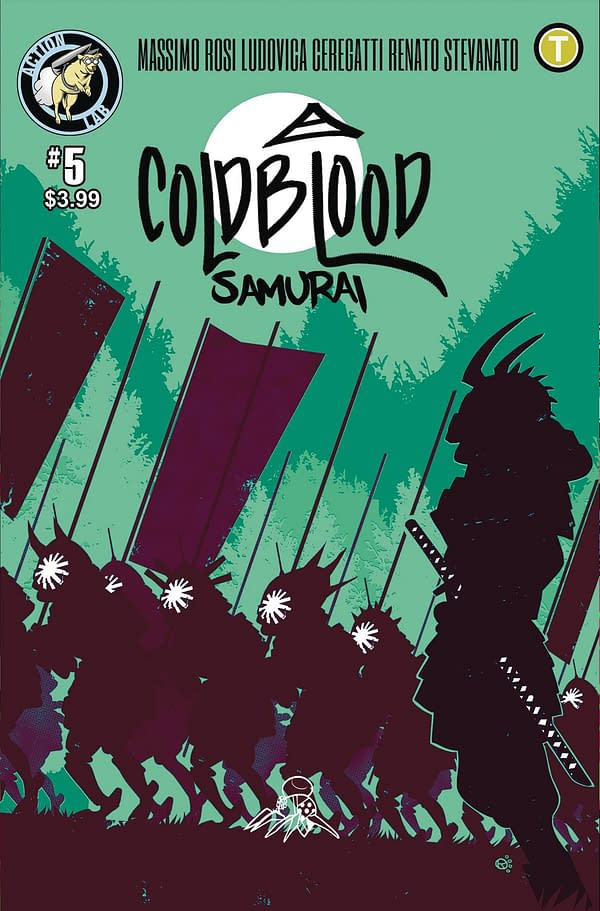 MAY191274
COLD BLOOD SAMURAI #5
(W) Massimo Rosi (A/CA) Ludovica Ceregatti
The honor of the samurai is like a stone. None seems to win the siege: the Emperor's army is marching south to help Black-Spit destroy the Shogun fortress. Black-Spit tries something suspicious: a meeting with Swollen-Cheeks to make them surrender. But something bad is happening behind the Black-Spit's intentions. (STL122778)
24pgs, FC SRP: $3.99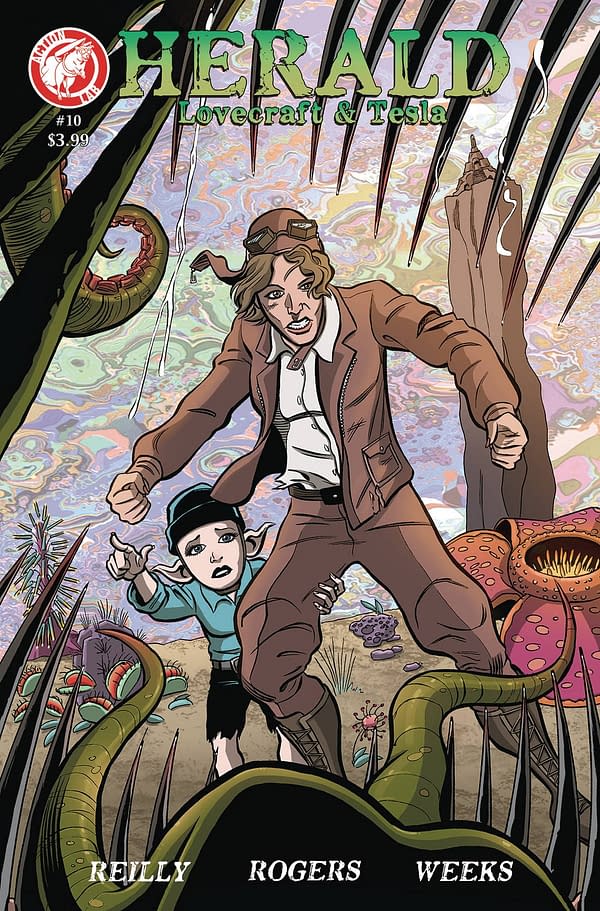 MAY191275
HERALD LOVECRAFT AND TESLA #10
(W) John Reilly (A) Tom Rogers, Dexter Weeks (CA) Tom Rogers
Aleister Crowley sends his Scarlet Women to offer Houdini a deal. Howard and Sonia's exploits have painful consequences. Tesla begins testing of his Ceryx ex Praeterito dream machine. (STL122777)
24pgs, FC SRP: $3.99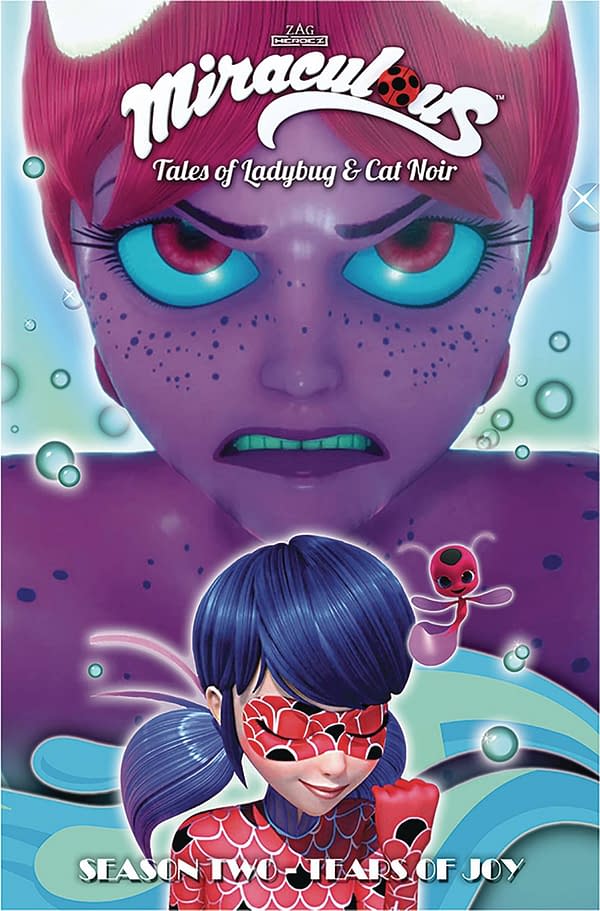 MAY191277
MIRACULOUS TALES LADYBUG CAT NOIR SEASON TWO TP TEAR OF JOY
(W) Jeremy Zag & Various (A/CA) Cheryl Black
The second season of Miraculous: Tales of Ladybug & Cat Noir is collected here! This volume features the episodes "Zombizou" and "Syren." In "Zombizou," Marinette creates a lovely gift for her teacher, Miss Bustier, but then Chloé goes and ruins it! Distraught, Marinette is targeted by Hawk Moth, but Miss Bustier isn't about to let her student get akumatized! In "Syren," Marinette's classmate Kim is oblivious to his swim mate Ondine's feelings for him. Hawk Moth akumatizes Ondine into Syren, who plans on making all of Paris an underwater kingdom for him. Having troubles under the sea, Ladybug and Cat Noir may just have to use brand new powers in order to beat this latest villain! (STL113302)
SC, 6×9, 128pgs, FC SRP: $8.99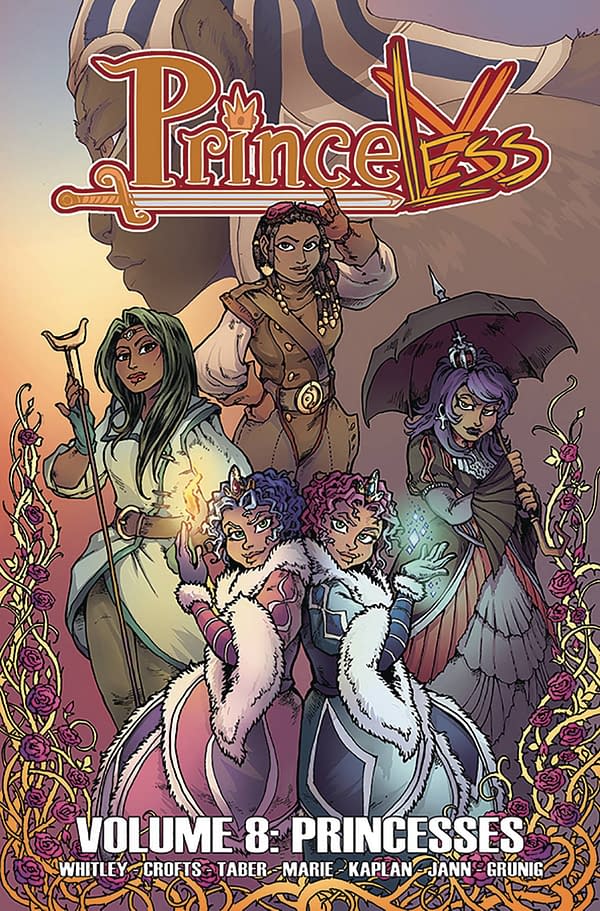 MAY191278
PRINCELESS TP VOL 08 PRINCESSES
(W) Jeremy Whitley (A) Jackie Crofts & Various (CA) Emily Martin, Brett Grunig
Princeless proudly presents the return of the rest of the Princesses of the Ashe family in four stories all their own. Alize tells the story of how she came to be under the care of the Sphinx and met a very special prince. Angelica learns a little something about what she loves (other than herself). Angoisse and her spooky monster pet The Grimmorax find a new calling. And Andrea and Antonia try to find a way to use their magic for good, if they can get out of each other's way. All this and a special bonus story about politics in the goblin kingdom! Come see the world of Princeless from perspectives you've never seen before. (STL113303)
SC, 7×10, 128pgs, FC SRP: $14.99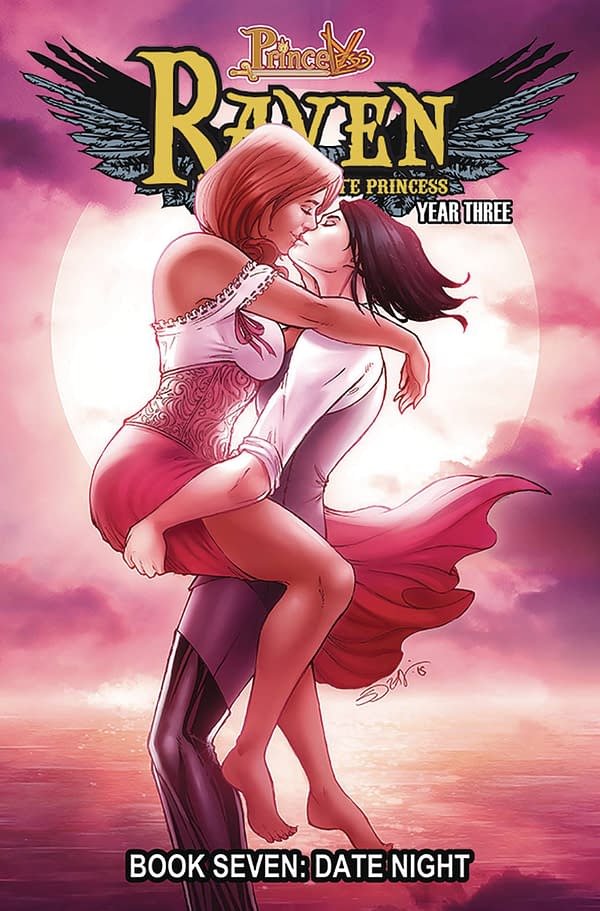 MAY191280
PRINCELESS RAVEN PIRATE PRINCESS TP VOL 07 DATE NIGHT
(W) Jeremy Whitley (A) Xenia Pamfil & Various (CA) Sorah Suhng, Eddy Swan
The defeat of Magpie and sacking of the Golden Fortress took a lot out of our crew. They're back at sea and on their way to find Crow, Raven's other brother, but first, they deserve a chance to treat themselves! On a small island, hidden behind a waterfall, is a hidden neutral city where any pirate can come to enjoy themselves and leave the trouble of the sea behind. And for our crew that means one thing: Date Night. Join us as Raven and her crew leave behind action and adventure for four issues and our comic becomes a romance comic. Date Night is everything you've wanted and it's finally here! (STL113304)
SC, 7×10, 128pgs, FC SRP: $14.99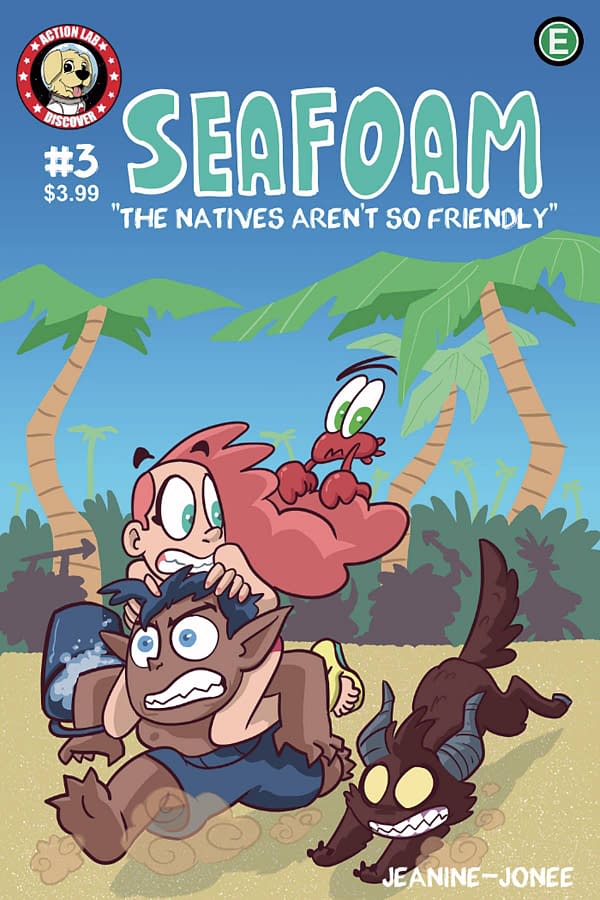 MAY191282
SEAFOAM FRIEND FOR MADISON #3
(W) Jeanine Jonee (A) Kyle Holland, Jeanine Jonee (CA) Jeanine Jonee
Seafoam follows the adventures of Madison, a spunky 9-year-old girl who is granted passage to a beach full of mystical and nautical themed creatures after helping a beached narwhal. There she befriends a stand-offish boy she calls Blue, who has a few secrets of his own. During this adventure Madison becomes the lucky charm for a jinx as she risks her own safety to save him from the ornery island natives. (STL122779)
32pgs, FC SRP: $3.99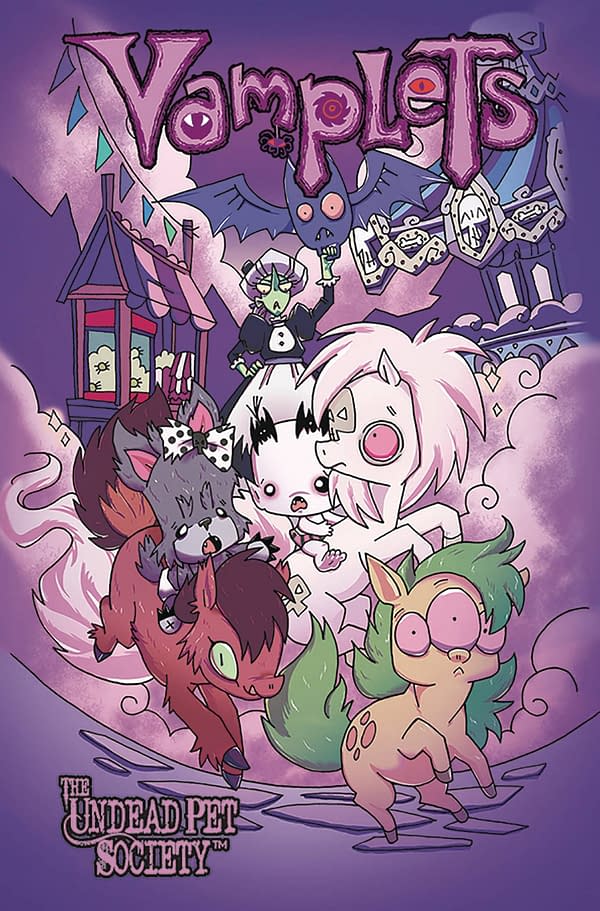 MAY191283
VAMPLETS TP UNDEAD PET SOCIETY
(W) Gayle Middleton, Dave Dwonch (A) Amanda Coronado & Various (CA) Amanda Coronado
The Vamplets are baby vampyres always up to mischief! In "Legend of the Ghost Pony," the mysteries of the Ghost Pony are revealed, including the Ghost Pony's connection to a vampyre baby named Lily Rose Shadowlyn. In "Beware the Bitemares," the Vamplets pet Bitemares are released all over Gloomvania, causing chaos! The secret connection between the Bitemares and Cinder the Vampyre Kitten is also explored. And in "Scary Rottens," someone is capturing the different Ghost Pony's all over Gloomvania! Who will solve the mystery? Enjoy all these secret connections unveiled and lots of chaos in this Vamplets collection. (STL113306)
SC, 7×10, 96pgs, FC SRP: $9.99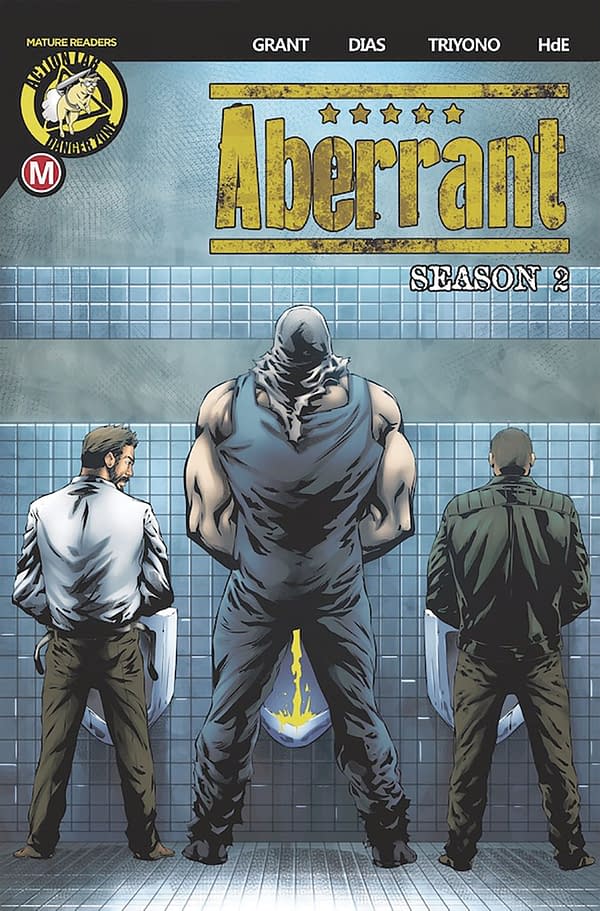 ABERRANT SEASON 2 TP (MR)
MAY191285
(W) Rylend Grant (A) Davi Leon Dias
A U.S. Army Special Operations Commander must team with the man he hates most in this world, a wildly eccentric, usually very drunken, former superhero, to bring down the renegade General responsible for the deaths of his unit.
In Shops: Jul 03, 2019
SRP: $14.99
BANJAX #2 (MR)
MAY191286
(W) Rylend Grant (A) Fabio Alves
"Chapter 2: Where's Our Hero?" When cancer-ridden former superhero Laird Mason launches a violent and misguided Death Wish-like campaign to purge the city of super-villains before he dies, his straight-laced protégé, Abel Raines, is tasked with bringing him in. The problem? Raines isn't remotely up to the task. A story presented exclusively from the maniacally twisted point of view of a man who hasn't slept in over seven days.
In Shops: Jul 03, 2019
SRP: $3.99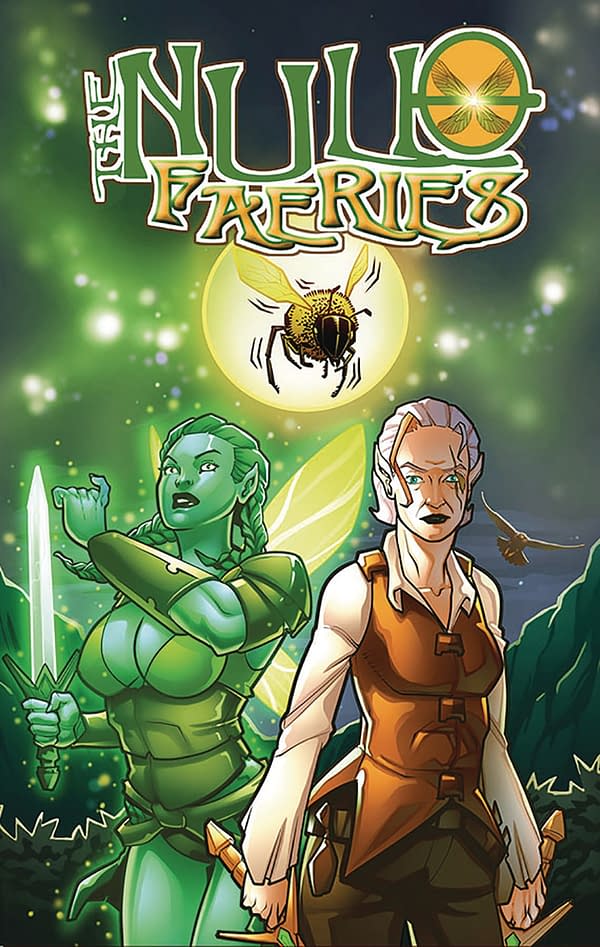 NULL FAERIES TP VOL 01 DUST PILOT DOWN
MAY191288
(W) Chad Cicconi (A) Eddy Swan (A) Chad Cicconi
Ionantha Hesperis, the greatest of the Faerie Queen's Harvester Corps, is felled by a cursed blade and stripped of her magic powers. Forgotten, no longer immortal, but refusing to die, Ionantha learns to exist relying on cunning rather than magic in a society fueled by a power she can no longer touch. But when the queen's pixie dust shipment is hijacked by an unknown assailant with knowledge of secret faerie lore, Ionantha is summoned into service once more and tasked by a vengeful Queen with solving the case of the century. Featuring a mature, intelligent female protagonist, this story will resonate with fans of high fantasy, sword and sorcery, faerie tales, and action adventure
In Shops: Jul 03, 2019
SRP: $14.99
SPENCER AND LOCKE 2 #4 (OF 4)
MAY191289
(W) David Pepose (A) Jasen Smith (A) Jorge Santiago, Jr.
Clawing back from defeat, Spencer and Locke make their final stand against the merciless Roach Riley. Can these unlikely partners overcome their inner demons long enough to stop this reign of terror? Or will Roach have the last laugh after all? Find out in this thrilling conclusion!
In Shops: Jul 03, 2019
SRP: $3.99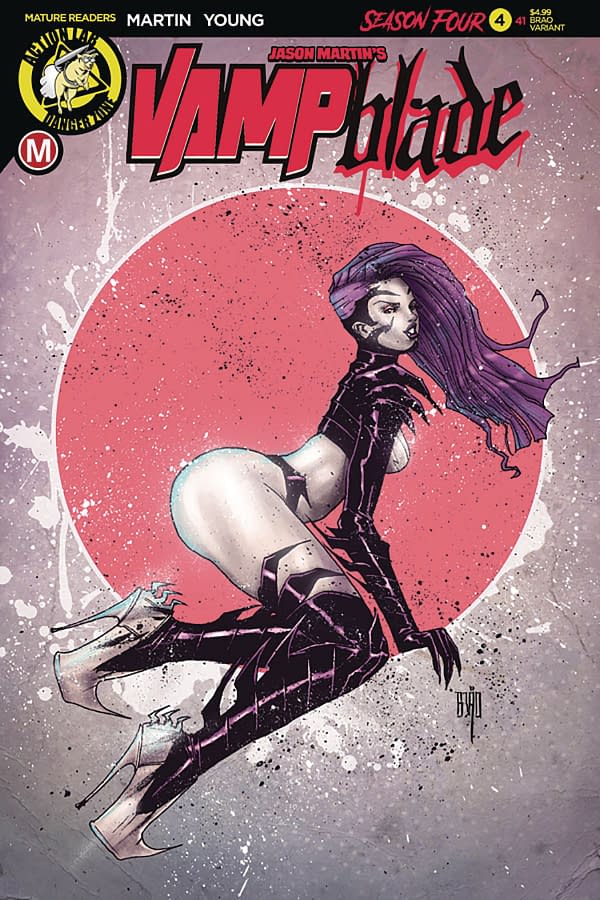 VAMPBLADE SEASON 4 #4 (MR)
MAY191294
(W) Jason Martin (A) Winston Young
Now that Katie's not only trapped in the 90s, she's also stuck in the head of her alternate self!! Can the two Katie's sync up enough to wield the Vampblades against the latest Glarkian space vampire threat??
In Shops: Jul 03, 2019
SRP: $4.99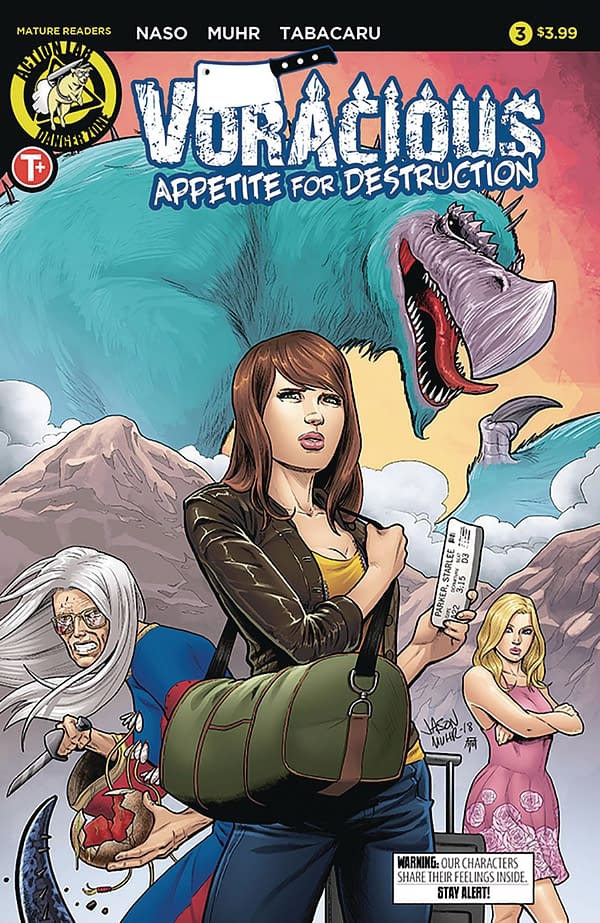 VORACIOUS APPETITE FOR DESTRUCTION #3
MAY191300
(W) Markisan Naso (A) Jason Muhr
Nate Willner makes a lot of mistakes in his life, like hunting and cooking dinosaurs from another dimension. But one of the biggest blunders he's ever made is taking his best friend, Starlee, for granted. This issue, she confronts him about that. Plus, Captain Jim makes a plan for taking down Owen.
In Shops: Jul 03, 2019
SRP: $3.99
ZOMBIE TRAMP ONGOING #62 (MR)
MAY191293
(W) Dan Mendoza, Vince Hernandez (A) Marco Maccagni
In Norway, the forces chasing Angel collide as her powers continue to be her biggest asset, but also her greatest danger. With everyone wanting a piece of her newfound abilities, she must decide not only her next step but possibly her fate altogether as the Necrophilia Club makes their true intentions known!
In Shops: Jul 03, 2019
SRP: $4.99
Enjoyed this article? Share it!