My attempts to interpret the Sage Force, one of the new forces in the DC Universe unleashed after the breaking of the Source Wall, as something to do with stuffing turkeys has gone adrift.
Apparently, it has nothing to do with this particular herb at all.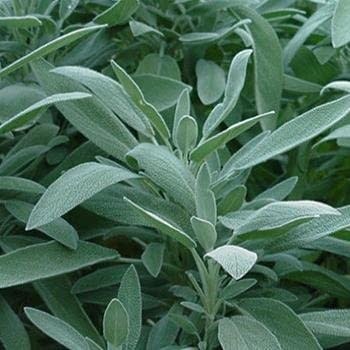 Instead, it is something to do with the idea of being 'wise'. Or rather 'telepathic', some kind of all-knowing state. As we saw a reference to in Flash #55…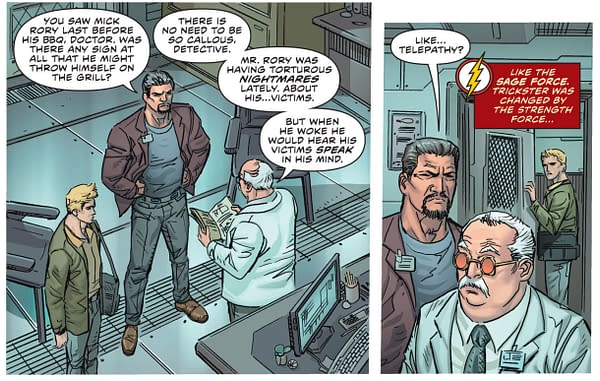 And now confirmed in today's Flash #56.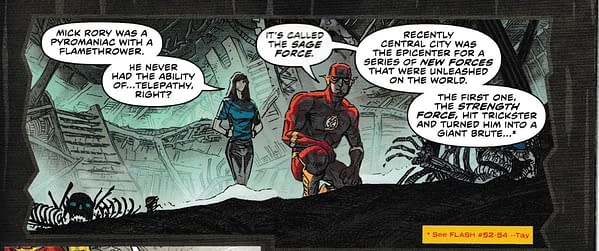 But how does it actually work? What kind of telepathy?
Yeah, no one has any answers. Personally, I am thinking that it taps into the Green via any spare bundles of sage left lying around, takes a sidestep to the Red and burrows deep into our subconsciouses. Basically giving us all a through mental stuffing. Possibly with onion and a few cranberries.
FLASH #56 FOIL
(W) Joshua Williamson (A) Scott Kolins (CA) Dan Panosian
Things are about to get hot-very hot!-when Flash has to battle fire monsters generated by his longtime nemesis, Heat Wave. Unfortunately, the pilot light blew out in Mick Rory's head, because he's comatose from the effects of the Sage Force! How can the Scarlet Speedster reach his old frenemy and get him to put out the fire monsters? Looks like Commander Cold takes a demotion…so he can pretend to be Captain Cold and talk Heat Wave down!In Shops: Oct 10, 2018
SRP: $3.99
Enjoyed this article? Share it!