The Saltiest of Digs at DC Comics From Marvel For Free Comic Book Day 2019
Free Comic Book Day is a time for a celebration of comic books, all they can do and all they can appeal to. There are comics for everyone, from everyone, in a spirit of freedom and creative prosperity that is hard to argue with. And, along the way, some sarcastic and pointed put-downs of everything that is wrong with comics, a settling of scores and a free line in serious salt. Spongebob Squarepants probably did this best a couple of years ago, with this gem we reported a couple of years ago..
Last weekend's Avengers Free Comic Book Day title from Marvel had a lot to do. Showing the current state of the different Avengers teams, sending Iron Man back in time to meet one, putting Captain America and Thor in space as a new Starjammers team, setting p the new Savage Avengers run, checking out the main Avengers team left in Avengers mountain and pitting two Avengers-reaction teams, the Defenders Of The Deep organised by Namor and the Squadron Supreme Of America, organised by Agent Coulson, against each other.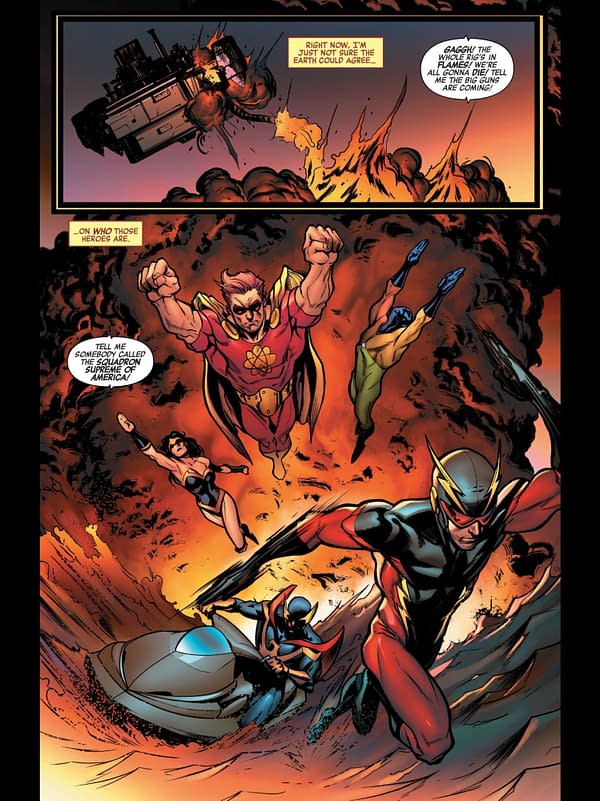 The Squadron Supreme created by Roy Thomas and John Buscema in the Avengers comics in the 60s, was a deliberate replication and recreation of the Justice League Of America for Marvel's universe, with characters deliberately recreating Superman, Wonder Woman, The Flash, Batman and Green Lantern for the Marvel Universe as Hyperion, Power Princess, the Whizzer, Nighthawk and Doctor Spectrum.
Now recreated as the Squadron Supreme Of America, formed by government agents such as Agent Coulson and making the parallel even closer, it has Jason Aaron writing Iron Man narrating the series events as they fight against Namor and the Defenders Of The Deep. Notably, the Squadron Supreme didn't originally have an Aquaman analogue and they still don't. Potential to recruit Namor to fit the bill? Or one of his Defenders they are battling against?
And Iron Man, an independent right-wing industrialist has the opportunity to talk about his mistrust in big government. which you could see as against any government when he talks about Washington DC, or specifically about Trump's administration. It's your call which interpretation you choose.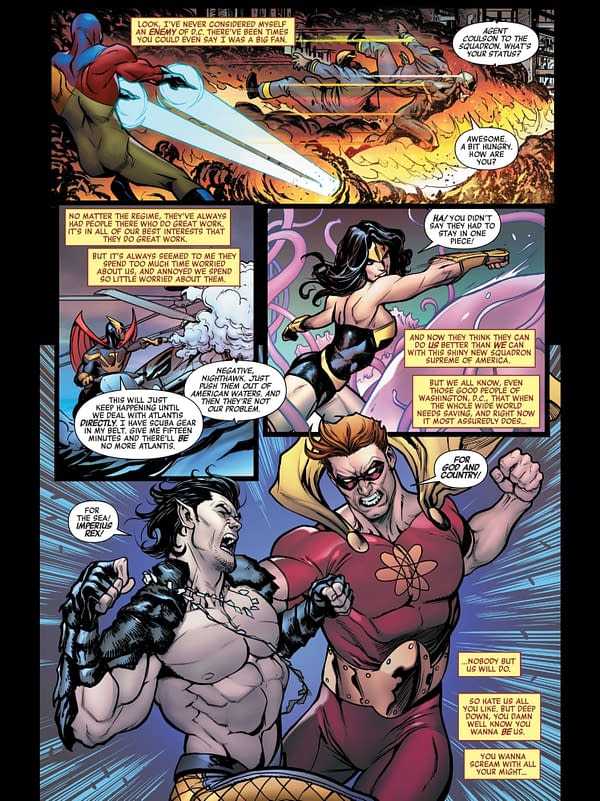 Except the other interpretation is that it's not about Washington DC but DC Comics. And suddenly the Marvel Comics saltiness jumps a few notches.
Look, I've never considered myself an enemy of DC, there've been times you could even say I was a big fan. No matter the regime, they've always had people there who do great work. it's in all of our best interests that they do great work.

It's always seemed to me they spend too much time worried about us, and annoyed we spend so little time worried about them.

And now they think they can do us better than we can with this shiny new squadron supreme of america.

But we all know, even those good people of (Washington) DC, that when the whole wide world needs saving, and right now it most assuredly does…nobody but us will do.

So hate us all you like, but deep down you damn well know you want to be us. You wanna scream with all your might, Avengers Assemble.
Frankly, this could have been dictated straight from Joe Quesada. I've heard him say similar enough. It gets into your brain, maybe it did with Jason Aaron as well. And it seems rather targeted towards Scott Snyder's reinvention of the Justice League in recent years too.
And, of course, that they are saying this while using a blatantly admitted ripoff of the Justice League Of America, well, the salt levels just went off the scale.
I wonder if DC Comics will respond? Or maybe it is Marvel who are thinking about DC all the time after all?
Avengers Free Comic Book Day is available digitally for free now. And you can catch up with all our Free Comic Book Day coverage right here.