Sarah Sax Sells The Brinkley Yearbook Graphic Novel Series at Auction
Sarah Sax is an illustrator and comic artist based in Portland. She studied illustration, animation and storytelling at Hampshire College with a background in arts education and she is a former Creative Director at Lumosity. In her spare time she volunteers with 826 Valencia in San Francisco for whom she has contributed illustrations to multiple publications. She is best known for the Escape This Book series of choose you own adventure books for Random House Books For Younger People. but she has now sold her very first graphic novel – and a series of them, to boot.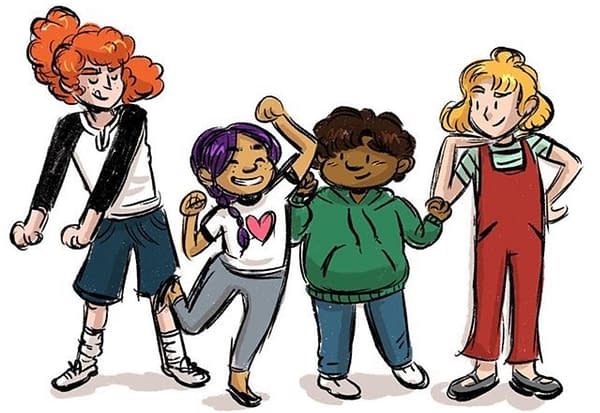 The Brinkley Yearbook is a series of middle-grade graphic novels, Picture Day, School Dance, Tryouts, Class Trip, and an interactive journal, which was auctioned amidst ten editors and six publishing houses to Marisa DiNovis at Knopf, with the first book scheduled for the autumn of 2022. Publisher's Weekly states that the series follows four classmates as they navigate inventing and reinventing themselves, experience unanticipated milestones, and embrace the power of community during their seventh grade year at Brinkley Middle School. Sarah's agent, Molly O'Neill at Root Literary negotiated the five-book deal.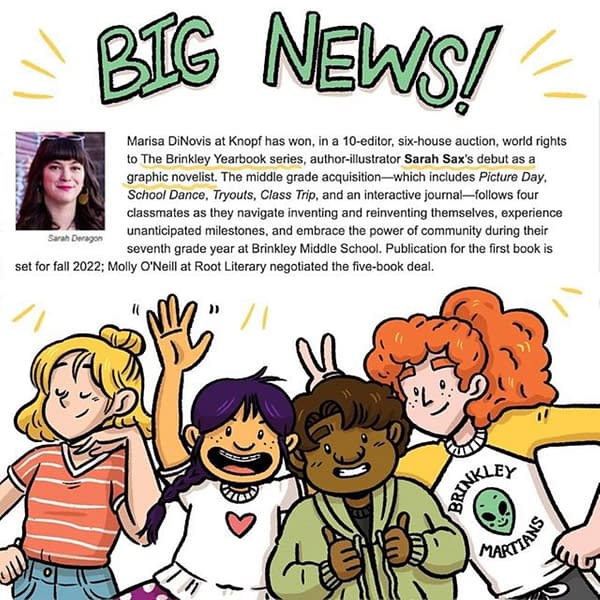 Sarah posted the news on Instagram, saying "Friends – I am SO excited to share this news! When I started working with my wonderful agent @mollyoneillbooks, I also gave myself permission to start playing and developing my own stories. The root of this series grew from a set of personal drawing prompts, but the stems and flowers have bloomed in conversation with friends and storytellers (as well as some good chats with my middle school self). Thank you Molly for coaching me through the development process and thank you to my fabulous editor, @dinovisms, and the team at Knopf for taking me under your wings!!! Anyone who's been around me IRL knows I break out into a little dance with exciting news, so please swipe to enjoy this virtual happy dance (featuring my four main characters) that I sent to my team when we finalized the deal! Graphic novels and comics have always been a huge part of my life as a reader, and I'm humbled and thrilled to have the chance to share my stories with the next generation of comics lovers!"