Scamwatch – Beware Swiss Bearing Orders
You are a small press comic book creator. Someone from Switzerland gets in touch. They want to make a big order but insist on using a particular courier service. They will pay you by credit card in full including shipping if you will pay the (rather large) shipping charge to this firm by direct debit after receiving the money from Switzerland and it has cleared.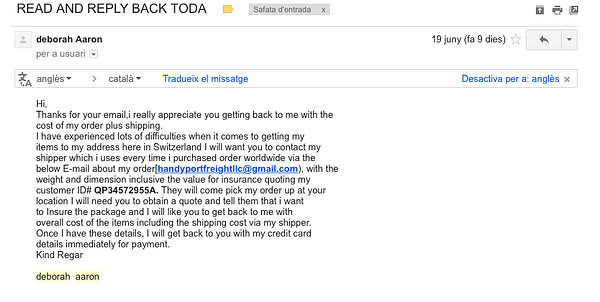 You know what happens next, right?
After paying that shipping charge, suddenly your own credit card sale will be reversed, a chargeback made and you will be out of pocket for that shipping charge. They never wanted your product, they ust wanted your money. A number of people in the comic book industry have recently been approached in this fashion. Clearly something is going around. Be warned…
And no, Handy Port Freight does not exist.
———- Forwarded message ———-
From: deborah Aaron <deborahaaron.storesltd@hotmail.com>
Date: Wednesday, June 24, 2015
Subject: READ AND REPLY BACK TODAY
To: XXXXX <XXXX@gmail.com>

Hi,
Thanks for your email,i really appreciate you getting back to me with the
cost of my order plus shipping.
I have experienced lots of difficulties when it comes to getting my
items to my address here in Switzerland I will want you to contact my
shipper which i uses every time i purchased order worldwide via the
below E-mail about my order[handyportfreightllc@gmail.com), with the
weight and dimension inclusive the value for insurance quoting my
customer ID# QP34572955A. They will come pick my order up at your
location I will need you to obtain a quote and tell them that i want
to Insure the package and I will like you to get back to me with
overall cost of the items including the shipping cost via my shipper.
Once I have these details, I will get back to you with my credit card
details immediately for payment.
Kind Regar

deborah aaron