SCOOP: New Marvel Brexit British Superhero Team Comic Launches In Empyre
It's a good week for comic book scoops on Bleeding Cool. More to come too. But this one will be closest to my heart. Bleeding Cool understands a new comic monthly comic from Marvel will star classic Invaders character Union Jack, alongside one hero from each of the main countries in the United Kingdon, England, Scotland, Wales and Northern Ireland, just as we are all going through Brexit. And naturally, for a British superhero team, they will debut in the new Marvel event comic, Empyre. The sun never sets – I mean it's right there in this artwork ripped from an upcoming presentation which really looks like RB Silva's work. Hey, we did it to DC yesterday, we're doing it to Marvel today. So, alongside Union Jack, that has to be the English hero with the boob window and lion shield, the Northern Irish hero all in green, the Scottish hero with the reddish hair and… the Welsh hero who looks like a living lump of coal. I bet he makes for a great tenor in a choir. Welcome to Team Brexit. Brexcalibur. Oh I'm sure they'll come up with a name.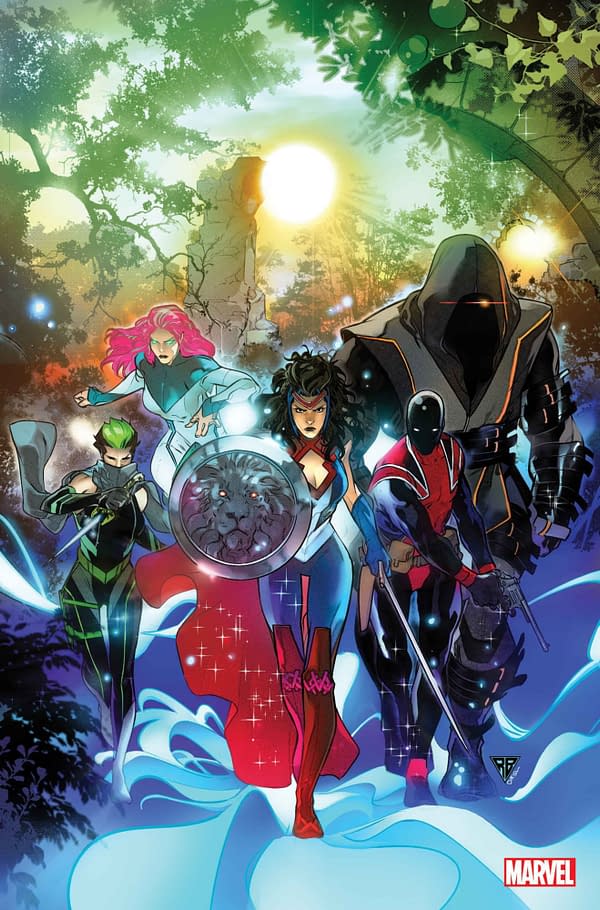 A History Lesson
In the mid-seventies, I used to buy (or rather, have bought for me) Captain Britain Weekly, initially created by US mainstay comic creators Chris Claremont and Herb Trimpe. Introducing Brian and Betsy Braddock, Courtney Ross, Slaymaster, Merlin, Roma and more, this is where it began. Published by Marvel UK, they reprinted US comic books in black-and-white for the UK newsstand, every week, but this was originated material, as well as reprints which made up most of the rest of the Marvel UK line. Other US Marvel comics were used as back-up strips, in an attempt to mirror the standard weekly UK comic anthology model of everything from the Beano, to Eagle to Mandy.
Over the years, others, including a stint from The Pet Shop Boys' Neil Tennant as a pre-fame EIC, Marvel UK would dabble in launching other originated comics. It laid the groundwork for Marvel UK EIC Dez Skinn to later launch the Hulk Weekly, featuring stories about MArvel's American heroes such as The Hulk, Night Raven, Nick Fury by the likes of Steve Dillon, David Lloyd, Steve Parkhouseand also The Black Knight, which revived the Captain Britain character to fight alongside him in Medieval England.
Captain Britain Weekly would spin out of Black Knight as a monthly series in The Mighty World Of Marvel written by Dave Thorpe and drawn by Alan Davis, giving us Sir James Jaspers, The Crazy Gang, Satyrn-9, the concept of 616 and more. Thorpe would be replaced on the comic by one Alan Moore, and the Moore/Davis team would also give us DR & Quinch at 2000AD and Marvelman at Warrior (when Dez Skinn had left Marvel to set up on his own). Captain Britain was then the ci-lead with Frank Miller's Daredevil in The Daredevils anthology before headlining Captain Britain Monthly.
It's considered a legendary run, as is the work by Davis and Jamie Delano that followed it. So much so that Chris Claremont grabbed Alan Davis and Betsy Braddock for X-Men (though his plans to use Sir James Jaspers, the Technet and The Fury were scuppered due to differing copyright law in the UK and the USA) and the spinoff book Excalibur, which took mutants and placed them on a lighthouse on the coast of Scotland (though its location seemed to change from issue to issue). Marvel had had superheroes from the British Isles before, but they usually fitted incredibly stereotyped roles. Spider-Man visited London in a Victorian fog, the X-Men had the insanely-accented Banshee, Captain Britain gave us superhero stories with people and places that we actually recognised.
The British Are Coming… Then Going Away Again
A few years later, Marvel UK would publish, in a US format, the environmentally-activist Knights Of Pendragon published on recycled paper, by Dan Abnett, John Tomlinson and Gary Erskine, carrying some of the characters on, while Simon Furman, Geoff Senior and Bryan Hitch would spin out Death's Head from their Transformers and Doctor Who comics. This led to a ramping up of Marvel UK in the nineties boom, launching several titles, including a Knights Of Pendragon sequel that were, pretty much, terrible. Notable exceptions were Gary Frank's work on Motormouth, Gary Erskine's work on Warheads, Bryan Hitch's work on Mys-Tech and some of the later Mature Readers work, Bloodseed from Marvel UK EIC Paul Neary and Liam Sharp, Paul Johnson and Nick Abadzis' Children Of The Voyager, Nick Vince and Mark Buckingham's Immortalis, Simon Jowett and Charlie Adlard's Dances With Demons. The Marvel UK explosion led into an implosion from which we have never really recovered in that regard… Marvel UK as bought by Panini during the Marvel bankruptcy and, aside from some titles intended for the very young, that was the end of originated comics at Marvel UK.
But at Marvel US, the spirit had infected things. They published abandoned Marvel UK titles such as Nocturne and Clan Destine. Excalibur continued, with new writers such as Warren Ellis and Paul Cornell taking it the legacy of Alan Moore and Alan Davis and transforming it further. Marvel was able to reprint those earlier Captain Britain stories, The Fury fought the X-Men, we had a new MI-15 agent in Pete Wisdom, an Islamic medical superhero called Excalibur, and 616 became the established name for the Marvel Universe continuity. And now, courtesy of Jonathan Hickman's Dawn Of X revival we have a new Excalibur series, with Betsy Braddock as Captain Britain, a revived Jamie Braddock, a revived Technet in Rocket Raccoon, a new Death's Head series and more.
And now… something new. It's Brexit time after all.