Sean Gordon Murphy To Return To Batman With Scott Snyder Next Year – More From Creator Owned Conversations At Thought Bubble #TBF15
This was the print being sold by Bengal and Rick Remender at the Thought Bubble comic convention last weekend, a montage of a variety of Rick Remender's creator owned characters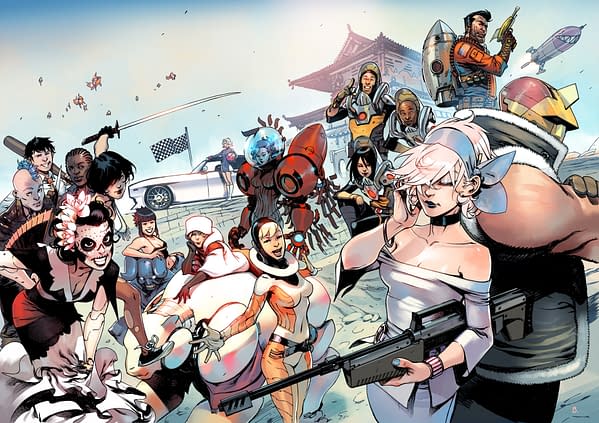 And indeed it was brought to life Creator Owned Conversations panel, a generic title that was far more specific in actuality. It was the Rick Remender And Colleagues panel, with Rick accompanied by the artists who work on his creator owned books. Bengal, Wes Craig, Sean Gordon Murphy, Jerome Opeña, and Matteo Scalera. And it opened as the straight white guy panel – aside from Jerome. It was a self-deprecatory but frank panel, that's how it continued.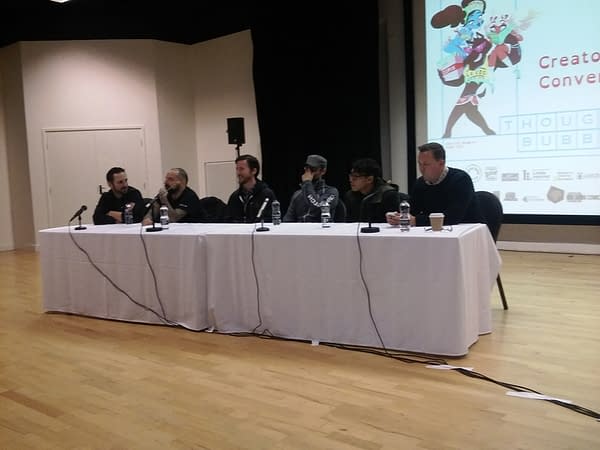 The creators began by talking about how Rick got them to leave better paying jobs for his creator owned projects. Including Rick. He talked about his work in video games and how he had to keep quitting highly paid gaming gigs to work on his comic books, driven to it. Three of the creators worked in but wanted to get out and back into comic books.
That became the theme of the panel, how there were plenty of commercial opportunities in life but for these guys, comics were their first love, and kept calling them back. And by doing creator owned comics, there was a greater way to connect with stories that actually mattered to them.
Bengal talked about how in France almost everything is creator owned, aside from the likes of Asterix now, but not so rewarding as in the US, to Rick's jibe "The only Moebius that counted is when he did Silver Surfer". Bengal did seem to get a little frustrated that the only French work Americans knew seemed to be Asterix…
Sean Gordon Murphy, currently working with Remender on Tokyo Ghost, talked about having an exclusive deal with DC Comics for seven years, and mostly worked for Vertigo. But after Karen Berger left, he felt the place changed and he was no longer happy. And when it came time to renew contracts and he told them he was going, they didn't seem to mind too much, adding "all the best comics at Vertigo are being done at Image" to laughter. Remender reminisced that all Vertigo had done for him was turn him down…
All of the creators talked not burning their bridges though. Matteo Scalera continues to do covers for work-for-hire and cashflow as an incentive was repeatedly mentioned. Wes Craig talked about the audiences he can reach with other work and bring to his own books, with work for hire being framed as some kind of creative outreach programme. And Jerome was happy to play with other people's toys, but clearly had a better idea of where his time and investment could go.
Sean Gordon Murphy did say he was planning to work on Batman next year, and had talked to Scott Snyder at the show about it.
It was a panel of pragmatism, marrying what creators wanted to do with what they needed to do. This was the new norm, and its place seemed assured at Thought Bubble, far away from publishers' eyes…
Of course not everyone was happy.