Separated At Birth: Arthur Suydam's DCeased #4 and Harley's Joker Cosplay – With a Killing Joke
UPDATE: Harley's Joker has been in touch with Arthur Suydam here. The original article continues below.
Comic Hero University is advertising their new DCeased variant for issue #4, by Arthur Suydam, a 1500 print run for $15 each.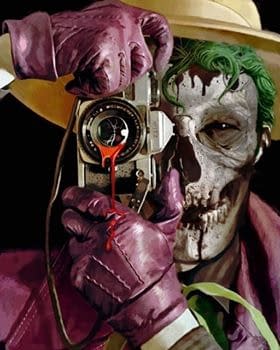 It is meant to be a zombie-style homage to Brian Bolland's famous cover for The Killing Joke. Arthur Suydam has done many similar for Marvel Zombies.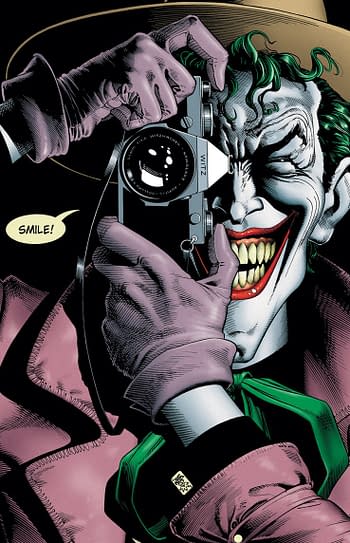 But what it also is, is a pixel for pixel match for this from a cosplayer who goes by the name Harley's Joker.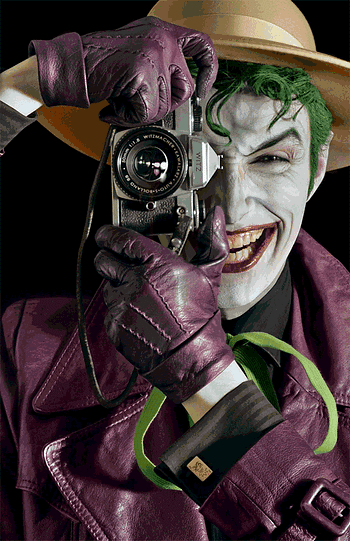 The threads, the cufflink, the green bowtie ribbon, the hair curls, finger positions… He just threw a paint effect filter on the image and the used this image to replace the face…
Look, let's run an animated gif, courtesy of tipster RD Tondro…
That's a filter. I understand that no one contacted the cosplayer in question previously and he has only just been told about the similarity. Oh and this is one of the first result on Google Images for Skull, courtesy of pixabay.
It's one thing to "homage" Brian Bolland's iconic cover in a way that we all know and understand – and reuse artwork owned by DC/Warner Bros – it is probably different for DC Comics to use a cosplayer's own work like this without credit. I presume that, as a result of this article, that some hard-working lawyers or accountants will be proposing a solution – before anyone else does.
Separated At Birth used to be called Swipe File, in which we presented two or more images that resemble each other to some degree. They may be homages, parodies, ironic appropriations, coincidences, or works of the lightbox. We trusted you, the reader, to make that judgment yourself. If you were are unable to do so, we asked that you please return your eyes to their maker before any further damage is done.
The Swipe File didn't judge; it was interested more in the process of creation, how work influences other work, how new work comes from old, and sometimes how the same ideas emerge simultaneously as if their time has just come. The Swipe File was named after the advertising industry habit where writers and artist collect images and lines they admire to inspire them in their work. It was swiped from the Comic Journal, who originally ran this column, as well as the now-defunct Swipe Of The Week website.