Separated At Birth: Vampirella vs Richard Sala's Carmilla
Richard Sala has been publishing a new horror comics anthology called The Creeps Magazine under the Warrant Publishing Company label that… bears a passing resemblance to the Warren Publishing anthology horror comics magazine of old, Creepy Magazine. And that resemblance is not coincidental.
So with Vampirella on the rise again, what could be more natural to do it all over again and go to the same pool for their upcoming new title… Carmilla. And they are very aware that there may have possibly been trademark issues it seems. Sala posts on Facebook.
MAJOR ANNOUNCEMENT FROM WARRANT PUBLISHING COMPANY: Okay folks, we recently finished a meeting with our trademark attorney and he's given us the green light to announce the HOST of our upcoming NEW MAGAZINE, which will be releasing in late 2020. We can't announce the title yet, but here she is! CARMILLA! She's the teen-age vampire title character of the 1872 vampire novel "Carmilla" by author Joseph Sheridan Le Fanu. CARMILLA! is a REAL vampire, not a space alien, and her sole job is to tell horror stories! This means that other than her origin story, which will appear in her first issue, she will NOT have a continuing series. At least for now. Although she's actually over 150 years old, CARMILLA'S real age is just 17, so KEEP IT CLEAN, GUYS!
Not creepy at all. I mean, not 'the creeps' at all…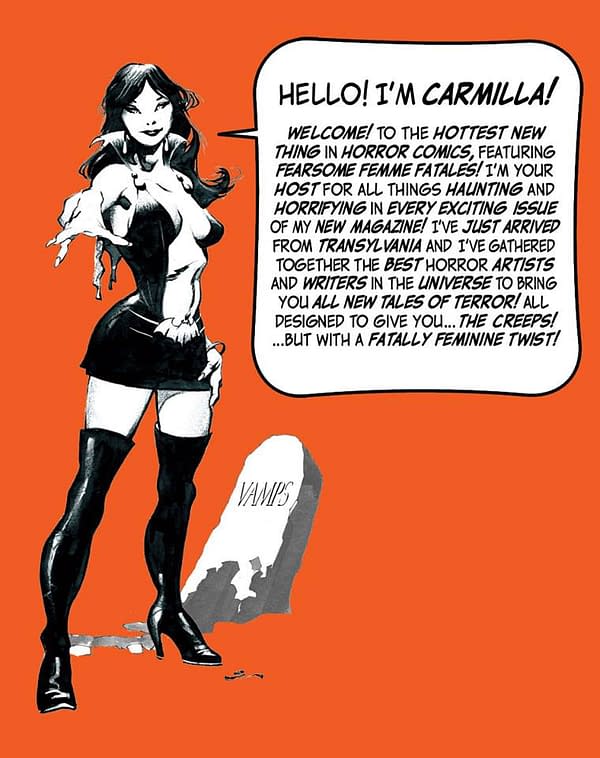 And for comparison, here's a Pepe Gonzalez house advertisement in the Spanish publication Dossier Negro! G!, featuring Vampirella…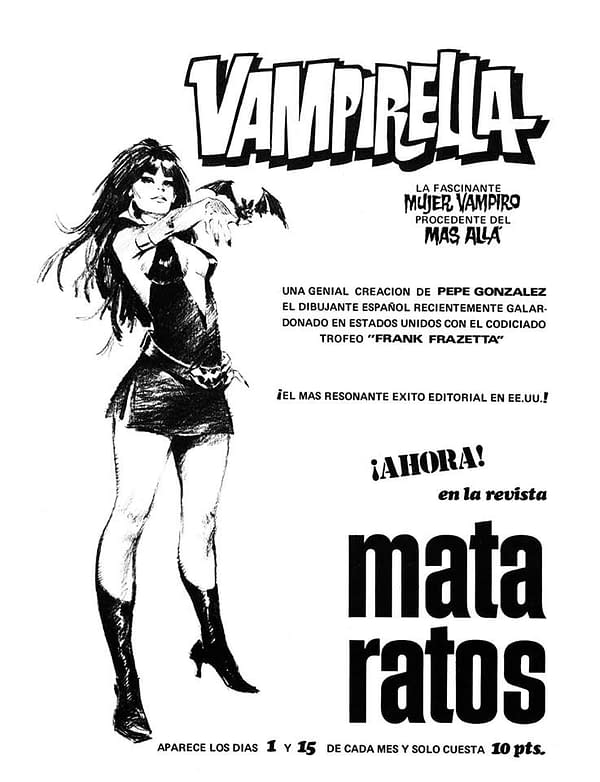 Separated At Birth used to be called Swipe File, in which we presented two or more images that resemble each other to some degree. They may be homages, parodies, ironic appropriations, coincidences, or works of the lightbox. We trusted you, the reader, to make that judgment yourself. If you were are unable to do so, we asked that you please return your eyes to their maker before any further damage is done. The Swipe File didn't judge; it was interested more in the process of creation, how work influences other work, how new work comes from old, and sometimes how the same ideas emerge simultaneously as if their time has just come. The Swipe File was named after the advertising industry habit where writers and artist collect images and lines they admire to inspire them in their work. It was swiped from the Comic Journal, who originally ran this column, as well as the now-defunct Swipe Of The Week website.