Separated At Birth: Lovecraft And Tesla… And Elsewhere?
Herald: Lovecraft And Tesla is a comic by John Reilly and Tom Rogers with Dexter Weeks, published by Action Lab, Teaming up, well, HP Lovecraft and Tesla. Telsa is fighting to rescue his girlfriend Amelia Earhart and bring her back from a pocket dimension into which she crashlanded called the Elsewhere.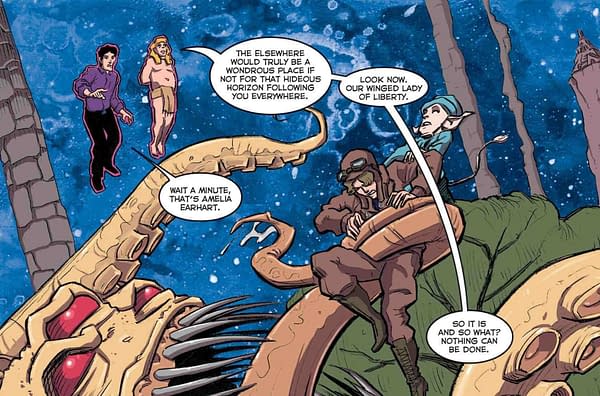 As you do. You see, she didn't crashland and die, she was lost in space and time. Cut to a new comic book announced by Image Comics for August, Elsewhere, by Jay Faeber and Sumeyye Kesgin with an Amelia Earhart who didn't crash and die, instead she was lost in space and time in a dimension. Somehow transported to a strange new world filled with flying beasts and baffling alien civilizations, Amelia desperately struggles to return home. Along the way, she forges alliances and makes enemies as she goes from aviatrix to freedom fighter in a rebellion against a merciless warlord!
Of course, this one doesn't need Tesla to rescue her… What do you think?
Loading
Separated At Birth: Lovecraft And Tesla... And Elsewhere?
Thank you for voting
You have already voted on this poll!
Please select an option!