Sex, Violence And The Law At San Diego Comic-Con With The CBLDF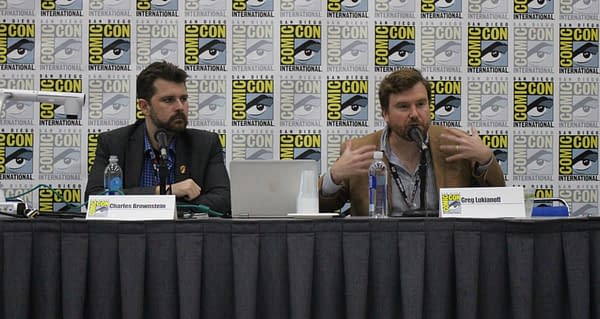 Alex Roberts writes for Bleeding Cool
The Comic Book Legal Defense Fund is a staple of the comics community. Founded in 1986, it is a non-profit dedicated to preserving and advocating for the rights of comic creators and other entities in the industry. If you attend San Diego Comic-Con and you haven't been to one of their fundraiser parties, you've been missing out on a wonderful experience as much as a great cause.
The CBLDF operates many panels throughout the convention, providing information on the legal precedents and procedures of the industry. One such panel, "Sex, Violence and the Law," tackled issues relating to navigating free speech conflicts. Hosted by Greg Lukianoff (FIRE President) and Charles Brownstein (CBLDF Executive Director), they took questions and led discussion on the border between free speech and legal censorship.
Starting with a history lesson, Lukianoff started with West Virginia State Board of Education v. Barnette, the Supreme Court ruling that revolved around whether we could compel children to need to say the pledge of allegiance. This has been extrapolated to say that we do not have the right, as a nation, to force people into thinking a certain way. Relating to comics, this is a foundation for freedom of expression. The prime place to start with comic book freedoms is the 1950's, relating to pseudoscience proposed by Dr. Fredric Wertham, author of Seduction of the Innocent and creator of the first wave of trying to ban comic books. While it did not succeed in its goal, the movement managed to lead to the creation of local ordinances and a growing mentality that comics need regulation. This all eventually led to the creation of the Comics Code, a self-regulation to prevent the government from stepping in to fill the role itself. Some of Wertham's gems include the idea that Batman and Robin represent homosexuality and Superman is a fantasy of sadism in punishing people- what a guy, right?
There's a certain level of assumption that a discussion about law will be bland and dry; Lukianoff and Brownstein showed us quite the opposite. Humorous topics covered were the University of Wisconsin- La Crosse's failed lawsuit over a Firefly quote on a professor's door and how the Supreme Court used to have to review pornography in the basement in order to gauge the obscenity of it.
Particularly distressing, Brownstein discussed an ongoing issue where they will be called on occasionally to help with an instance where someone has had their manga or anime seized and is facing child pornography charges, despite there being no true instances of child pornography in the collections. Certain bodies of government and law enforcement are woefully ignorant of the anime and manga mediums and mistakenly attempt to persecute people for their passions. Citing certain cases, he showed where people have done legitimate jail time and mandatory counseling just for purchasing anime.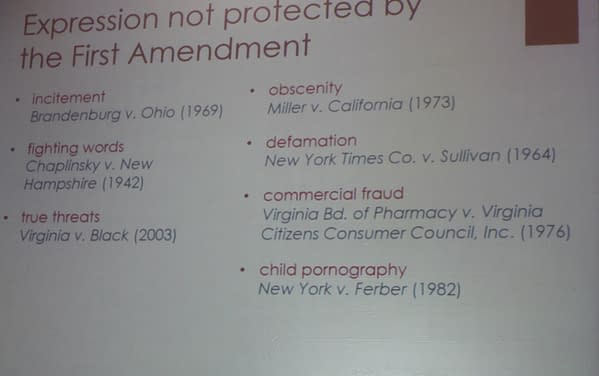 Video game censorship is very closely tied comics censorship, and certain instances and cases were discussed as how they affected the comics industry. Brown v. EMA related to the state of California banning people under 18 from purchasing violent video games without parental consent. This was eventually overturned, which was a necessary step to reinforcing both minors' purchasing rights as well as creators' freedom to see their works through without worrying about unnecessary restrictions. In a side note, Lukianoff mentioned how Clarence Thomas seems to think people under 18 do not have rights, a spot-on assessment of his frustrating voting history on issues similar to this one.
Lukianoff wrapped up by bringing up the Westboro Baptist Church and hate speech ideas- discussing the wonderful response Comic Con attendees provided to a WBC protest previously. While hate speech laws may seem common sense for some people, it is a much more complicated issue than can be seen on face value. Lukianoff proposed that the best defense for hate groups like WBC is their own efforts; often times, hate-speech rallies will bring together the community in a counter-protest or lead to greater visibility on the positive aspects that are being protested. There are no laws relating to hate-speech, and it is likely for the best, despite the unpleasantness that comes from it. Using Red Skull as the poster child for hate speech, Lukianoff joked about how nice it was to have a villain with zero redeeming qualities.
Check out the CBLDF at www.cbldf.org to learn more about this mission and donate to a great cause.