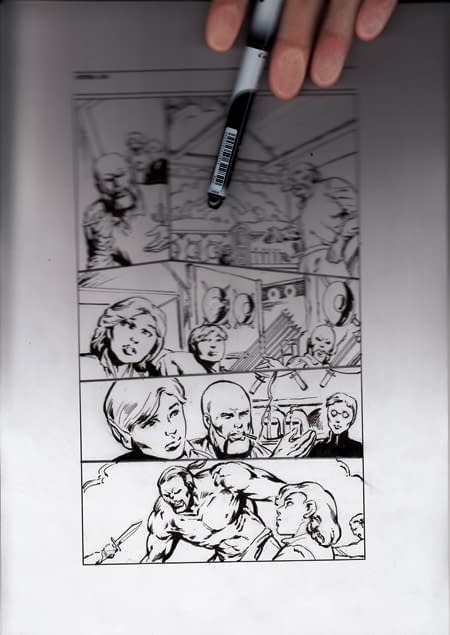 Mikael Bergkvist writes;
This is from issue 2, freehand, using my V grip ballpen on A4 copypaper which I have gotten for free from my fathers company.
It's the thin kind, which you use for the printer.
This story depends less on fantastic environments or beasts, than it does on a furiously fast storyline. I have always wanted to try the action movie storytelling techniques on a fantasy comic. Fast and hard-hitting, no-nonsense to the point, and a constant build up of danger and intensity right up to the very last frame, and a big honking twist at the very end. If I succeed? We shall see..
Each issue takes me 4 days to write. Only, I don't actually write anything, I just sit down with some coffee and think about it.
Then I draw it.
Ardden is letting me do this as an experiment. We are both of the opinion that comics have become to heavy-handed and they need some fun and lightness injected back into them. So, they designed a comic book where this nutcase from Sweden can sit down with his V grip ballpen and basically just wing it as it goes along. (It helps that I have done long, very complex 104 pages storylines on a regular basis before, but still)
I do every issue right before deadline, and Ardden has no clue where it's all going. It will be what it will be.
If it works, it will have a message to a lot of artists: Relax. If you aren't having any fun, why would you expect the reader to?
If it doesn't, at least we had some fun. I don't really see how we can loose. :)
Enjoyed this article? Share it!