Sheldon Moldoff's Fawcett Horror This Magazine is Haunted, at Auction
Best remembered for his legendary DC Comics work, Sheldon Moldoff also made formative contributions to Pre-Code Horror comic books.
---
Although he is best remembered for his DC Comics work, legendary comic book creator Sheldon Moldoff made important contributions to the Pre-Code Horror genre with a number of publishers of the early 1950s. For example, Moldoff contributed heavily to Fawcett Publications' brief foray into horror, and his April 1953 cover-dated cover and story for This Magazine is Haunted #10 is an excellent example of his work there. There's a solid copy of This Magazine is Haunted #10 up for auction in the 2023 January 29-30 Sunday & Monday Comic Books Select Auction #122305 at Heritage Auctions.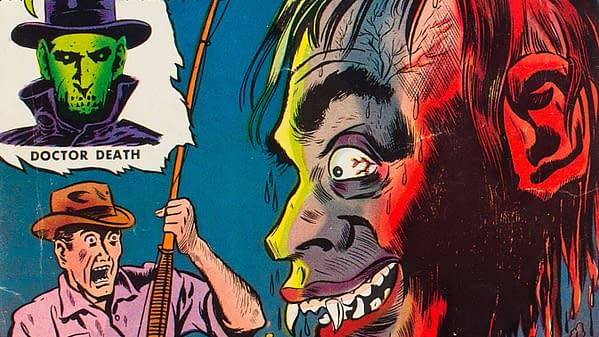 Fawcett Publications is hardly the first name that one thinks of when it comes to Pre-Code Horror comic books of the 1950s, but the publisher best known for Captain Marvel still produced some memorable PCH material. This Magazine is Haunted featured a "horror host" named Doctor Death, who introduced the stories in the mold of EC Comics' Crypt Keeper. When Fawcett exited the comic book business in 1953, it sold This Magazine is Haunted and three other horror titles to publisher Charlton. Artist Sheldon Moldoff is best known for his foundational work for DC Comics, including on Batman, Hawkman and Hawkgirl, plus his co-creation of characters such as Poison Ivy, Mr. Freeze, Clayface, Bat-Girl, Batwoman and Ace the Bat-Hound. But his horror comics work was significant for the comic book business as well. According to a 2000 interview with Roy Thomas for Alter Ego, Moldoff explained:
I said, "Bill, if I give you an idea which I think will be the next trend, will you give me a contract and a percentage of sales if it shows a profit? I only want it if there's a profit; I'd get paid a percentage of the profit. I think I know what's going to come in next." And he said, "I'd be glad to!" I said, "Okay, I'm going to bring you a couple of titles and a little breakdown, and show you what I have in mind."

So when I came back, I showed him two titles. One was Tales of the Supernatural, and the other was This Magazine Is Haunted. And I said, "This is going to be it: horror. This is going to come on strong."

Months go by, and in the meantime I'm busy with other work, I'm doing other things-and now, quite a few months later, I see on the newsstand Bill Gaines' horror books, Tales from the Crypt and all this other stuff! I say, "What the hell is this?" I look at it, and sure enough, it's coming from EC Publications!
Of course, Moldoff eventually went to Fawcett with his horror comic concepts, and there are several issues of This Magazine is Haunted featuring Moldoff's cover and interior work available here as well. This copy of This Magazine is Haunted #10 is graded VG by Heritage Auctions, and while this copy is not slabbed, there are only 42 entries for this issue on the CGC census. This makes it a rare and desirable comic book for collectors of Pre-Code Horror, especially those interested in Moldoff's underappreciated work in the genre. Severed head covers on Pre-Code Horror comic books are as popular among collectors today as they were in 1953, and This Magazine is Haunted #10 is no exception. For prospective bidders who are new to Heritage Auctions, check out their FAQ on the bidding process and related matters.

Affiliates of Bleeding Cool buy from and/or consign to Heritage Auctions.