Spawn #300 Was the Most-Ordered Comic in September 2019, Pushed Image Comics' Dollar Marketshare Above 11%
As Bleeding Cool rumoured, Todd McFarlane's Spawn #300 was the most-ordered comic book by comic shops in September, and that has now been confirmed by Diamond Comic Distributors. We also mentioned that, so far, it was the second best selling comic of the year – though we will have yo wait for the end of the year for official confirmation on that one.
September 2019 sales in the direct market continued the trend of the year. Selling fewer comic books but for slightly more money, demonstrating the inelastic appeal of comic books in the direct market.
Marvel Comics marketshare dropped back from their close-to-50% share in August, with a still impressive 38.81% of dollars and 45.51% of units shipped. In second place was DC, rising with a market share of 27.80% and 29.15%, respectively. Image Comics ranked third, breaking over ten-percent market share thanks to Spawn and other creator owner projects with a 11.01% dollar share and a 8.32% unit share. The top three were followed by Dark Horse Comics, IDW Publishing, Dynamite Entertainment, and Boom Studios, respectively. Notably, IDW's title-count is down on recent months, which raises Dark Horse's overall overall marketshare position.
Spawn #300 managed to beat a number of significantly promoted Marvel Comics titles such as the Abrams/Pichelli Spider-Man #1 at number two, House of X and Powers of X at numbers 3-6, Geoff Johns and Gary Frank's unauthorised sequel to Watchmen, published by DC Comics, Doomsday Clock #11 at number 7, Donny Cates and Ryan Stegman's Absolute Carnage #3 at 8 with DCeased: A Good Way to Die #1 at 9, and Harleen #1 ranked 10. Notably the ongoing Batman series did not place in the top ten again.
Among the premier publishers, IDW Publishing's top book for September was Teenage Mutant Ninja Turtles #98 at #44, Boom Studios' Something Is Killing the Children #1 ranked #57, Dynamite Entertainment's Vampirella/Red Sonja #1 ranked #101, and Dark Horse Comics' Black Hammer/Justice League #3 ranked #114.
DC dominated the graphic novel charts with six best-selling titles, starting with the hardcover collection of Brian Azzarello and Lee Bermejo's Batman: Damned at #1. Gerard Way and Gabriel Ba's Umbrella Academy #3: Hotel Oblivion TP from Dark Horse Comics charted at #2. Image Comics also placed two volumes on the graphic novel chart with Paper Girls Volume 6 TP and Monstress Volume 4 TP.
Diamond Select Toys' Marvel Gallery: Avengers Endgame: Iron Man MK85 PVC Figure, was September's best-selling figure, with DST charting two other best-sellers, the Marvel Select: Captain Marvel Figure at #5 and the John Wick Select Figure at #10. Mattel's DC Multiverse 6-Inch Figures: Lobo Wave was the #2 selling toy for the month, while Mezco's One-12 Collective: Marvel Netflix: The Punisher Figure punched in at #3. DC Collectibles had three toys in the top ten: Batman Black and White by Marc Silvestri Statue (#4), Dark Nights Metal: Batman the Devastator Statue (#7), and DC Essentials: Red Hood Action Figure (#8). Rounding out the top ten at #9 was Funko's POP! Marvel: Spider-Punk Vinyl Figure, a Diamond Previews Exclusive.
Prime Books' The Year's Best Science Fiction and Fantasy 2019 Edition was September's best-selling book, featuring a collection of top stories from renowned Sci-fi/Fantasy authors.
Paizo Publishing's Pathfinder Core Rulebook (2nd Edition) was September's best-selling game product and one of Paizo's eight products among the top ten.
We look to doing some number crunching later in the week.
TOP COMIC BOOK PUBLISHERS
PUBLISHER

DOLLAR

SHARE

UNIT

SHARE

MARVEL COMICS
38.81%
45.51%
DC
27.80%
29.15%
IMAGE COMICS
11.01%
8.32%
DARK HORSE COMICS
3.26%
2.27%
IDW PUBLISHING
3.08%
2.92%
DYNAMITE ENTERTAINMENT
2.70%
2.02%
BOOM! STUDIOS
2.48%
2.53%
VIZ MEDIA
1.57%
0.62%
ONI PRESS
0.76%
0.63%
ARCHIE COMICS
0.65%
0.63%
OTHER NON-TOP 10
7.87%
5.42%
COMPARATIVE SALES STATISTICS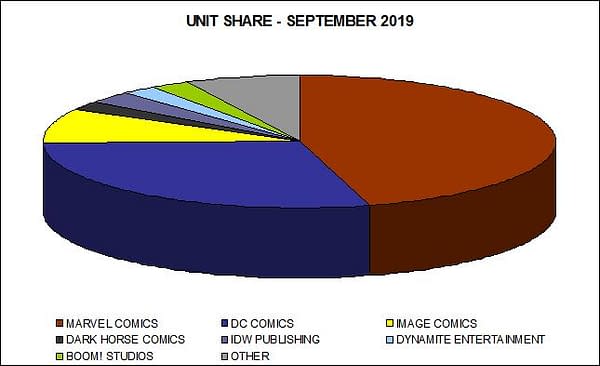 DOLLARS

UNITS

SEPTEMBER 2019 VS. AUGUST 2019

COMICS
5.20%
9.97%
GRAPHIC NOVELS
2.90%
-1.98%
TOTAL COMICS/GN
4.60%
9.12%
TOYS
-14.00%
-33.26%

SEPTEMBER 2019 VS. SEPTEMBER 2018

COMICS
10.87%
5.25%
GRAPHIC NOVELS
-11.54%
-20.44%
TOTAL COMICS/GN
4.09%
3.13%
TOYS
9.99%
-17.90%

YEAR TO DATE 2019 VS. YEAR TO DATE 2018

COMICS
2.05%
-3.29%
GRAPHIC NOVELS
-4.26%
-10.04%
TOTAL COMICS/GN
0.25%
-3.79%
TOYS
22.69%
25.47%

QUARTER 3 2019 VS. QUARTER 2 2019

COMICS
13.25%
8.20%
GRAPHIC NOVELS
1.68%
3.50%
TOTAL COMICS/GN
10.01%
7.88%
TOYS
29.24%
26.14%

QUARTER 3 2019 VS. QUARTER 3 2018

COMICS
5.41%
0.01%
GRAPHIC NOVELS
-7.95%
-15.17%
TOTAL COMICS/GN
1.59%
-1.16%
TOYS
19.23%
22.45%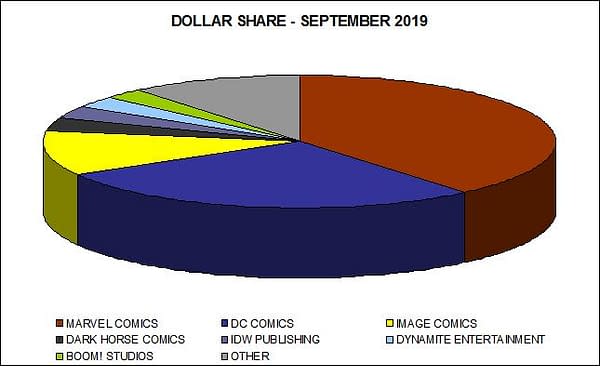 NEW TITLES SHIPPED
PUBLISHER

COMICS SHIPPED

GRAPHIC NOVELS SHIPPED

MAGAZINES SHIPPED

TOTAL

SHIPPED

MARVEL COMICS
99
43
0
142
DC
83
26
0
109
IMAGE COMICS
42
19
0
61
DARK HORSE COMICS
19
21
0
40
IDW PUBLISHING
25
15
0
40
VIZ MEDIA
0
33
0
33
BOOM! STUDIOS
18
14
0
32
DYNAMITE ENTERTAINMENT
15
5
0
20
ARCHIE COMICS
11
3
0
14
ONI PRESS
4
4
0
8
OTHER NON-TOP 10
127
186
19
332
TOTAL
443
369
19
831
TOP 10 COMIC BOOKS BY UNITS SHIPPED
| | | | | |
| --- | --- | --- | --- | --- |
| RANK | DESCRIPTION | PRICE | ITEM CODE | VENDOR |
| 1 | SPAWN #300 | $7.99 | JUN190014-M | IMA |
| 2 | SPIDER-MAN #1 | $4.99 | JUL190833-M | MAR |
| 3 | HOUSE OF X #5 | $4.99 | JUL190857-M | MAR |
| 4 | POWERS OF X #5 | $4.99 | JUL190873-M | MAR |
| 5 | POWERS OF X #4 | $4.99 | JUL190865-M | MAR |
| 6 | HOUSE OF X #4 | $4.99 | JUL190849-M | MAR |
| 7 | DOOMSDAY CLOCK #11 | $4.99 | MAR190507-M | DC |
| 8 | ABSOLUTE CARNAGE #3 | $4.99 | JUL190885-M | MAR |
| 9 | DCEASED: A GOOD DAY TO DIE #1 | $4.99 | JUL190514-M | DC |
| 10 | HARLEEN #1 (MR) | $7.99 | JUL190510-M | DC |
TOP 10 COMIC BOOKS BY DOLLARS INVOICED
| | | | | |
| --- | --- | --- | --- | --- |
| RANK | DESCRIPTION | PRICE | ITEM CODE | VENDOR |
| 1 | SPAWN #300 | $7.99 | JUN190014-M | IMA |
| 2 | SPIDER-MAN #1 | $4.99 | JUL190833-M | MAR |
| 3 | HOUSE OF X #5 | $4.99 | JUL190857-M | MAR |
| 4 | HARLEEN #1 (MR) | $7.99 | JUL190510-M | DC |
| 5 | POWERS OF X #5 | $4.99 | JUL190873-M | MAR |
| 6 | POWERS OF X #4 | $4.99 | JUL190865-M | MAR |
| 7 | HOUSE OF X #4 | $4.99 | JUL190849-M | MAR |
| 8 | DOOMSDAY CLOCK #11 | $4.99 | MAR190507-M | DC |
| 9 | ABSOLUTE CARNAGE #3 | $4.99 | JUL190885-M | MAR |
| 10 | DCEASED: A GOOD DAY TO DIE #1 | $4.99 | JUL190514-M | DC |

TOP 10 GRAPHIC NOVELS & TRADE PAPERBACKS BY UNITS SHIPPED
| | | | | |
| --- | --- | --- | --- | --- |
| RANK | DESCRIPTION | PRICE | ITEM CODE | VENDOR |
| 1 | BATMAN: DAMNED HC (MR) | $29.99 | MAR190571 | DC |
| 2 | UMBRELLA ACADEMY VOL. 3: HOTEL OBLIVION TP | $19.99 | MAR190279 | DAR |
| 3 | PAPER GIRLS VOLUME 6 TP | $14.99 | JUL190107 | IMA |
| 4 | MONSTRESS VOLUME 4 TP (MR) | $16.99 | JUL190105-M | IMA |
| 5 | IMMORTAL HULK VOL. 4: ABOMINATION TP | $15.99 | JUN191051 | MAR |
| 6 | HEROES IN CRISIS HC | $29.99 | JUN190600 | DC |
| 7 | BATMAN: THE KILLING JOKE HC | $17.99 | JUN190574 | DC |
| 8 | BATMAN VOL, 10: KNIGHTMARES TP | $17.99 | JUN190562 | DC |
| 9 | BATMAN: NIGHTWALKER: THE GRAPHIC NOVEL | $16.99 | MAY190358 | DC |
| 10 | THE JOKER: HIS GREATEST JOKES TP | $19.99 | JUN190604 | DC |
TOP 10 GRAPHIC NOVELS & TRADE PAPERBACKS BY DOLLARS INVOICED
| | | | | |
| --- | --- | --- | --- | --- |
| RANK | DESCRIPTION | PRICE | ITEM CODE | VENDOR |
| 1 | BATMAN: DAMNED HC (MR) | $29.99 | MAR190571 | DC |
| 2 | UMBRELLA ACADEMY VOL. 3: HOTEL OBLIVION TP | $19.99 | MAR190279 | DAR |
| 3 | MONSTRESS VOLUME 4 TP (MR) | $16.99 | JUL190105-M | IMA |
| 4 | MARVEL HORROR OMNIBUS HC | $150.00 | MAR190992 | MAR |
| 5 | HEROES IN CRISIS HC | $29.99 | JUN190600 | DC |
| 6 | PAPER GIRLS VOLUME 6 TP | $14.99 | JUL190107 | IMA |
| 7 | TIMELY'S GREATEST: GOLDEN AGE SUB-MARINER BY EVERETT HC | $150.00 | MAR190993-M | MAR |
| 8 | UMBRELLA ACADEMY LIBRARY EDITION VOL. 1 HC | $39.99 | JUN190309 | DAR |
| 9 | BATMAN ETERNAL OMNIBUS HC | $125.00 | JAN190658 | DC |
| 10 | SPIDER-MAN BY JOHN BYRNE OMNIBUS HC | $125.00 | MAR191002 | MAR |
TOP 10 BOOKS BY UNITS SHIPPED
| | | | | |
| --- | --- | --- | --- | --- |
| RANK | DESCRIPTION | PRICE | ITEM CODE | VENDOR |
| 1 | THE YEAR'S BEST SCIENCE FICTION & FANTASY 2019 EDITION | $19.95 | NOV188362 | PRI |
| 2 | FREE S$$T: THE CHARLES BURNS ZINE COLLECTION HC | $19.99 | JUL191904 | FAN |
| 3 | THE DARK CRYSTAL LITTLE GOLDEN BOOK | $4.99 | JUL191956 | GOL |
| 4 | GRIMM FAIRY TALES ADULT COLORING BOOK VOL. 1 SC | $12.99 | OCT151871 | ZEN |
| 5 | FRANK CHO: BALLPOINT BEAUTIES SC | $19.95 | JUN191759 | FLE |
| 6 | BLOODBORNE OFFICIAL ARTWORKS SC | $44.99 | MAR172148 | UDO |
| 7 | THE SHADOW DOUBLE NOVEL VOL. 144 SC | $14.95 | MAY191887 | SAN |
| 8 | MY LITTLE PONY: BEST GIFT EVER PERFECT PINKIE PRESENT LITTLE GOLDEN BOOK | $4.99 | JUL191958 | GOL |
| 9 | CATS OF THE LOUVRE MANGA HC | $29.99 | JUL192406 | VIZ |
| 10 | DOCTOR WHO: RESURRECTION OF THE DALEKS HC | $16.99 | JUL191682 | BBC |
TOP 10 TOYS BY DOLLARS INVOICED
| | | | |
| --- | --- | --- | --- |
| RANK | DESCRIPTION | ITEM CODE | VENDOR |
| 1 | MARVEL GALLERY: AVENGERS ENDGAME: IRON MAN MK85 PVC FIGURE | FEB198521 | DST |
| 2 | DC MULTIVERSE 6-INCH FIGURES: LOBO WAVE | NOV188888 | MAT |
| 3 | ONE-12 COLLECTIVE: MARVEL NETFLIX: THE PUNISHER FIGURE | MAR188817 | MEZ |
| 4 | BATMAN BLACK AND WHITE BY MARC SILVESTRI STATUE | FEB190627 | DC |
| 5 | MARVEL SELECT: CAPTAIN MARVEL MOVIE FIGURE | JAN192554 | DST |
| 6 | DC COMICSl CATWOMAN RETURNS BISHOUJO STATUE | JAN198158 | KOT |
| 7 | DARK NIGHTS METAL: BATMAN THE DEVASTATOR STATUE | FEB190623 | DC |
| 8 | DC ESSENTIALS: RED HOOD ACTION FIGURE | FEB190631 | DC |
| 9 | POP! MARVEL: SPIDER-PUNK VINYL FIGURE | SEP188215 | FUN |
| 10 | JOHN WICK SELECT FIGURE | SEP182329 | DST |
TOP 10 GAMES BY DOLLARS INVOICED
| | | | |
| --- | --- | --- | --- |
| RANK | DESCRIPTION | ITEM CODE | VENDOR |
| 1 | PATHFINDER CORE RULEBOOK HC (P2) | MAY193227 | PAI |
| 2 | PATHFINDER: LOST OMENS WORLD GUIDE HC (P2) | MAY193231 | PAI |
| 3 | STARFINDER RPG: ALIEN ARCHIVE 3 HC | JUN193098 | PAI |
| 4 | MARVEL HEROCLIX: X-MEN ANIMATED SERIES DARK PHOENIX BOOSTER BRICK | MAY193279 | NEC |
| 5 | PATHFINDER BESTIARY HC (P2) | MAY193229 | PAI |
| 6 | CRITICAL ROLE: TAL'DOREI CAMPAIGN SETTING HC | JUN173357 | GRE |
| 7 | PATHFINDER: CORE RULEBOOK HC SPECIAL EDITION (P2) | MAY193228 | PAI |
| 8 | PATHFINDER RPG: CORE RULEBOOK POCKET EDITION | APR168770 | PAI |
| 9 | PATHFINDER ADVENTURE PATH: AGE OF ASHES PART 2 (P2) | MAY198358 | PAI |
| 10 | PATHFINDER GM SCREEN (P2) | MAY193238 | PAI |