Speculator Corner: Is Something Is Killing The Children #1 The New Once & Future #1?
With the announcement of a sixth and final (where have I heard that one before?) printing on Once & Future, everyone is well aware that Boom Studios is on a bit of a hot streak this summer with big buzz creator-owned series from Dr. Kieron Gillen and Maybe-A-Doctor-Too-We-Still-Need-To-Check Dan Mora as they ramp up their (friendly?) rivalry with Image Comics as the Marvel and DC of the creator owned comics scene.
But we also broke the news that Something is Killing The Children #1, in stores tomorrow from James Tynion IV and Werther Dell'Edera, is coming right up on its heels with the biggest original series launch in the company's history and has already sold out of its third printing.
And each of the three first printing covers are driving a lot of sales with fans before the book even hits stores:
The main cover by Werther Dell'Edera starts at $7.99. Meanwhile, Jae Lee's cover is also heating up with sales at $12 and likely to rise since it was – relatively speaking – the rarest of the three covers based on FOC orders (all covers to this issue were open to order for retailers).
And the really hot cover is by Jenny Frison, with pricing starting at $17 to $20.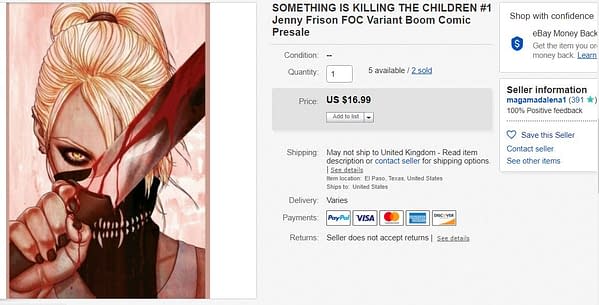 If you go for all three in a package you could lock it in at $40 …
But if this sounds familiar…this might remind you of what happened with Once & Future #1, which – despite debuting with only one cover – has seen every subsequent printing (which each featured new covers so Boom could claim they launched the series with no variants) selling for over $25, as we warned you about weeks ago.
With the first printing of Something is Killing The Children this hot already, there's no telling how high the fast-tracked second printing will go – especially if the cover is allocated like those first few additional printings of Once & Future #1 which were pre-selling as high as $80.
After all, the second print is already listed for $21 and selling at $12.
Who knows how expensive Something is Killing the Children's #1 third print will go? Once & Future #1's third print is selling for $30. Someone has a jump on the market already and is listing a Something Is Killing the Children #1 third print for $12. Is it a steal?
And even the fourth printing of Something is Killing The Children #1 is going for $8.99.
Might be worth calling your retailer now to put you down for one of every printing – if they haven't been allocated or aren't already sold out. And maybe grab a few for Uncle Rich who gave you the tip, okay?