 DC Comics has just announced that they are re-releasing Jeph Loeb and Jim Lee's classic run Batman Hush on special paper, in black and white, to appeal to the adult colouring in crowd.
They're probably going to need a lot of red.
DC are also doing Batman: Mad Love which is probably slightly less mad and a bit more doable.
Marvel have already repurposed their comics for the market, IDW have the Locke & Key and Robert Kirkman showed great foresight by having the Colour The Walking Dead series published monthly for ages.
Badumtish.
But where did this begin? Which comic book was published first to try and appeal to a market hat wouldn't exist for ten years?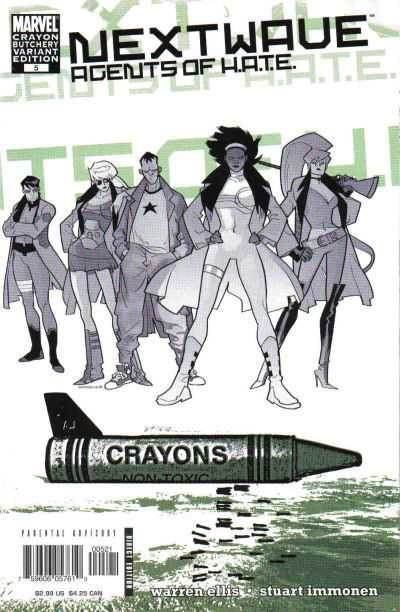 Why, NEXTWAVE Agents Of HATE #5 by Warren Ellis and Stuart Immonen of course… whose fifth issue release a Crayon Butcher Variant where readers were encouraged to do their worst and destroy any vague hope that this variant might one day be collectible…
It worked… for now at least. See if you can find an unscrawled version in your fifty cent boxes…