Spider-Man And Deadpool? It's A Bromance – For Now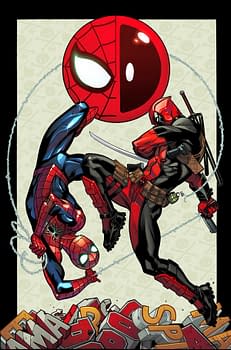 The Amazon listing for the upcoming Spider-Man/Deadpool Vol. 1 by Joe Kelly and Ed McGuinness has a title for the first arc… "Bromance."
It's not the first time Marvel have tried this out. Back in 2009, they announced a trade paperback collection, Marvel Bromance with a big MTV push with Jeff Youngquist saying.
"Last year, we put out the 'Marvel Romance' trade paperback, collecting some of the best stories from that genre from the '60s and '70s — and this year, we had 'Marvel Romance' Vol. 2 on our schedule. The problem was, we had no idea what to put in it, and no one seemed very enthusiastic about the book," said Youngquist of the collection's origins. "Finally, it came time to solicit the book, and we still hadn't figured out what to put in it. David Gabriel was over by my desk one day looking at a cover mockup or something, and the topic came up again, and I said, 'Forget Marvel Romance. We should just do Marvel Bromance, instead.'"

"A week or so later, he asked me why I hadn't submitted the paperwork for it yet," continued Youngquist. "So I quickly got in touch with Jeph York, my crack researcher, and he and the Handbook writing team helped hammer out the contents for the collection. And the rest is history."
Well, not really. Instead we got the collection Marvel Super Hero Team-Up with the same contents.
Will Spider-Man/Deadpool fare better? This tie can Marvel keep the bromance alive?