Spider-Man Omnibus Tops Advance Reorders With This Variant Cover
The new Amazing Spider-Man Omnibus rockets to the top of the Advance Reorders charts – possibly because they count these things by revenue raised rather than numbers ordered, but the 4th print of BRZRKR is close behind. And the Star Wars Bounty Hunters is off to a strong start as well.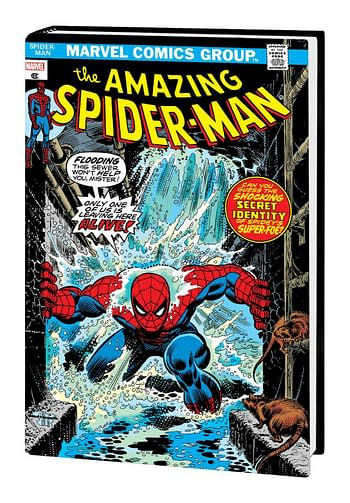 Greetings from the coal face of the direct comics market. Where retailers try to increase their advance reorders of certain comics ahead of sale. Where supply and demand and most accurately reflected, where you can see which books are hot, where new orders are coming in and how retailers are reacting to new, unanticipated desire! And courtesy of stats from Diamond Comic Distributors.
TOP 25 ADVANCE REORDERS COMICS/GRAPHIC NOVELS/TPS

| | | |
| --- | --- | --- |
| Publication | Price | Publisher |
| AMAZING SPIDER-MAN OMNIBUS HC VOL 05 KANE DM VAR | $125 | MARVEL COMICS |
| BRZRKR (BERZERKER) #1 4TH PTG FOIL GRAMPA | $5.99 | BOOM ENTERTAINMENT |
| CARNAGE BLACK WHITE AND BLOOD #1 (OF 4) 2ND PTG GLEASON VAR | $4.99 | MARVEL COMICS |
| STAR WARS BOUNTY HUNTERS ALPHA DIRECTOR CUT #1 | $5.99 | MARVEL COMICS |
| X-MEN INFERNO PROLOGUE OMNIBUS HC ADAMS DM VAR NEW PTG | $100 | MARVEL COMICS |
| STAR WARS WAR BOUNTY HUNTERS ALPHA #1 | $3.99 | MARVEL COMICS |
| HEROES REBORN #1 (OF 7) ARTGERM VAR | $5.99 | MARVEL COMICS |
| CHILDREN OF ATOM #3 | $3.99 | MARVEL COMICS |
| STAR WARS WAR BOUNTY HUNTERS ALPHA #1 ACTION FIGURE VAR | $3.99 | MARVEL COMICS |
| AMAZING SPIDER-MAN OMNIBUS HC VOL 05 MEDINA CVR | $125 | MARVEL COMICS |
| THE MARVELS #2 | $3.99 | MARVEL COMICS |
| X-MEN INFERNO PROLOGUE OMNIBUS HC SILVESTRI CVR NEW PTG | $100 | MARVEL COMICS |
| STAR WARS WAR BOUNTY HUNTERS ALPHA #1 MCNIVEN CRIMSON VAR | $3.99 | MARVEL COMICS |
| STAR WARS WAR BOUNTY HUNTERS ALPHA #1 YU VAR | $3.99 | MARVEL COMICS |
| MOON KNIGHT EPIC COLLECTION TP BAD MOON RISING NEW PTG | $39.99 | MARVEL COMICS |
| CARNAGE BLACK WHITE AND BLOOD #3 (OF 4) EASTMAN VAR | $4.99 | MARVEL COMICS |
| EVE #1 (OF 5) CVR A ANINDITO | $3.99 | BOOM ENTERTAINMENT |
| NOCTERRA #3 CVR C DANIEL (MR) | $3.99 | IMAGE COMICS |
| SILVER COIN #1 2ND PTG (MR) | $3.99 | IMAGE COMICS |
| CONAN BARBARIAN ORIG MARVEL YRS OMNIBUS HC VOL 06 BUSCEMA DM | $125 | MARVEL COMICS |
| AMAZING SPIDER-MAN #65 | $3.99 | MARVEL COMICS |
| GOOD ASIAN #1 (OF 9) CVR A JOHNSON (MR) | $3.99 | IMAGE COMICS |
| HEROES REBORN #1 (OF 7) | $5.99 | MARVEL COMICS |
| HEROES REBORN #1 (OF 7) COELLO GATEFOLD VAR | $5.99 | MARVEL COMICS |
| STAR WARS HIGH REPUBLIC ADVENTURES #4 (C: 1-0-0) | $3.99 | IDW PUBLISHING |
TOP 25 REORDERS COMICS/GRAPHIC NOVELS/TPS
| | | |
| --- | --- | --- |
| Publication | Price | Publisher |
| INVINCIBLE COMPENDIUM TP VOL 01 | $64.99 | IMAGE COMICS |
| TMNT THE LAST RONIN #2 (OF 5) | $8.99 | IDW PUBLISHING |
| X-MEN INFERNO OMNIBUS HC | $125 | MARVEL COMICS |
| INVINCIBLE COMPENDIUM TP VOL 02 | $64.99 | IMAGE COMICS |
| TMNT THE LAST RONIN #1 (OF 5) 3RD PTG | $8.99 | IDW PUBLISHING |
| SPAWN COMPENDIUM TP VOL 01 (NEW EDITION) (MR) | $59.99 | IMAGE COMICS |
| INVINCIBLE COMPENDIUM TP VOL 03 | $64.99 | IMAGE COMICS |
| TMNT THE LAST RONIN DIRECTORS CUT #1 | $10.99 | IDW PUBLISHING |
| SOMETHING IS KILLING CHILDREN TP VOL 01 (C: 0-1-2) | $14.99 | BOOM ENTERTAINMENT |
| (USE DEC209049) INVINCIBLE TP VOL 01 FAMILY MATTERS | $12.99 | IMAGE COMICS |
| BERSERK DELUXE EDITION HC VOL 01 (MR) (C: 1-1-2) | $49.99 | DARK HORSE COMICS |
| DEADPOOL ADAMANTIUM COLLECTION SLIPCASE HC | $200 | MARVEL COMICS |
| CIVIL WAR HC MCNIVEN CVR NEW PTG | $34.99 | MARVEL COMICS |
| ALAN MOORE NEONOMICON TP NEW PTG (MR) (C: 0-0-2) | $19.99 | AVATAR PRESS INC |
| OFFICIAL HANDBOOK MARVEL UNIVERSE DLX ED OMNIBUS HC FRENZ DM | $150 | MARVEL COMICS |
| DAREDEVIL OMNIBUS HC VOL 01 ROSS CVR | $125 | MARVEL COMICS |
| EAST OF WEST THE APOCALYPSE YEAR ONE HC | $49.99 | IMAGE COMICS |
| SOMETHING IS KILLING CHILDREN TP VOL 02 (C: 0-1-2) | $14.99 | BOOM ENTERTAINMENT |
| AVATAR LAST AIRBENDER LOST ADVENTURES LIBRARY ED HC | $39.99 | DARK HORSE COMICS |
| SAGA COMPENDIUM TP VOL 01 (MR) | $59.99 | IMAGE COMICS |
| TMNT THE LAST RONIN #2 (OF 5) 2ND PTG | $8.99 | IDW PUBLISHING |
| BERSERK DELUXE EDITION HC VOL 02 (MR) (C: 1-1-2) | $49.99 | DARK HORSE COMICS |
| HOUSE OF X POWERS OF X HC | $60 | MARVEL COMICS |
| INVINCIBLE HC VOL 01 ULTIMATE COLL | $34.99 | IMAGE COMICS |
| YUUNA & HAUNTED HOT SPRINGS GN VOL 13 (MR) (C: 0-1-2) | $12.99 | SEVEN SEAS GHOST SHIP |