Stan Lee Abduction, Abuse, Theft of $5,000,000 Assets, Scripted Video Threats Alleged In Court Application
A Los Angeles Superior Court has granted a new Temporary Restraining Order in the ongoing saga of Stan Lee's state of affairs. The order protects Stan Lee, along with his daughter JC Lee and brother Larry Leiber, against former Stan Lee associate Keya Morgan.
The application for this restraining order contains substantial new detail alleging abduction, misappropriation, and theft of millions of dollars of assets, physical and mental abuse, and the use of scripted video messages and threats over a period covering February 16 to June 11, 2018 — seemingly the culmination of a terrible year in the life of one of comics fandom's most beloved figures.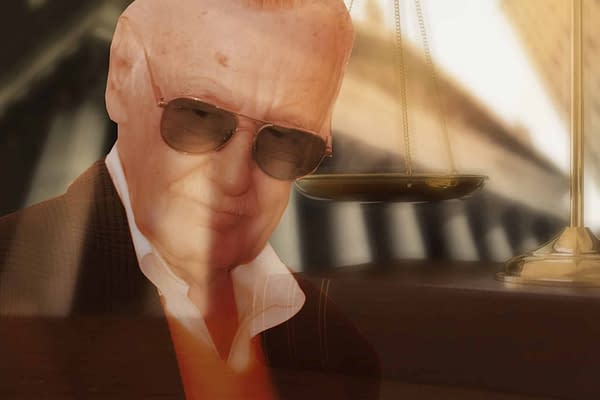 The granting of this new Temporary Restraining Order on July 6 followed a complex series of events that day during which Judge Pro Tem Ruth Kleman dismissed without prejudice a previous restraining order filed by attorney Tom Lallas. Complications had developed earlier in the day due to the fact that Tom Lallas of Levy, Small & Lallas, and attorney Robert Reynolds — whose practice specializes in personal injury and civil litigation — both appeared in court claiming to represent Stan Lee. The new application for a Temporary Restraining Order which was ultimately approved by the judge was prepared by Stephen Crump of Freund Legal. Stan Lee's daughter JC Lee was also on hand at the court proceedings on Friday, along with her own attorney Kirk Schenck of the firm Kulik Gottesman Siegel & Ware, who specialize in IP and entertainment law.
That's a lot of attorneys representing several different interests, so let's walk through it. According to recent statements by Tom Lallas, he had been retained by Lee in late 2017 to handle matters including:
Estate planning issues, disputes with persons who misused powers of attorney to Mr. Lee's detriment or otherwise purported to act on behalf of Mr. Lee without Mr. Lee's authorization, efforts to recover documents and personal property that had been removed from Mr. Lee's home without Mr. Lee's authorization, and various litigation and corporate matters, including matters involving POW! Entertainment and a class action with respect thereto.
Bleeding Cool reported on some of the unusual details of the billion-dollar Stan Lee v POW! suit on May 16, 2018. The suit was filed by the firm of Alpert, Barr & Grant. Tom Lallas' own firm, Levy, Small & Lallas describes itself as "a boutique law firm located in Los Angeles, California, specializing in the representation of commercial lenders and in complex business litigation."
However, Robert Reynolds, part of the team of lawyers now representing Lee, submitted a "Declaration of Stan Lee" document to the court on July 6 affirming that a prior signed statement from Lee "knowingly and intelligently terminated" Lee's legal representation by Lallas and his firm. Further, this declaration states that:
A particular legal issue I have with Mr. Lallas relates to his purportedly having me sign a Declaration on or about February 13, 2018 in which I was critical of my daughter and her legal representation. Even after I told him at my home in front of LAPD officers on February 15, 2018 that I did not recall siging it and, regardless, adamantly disputed the truth of the statements in the Declaration, I am informed and believe that Mr. Lallas nevertheless published that false Declaration to media outlets (specifically to the Hollywood Reporter) in what appears to be just one of Mr Lallas' attempts to control and manipulate me and my affairs despite my express wishes to the contrary.
Bleeding Cool has previously discussed that particular February 15, 2018 document and its publication by THR at length.
Freund Legal made a prior appearance in the Stan Lee saga on April 13, 2018 when it filed a lawsuit against Jerry Olivarez and Hands of Respect on behalf of Lee. The firm describes itself as "specializing in intellectual property, entertainment and internet concerns", and an examination of their case history in that area is… eyebrow-raising in the context of their representation of Lee. While I'm certain they're perfectly willing and more than able to secure this TRO for Stan and to represent his interests in the Hands of Respect matter, it's hard not to wonder if their appearance here is a sign of some bigger things to come, given their specialty in IP. I'm sure we'll find out soon.
That aside, the current state of affairs is that Stan Lee, along with JC Lee and Larry Lieber have been granted a Temporary Restraining Order against former Stan Lee associate Keya Morgan, while the firm Freund Legal plus Robert Reynolds seems to have established itself as Stan Lee's current legal representatives in this matter and possibly others.
The fine print of Freund Legal attorney Stephen Crump's application to the court on behalf of Stan Lee provides a wealth of new detail on the last several weeks of this ordeal. In asking the court to grant a Temporary Restraining Order against Keya Morgan, it is being alleged:
JC Lee and Larry Lieber are Stan Lee's only living blood relatives. Keya Morgan, who has attempted to build a relationship with Stan Lee in order to take advantage of him financially and to misrepresent his involvement with Stan Lee's career, is currently threatening, pressuring, harassing, or attempting to influence Larry Lieber and JC Lee to assist him in regaining contact with, and control of, Stan Lee, his finances and his personal property. Keya Morgan is currently applying significant psychological pressure on JC Lee and Larry Lieber through repeated and harassing phone calls, written messages and threats of personal contact designed to enable him to regain control of Stan Lee's finances, healthcare, professional endeavors, and personal property
Stan Lee is 95 years old. Mr. Lee has engaged in a few minor business transactions with Keya Morgan, who has attempted to cultivate a co-dependent relationship with Stan Lee (a) to take advantage of him, his daughter and his brother financially, (b) to misrepresent his involvement with Stan Lee's career, financial planning, and business opportunities. and (c) to alienate and distance Stan Lee from his family, friends, doctors, caregivers, lawyers, accountants and others in order to consolidate control and further manipulate Stan Lee to assign, convey, or transfer property to Keya Morgan.

Based on evidence related to internal and LAPD Investigations to date, it is believed Keya Morgan has been attempting and/or succeeding , and will continue unless restrained by Court order, to invade the privacy of, defraud, illicitly influence and control, steal personal property from, embezzle from, illegally control and convert to his own exclusive use the financial assets of, physical and mentally abuse, and interfere with the medical treatment of, Stan Lee and his family. Additionally, Keya Morgan has been, and it is believed will continue, attempting to alienate Stan Lee from and interfere with his relationships with, Stan Lee's daughter, current lawyer, accountants, financial planners, doctors, friends, co-workers, family members and business partners in order to achieve personal gain at the expense and to effectuate further financial and psychological control of Stan Lee. Keya Morgan is also Interfering with Stan Lee's various business relationships, and his ability to earn a living, to provide for dependents/familly members, and to maintain and control his assets, medical care, and physical well being. Keya Morgan recorded Stan Lee delivering scripted video and audio messages containing negative statements about third parties. Keya Morgan would use such materials to threaten, extort, and control such third parties. On or about June 8, 2018, Keya Morgan, with the aid and assistance of his mother Farideh Salahshour aka Faith Morgan and a third party, removed Stan Lee from his residence of nearly 40 years to a small apartment at an undisclosed location to further alienate Stan Lee from his daughter JC Lee and other concerned and trusted advisors to insure only he would have control over Stan Lee's financial, business and personal activities.

Without Stan Lee's consent and against his express wishes, on multiple occasions from February 16 to June 11, 2018, Keya Morgan attempted to interfere with Stan Lee's ability to consult with friends, various doctors and his daughter JC Lee about his health care and mental well being. While internal and police investigations are continuing, it is believed that Keya Morgan has stolen, embezzled, misappropriated, converted to his own (and/or his mother Farideh Salahshour's and other third parties') exclusive benefit, personal property and financial assets valued at over $5,000,000. Stan Lee is currently recovering from the severe physical and emotional injuries caused by Keya Morgan during the period of time Keya Morgan controlled each and every one of· Stan Lee's acts or omissions, and separated Stan Lee from his family, friends and close advisors.

From February 16, 2018 to June 11, 2018, Keya Morgan alienated Stan Lee from his trusted family members, doctors, financial advisors, and others who typically attended to his physical and mental well being and who insured he made prudent and consensual business and personal decisions. Keya Morgan severely limited Stan Lee's contact with his only daughter/heir, JC Lee and others, by (a) making false and malicious/defamatory statements about JC Lee (and others) to Stan Lee, thereby causing Stan Lee to avoid contact with anyone other than Keya Morgan, and (b) instructing nursing and security staff, and others, to prevent JC Lee's, and Stan Lee's financial advisors', access to Stan Lee.

Without Stan Lee's consent and against his express wishes, on multiple occasions from 2010 until February 16, 2018 Keya Morgan (a) attempted to interfere with Stan Lee's ability to consult with various doctors, caregivers, and family members about his health and mental wellbeing, (b) attempted to alienate Stan Lee from his daughter and sole heir JC Lee in order to attempt to gain control of Stan Lee's assets, personal property, and estate and trust, and (c) regularly instigated Stan Lee to distance himself from anyone who Keya Morgan considered a threat to his plan to manipulate Stan Lee into taking only acts or omissions that benefited Keya Morgan personally, professionally and financially.

Without an immediate court order preventing Keya Morgan from continuing to physically, psychologically and financially abuse, neglect, isolate, abduct, alienate from relatives. steal and embezzle from, Stan Lee, such acts or omissions will continue and Stan Lee and the persons listed in (6) will be irreparably damaged, and suffer financial, mental and physical injury that cannot likely be remedied. Keya Morgan's last interaction with Stan Lee was to abduct and move him to an undisclosed residence without notifying Stan Lee's daughter JC Lee in a last ditch effort to complete cut Stan Lee off from any meaningful communication with anyone other than himself and those he could control. If Keya Morgan is allowed contact with Stan Lee, it is feared he will again attempt to remove Stan Lee to unknown location(s), to further his past attempts to control and manipulate Stan Lee, and alienate him from his daughter, and sole heir, JC Lee.
Taken in total, the allegations made in this application to the court for a Temporary Restraining Order, along with the primary time frame of February 16 to June 11, 2018 and a secondary time frame of 2010 to 2018, give us a glimpse at likely civil and criminal cases to come — along with a list of individuals said to have witnessed the alleged acts of abuse and other transgressions.
As for Morgan, he did not appear in court on July 2 — his lawyer Alex Kessel appeared on his behalf to plead not guilty of filing false police reports. Morgan also failed to appear in court on July 6, when Kessel was on hand to contest the Temporary Restraining Order. Kessel stated earlier in the week that Morgan was in New York City working on a film project, and it appears that Morgan has changed his Twitter location from "New York City / Beverly Hills" to just "New York City" recently. Of further note, the current TRO application prepared by Stephen Crump lists Morgan's residence as "Transient / No Known Permanent Residence", while the prior application made by Tom Lallas did list an address for Morgan.
On the day that the new Temporary Restraining Order was granted, Keya Morgan tweeted this:
https://twitter.com/KeyaMorgan/status/1015268712549527553
Ironically, that tweet is itself a lie that has traveled many times around the world before the truth has caught up with it — because Mark Twain didn't say that.
It's a curious error for a self-proclaimed historian and scholar to make, though perhaps understandable, as Morgan likely has many things on his mind these days — no doubt his mandatory attendance (as I understand it) at his upcoming July 26 hearing chief among those things. In addition to addressing the current charges of filing false police reports against Morgan, the judge will also consider whether his actions in this matter violate the terms of his current probation subsequent to an arrest for Criminal Threats in California.
Of course, the father of American literature did indeed write quite a bit about truth and lies. Here's one of the most famous actual Mark Twain quotes on the subject:
A man is never more truthful than when he acknowledges himself a liar.
Bleeding Cool has covered this matter in great detail over the past few months. I wish I could say that I thought we were close to the end of this strange saga, but there are a few chapters left to go, I suspect.