The Daily Mail/MailOnline has continued to run new allegations of sexual harassment against the Marvel Universe co-creator Stan Lee, following their first exposé regarding homecare nurses two days ago.
In this case, the site alleges that Lee groped a female massage therapist, then masturbated in front of her, demanding sex, at a Chicago hotel when attending the comic convention C2E2 in April last year. This reportedly happened after massage therapy was booked for him in his hotel suite.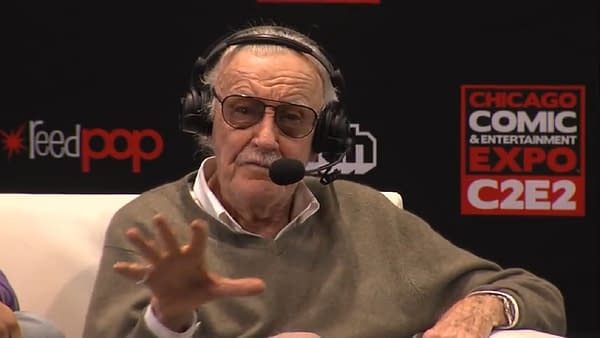 Unlike the nurses in the previous story, the story states that the massage therapist has made a legal complaint against Lee. It also reports that lawyers representing both Marvel and Lee's own company POW! Entertainment have held meetings about the incident and have been in contact with the massage therapist over it.
However, as with the allegations about the nurse care, Stan Lee's attorney Tom Lallas has told the site:
"Mr Lee categorically denies these allegations and he fully intends to fight to protect his stellar good name and impeccable character. Mr Lee has not offered any money to settle this claim, and no negotiations have ever occurred regarding any payment to this accuser. This accusation is another example of a demand that Mr Lee has received to pay money and threat that if he does not do so, the accuser will hold a press conference and go to the media. Mr Lee will not be extorted or blackmailed, and will pay no money to anyone because he has done absolutely nothing wrong."
Lee did indeed attend C2E2 last year, and he is a regular at comic conventions, signing autographs and appearing for photo opportunities — for which he charges a three-figure sum. Yet, he usually has the longest lines of the shows.
Bleeding Cool is also looking into other allegations related to these cases and will be updating when there has been sufficient time for people to comment.
Enjoyed this article? Share it!