Stan Lee's Lawsuit Against POW! Entertainment for $1 Billion Raises More Questions
A month ago, when reporting that Stan Lee was suing his ex-business partner Jerry Olivarez on charges of elder abuse, we stated that we understood that Lee would also be suing POW! Entertainment and his former business manager Max Anderson.
Well, the first of those shoes has dropped. The filed papers (reproduced below) claim damages based on charges that POW! Entertainment business partners took advantage of Stan Lee's failing eyesight so that the IP creation and management company could be sold to Hong Kong's Camsing International Holding last year, and so that those business partners could "fraudulently steal Stan Lee's identity, name, image, and likeness as part of a nefarious scheme to benefit financially at Lee's expense."
We have reported how POW! Entertainment have been upping their trademarks registrations using the words Stan Lee and other phrases associated with the Marvel Comics creator. The company also publicly shared concerns regarding Stan Lee's health at a recent Silicon Valley Comic Con signing.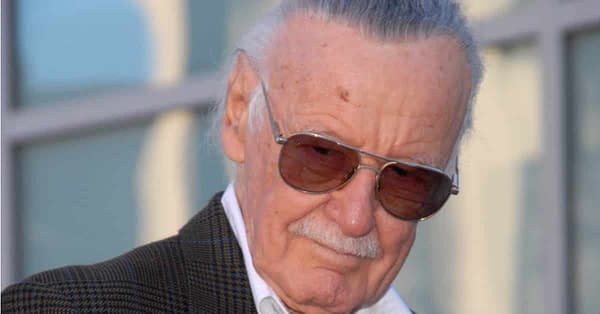 But the contents of the suit raise even more questions as to events surrounding Lee over the past year.
Notably, the suit alleges that:
While Lee's beloved wife was on her deathbed, and Lee was in a state of devastation, Champion and Duffy, on behalf of POW!, were brokering a deal to sell POW! Camsing International Holding Limited, a Hong Kong Corporation and the controller of First Creative and Merger Sub ("Camsing").
But the Camsing deal was announced on May 5th, 2017, a day before Lee was promoting Spider-Man: Homecoming alongside Tom Holland at a Mexican comic con on May 6th, 2017. Joan Lee passed away three months later on July 6th, 2017 after having been hospitalized after a stroke the previous week.
The suit also contains something of a puzzle in regards to Lee's capacity to sign documents and other items over the past year, stating:
In or about 2011, Lee was diagnosed with macular degeneration. In or about 2015, Lee was diagnosed with advanced macular degeneration, and was declared legally blind. As result, since approximately 2015, Lee has been unable to read documents or drive on his own.

Despite having advanced macular degeneration, Lee is constantly signing documents, photographs, comicbooks, posters, and artifacts. Because of his celebrity status thousands of autograph requests are sent to him, and sometimes Lee signs over 1000 autographs per day. Since his diagnosis, Lee has signed thousands of autographs under the guidance and counsel of his trusted advisors. Similarly, with respect to important documents, his advisors the documents for him, and Lee then decides whether to sign.
But it's left unclear which if any of these trusted advisors were present throughout 2017 while various documents were being signed, and if these same trusted advisors are likewise helping him handle his social media.
The papers that the terms of sale were never disclosed to Lee and that Lee is now facing lawsuits from POW's shareholders regarding sale terms that Lee did not agree to, and refers to the details of the case Lee has been making against Olivarez, alleging fraud, again terms that Olivarez denies.
But these discrepancies in the papers filed by Alpert, Barr and Grant of Encino, California on May 15th, may need to be addressed before they enter a courtroom.
Stan Lee Lawsuit POW by gmaddaus on Scribd