Star Trek the Next Generation Through the Mirror #1 Review: The Minutia of Federation Supplies
[rwp-review-recap id="0"]
Worf and a contingency from the Enterprise are sent down to investigate missing resources from a federation mining facility. After some searching, they find an Enterprise crew member who should not be in the facility. Sure enough, it is an agent from the Mirror Universe, and the crew of their Enterprise is making incursions into our universe.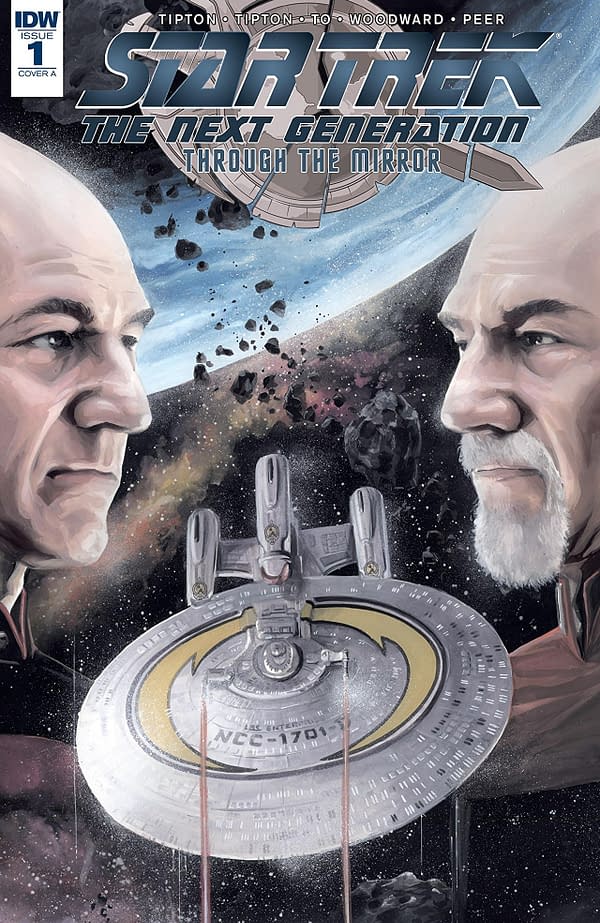 Star Trek: The Next Generation was always a more methodical take on the franchise, but the slowness of this comic drags for a considerable duration of the runtime. This wouldn't be a problem if so much of said slower portion weren't just discussion of missing resources. It's hard to feel invested in the stuff belonging to your favorite characters.
Now, this could turn into an interesting conflict centering around the scrambling for limited resources, but this lead-in comic doesn't really capitalize on that idea.
There is an extended shoot-out between Worf and other Federation members and the Mirror Universe crew. Even that runs on a little too long and feels more exhausting than tense by the end.
The final segment takes place in the Mirror Universe itself, and this is when the comic comes most alive with discussions of missing Emperor Spock and how unnerving Mirror Data is.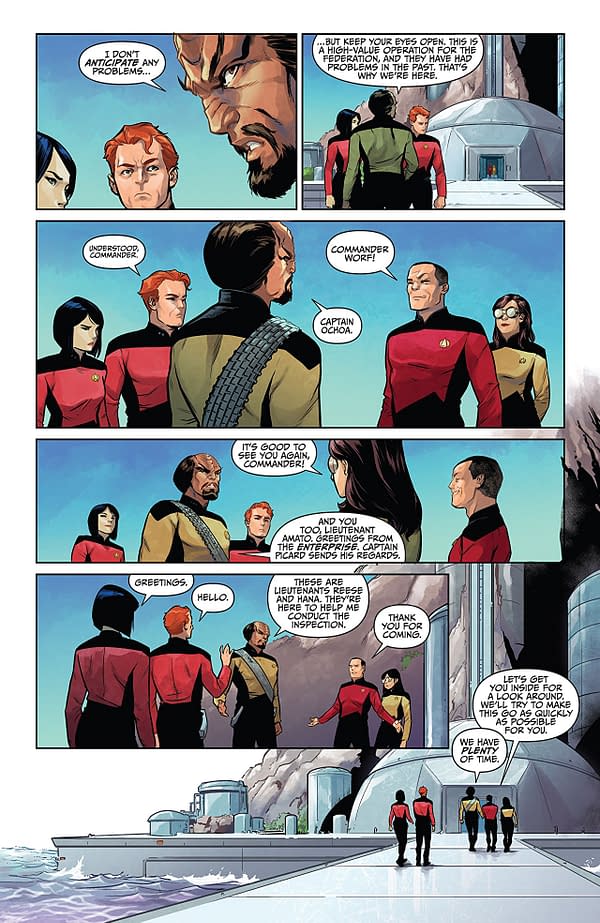 Marcus To provides some good, sleek art in the part of the comic that takes place in our universe. The characters are given good detailing, Worf looks imposing, and Brittany Peer provides dazzling color art that really brings this section to life. J. K Woodward's artwork contrasts it heavily with more photorealistic and textured work with dark and imposing colors in the Mirror Universe. Both parts of the comic look gorgeous, and I have little to complain about regarding the visuals of the book.
Star Trek the Next Generation: Through the Mirror #1 is a slow and ponderous comic that only comes to life in the end and in little moments in the dialogue throughout. While the art team puts in excellent work, the tedious discussion of missing mining materials will bore all-but the most devoted TNG fan. It's not an awful comic, but, unless you are heavily invested in IDW's Star Trek material, you should give it a pass.
[rwp-review-ratings id="0"]
[rwp-review-form id="0"]