Star Wars Thrawn #2 Review: Wordy yet Interesting, with a Great Lead
[rwp-review-recap id="0"]
Lieutenant Thrawn and Ensign Vanto have been assigned too Captain Rossi on the Blood Crow. They are responding to a derelict cruiser carrying Tibana Gas. While the crew is investigating, the Blood Crow is called to another situation, but Thrawn elects to stay with Vanto and others to try to get the Tibana Gas cruiser up and running.
Another party may yet prove interested in the Tibana.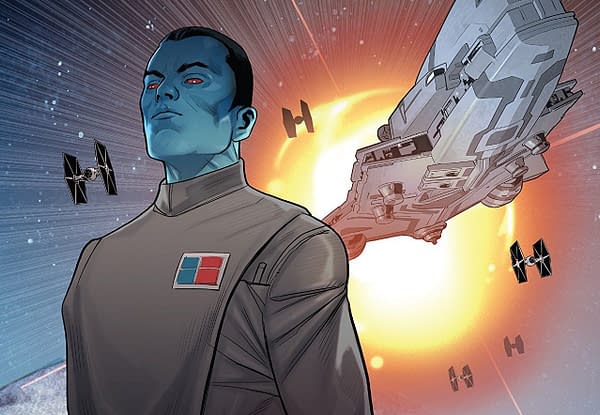 Thrawn #2 skips forward from the first issue to show a defining moment in the future Grand Admiral's career. While it takes some interesting twists and turns in its run, it is also very wordy. The comic goes through every detail in a clinical manner, and it almost works considering the nature of Thrawn and the work he's doing. However, some things could have been cut out to be only shown instead of told, and that methodical tone could have been preserved.
That's not to say that the comic is boring by any means. Watching our frighteningly efficient protagonist brush up against complacent officers and the politics of the Imperial military is compelling. There is some action and more physical conflict to balance out the dialogue and politics. How Thrawn handles such conflicts is interesting. He is a great lead.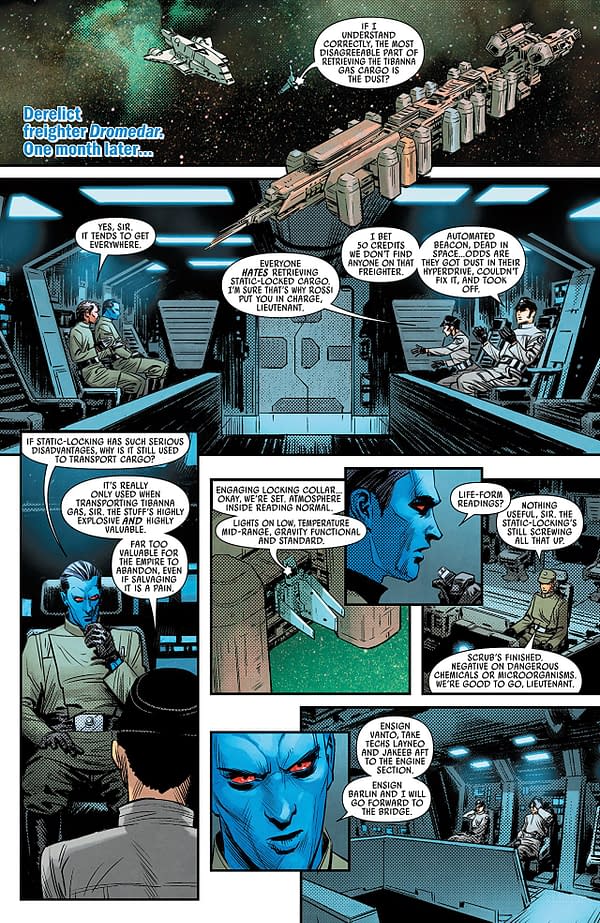 Luke Ross's artwork is still of a highly detailed and pseudo-realistic style, and it looks great for it. It errs towards less detailing and cartoonish at a longer draw distance, but it doesn't look incongruous. Nolan Woodard's color art is the right mixture of sterile and bright to balance out the vast dark expanses of space. It pops off the page and injects some restrained life into the book.
Thrawn #2 is a solid read. The wordiness kills the pacing to a point, but Thrawn is a highly engaging lead, the plot is interesting, and the art holds together well throughout. This one is still recommended. Check it out.
[rwp-review-ratings id="0"]
[rwp-review-form id="0"]