Star Wars Thrawn #3 Review: Backstabbing, Promotions, and Mines
[rwp-review-recap id="0"]
Arihnda Pryce's family owned a small mine on an Outer Rim world called Lothal. Doonium, a highly valuable resource, was recently discovered in the Pryce family mine, and the powers that be swiftly moved in on the opportunity. The Pryce family lost their mine, and, in an attempt to salvage her career, Pryce became an assistant to the Senator of Lothal. This leads her into contact with duplicitous Moffs, treasonous advocacy groups, Commander Thrawn, and even Grand Moff Tarkin.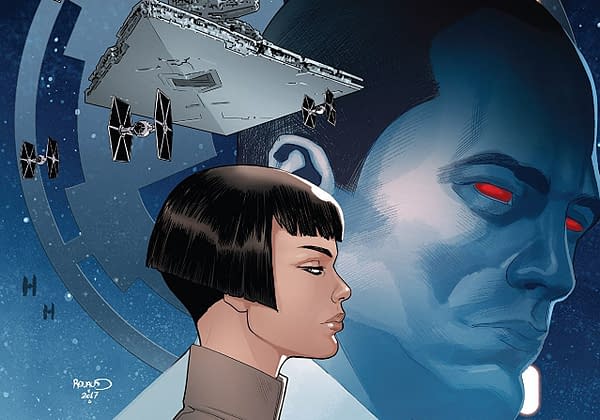 Star Wars: Thrawn #3 is another text-intensive and low-action issue in the miniseries, but this one improves on the previous installment with its House of Cards-esque backstabbing and power plays.
The issue, as you could glean from the summary, focuses little on Thrawn himself. Arihnda Pryce is the focus. The pacing is impressive. Even if the text can become daunting at times, the plot moves forward at a good rate. We get to see Arihnda Pryce turn from a young woman who just wants to hold onto her family's livelihood to a devious and power-hungry politician on Coruscant. She is loyal to none but herself and the promise of vengeance.
All the more impressive is how seamless this transformation is. There's not single turning point; the change is gradual. You don't realize how far she's gone until the meeting with Tarkin in the last few pages of the book.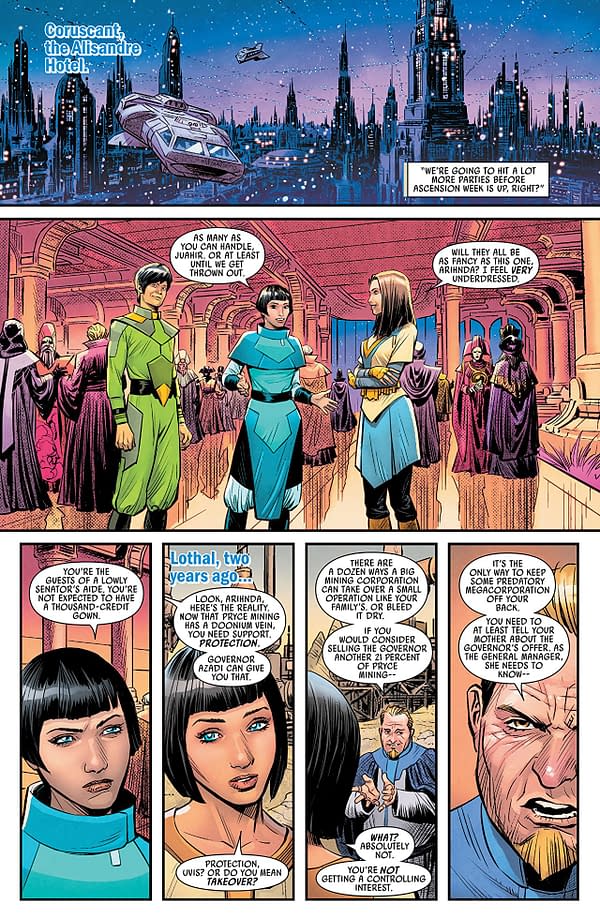 Luke Ross's artwork is gorgeous and renders this world in impeccable detail. Each character is easy to distinguish, even the all green-garbed and old white Imperial politicians and officers. Paneling and sequencing is creatively played with a little here and there. Nolan Woodard's color art is well balanced but bright enough to catch the eye consistently throughout.
Star Wars: Thrawn #3 gives a lot of text and dialogue to digest, but it is a compelling tale of politics and revenge. Pryce is a very compelling character, even if it is a bit odd to devote an entire issue of a book called Thrawn to her. That said, I can still recommend this one wholeheartedly. Give it a read.
[rwp-review-ratings id="0"]
[rwp-review-form id="0"]