Steve Englehart Releases Unpublished Batman: Dark Detective Vol 3 With Marshall Rogers
Legendary comic book writer Steve Englehart, co-creator of everyone from Star-Lord to Mantis to Night Man, worked with the late Marshall Rogers and Terry Austin on Detective Comics #469-#476 beginning in 1977 for a run which would be later dubbed Dark Detective, and significant elements of which turned up in the Batman movie and cartoons.
Steve Englehart describes on his website how producer Michael Uslan had been trying to use his comics to get a Batman film deal for a decade, that DC Comics publisher Jenette Kahn got Englehart to write a couple of script treatments to adapt his Batman into a movie, featuring Bruce Wayne, the Batman, Silver St. Cloud, Boss Thorne, and the Joker, and that it was this that clinched the deal – only to be rewritten by Sam Hamm and Tim Burton with no credit for Englehart.
Rogers and Englehart team reunited in 2005 for the mini-series Batman: The Dark Detective. which Englehart believes was later used to create the movie Dark Knight, again without credit.
In Batman, they changed Silver St. Cloud to "Vicki Vale" and Boss Thorne to "Boss Grissom." In The Dark Knight, they changed Evan Gregory to "Harvey Dent" and Two-Face to the Joker. But the plot and the look are clear. The original Harvey Dent had a different origin, no Joker, and brown hair combed straight back.
Englehart and Rogers were creating a third book, which Englehart had fully scripted – when Roger died. And, despite Englehart wanting to complete the comic in tribute to Rogrs, DC Comics closed the project down. Englehart is clear on the motivation.
When DC wanted to make the Batman movie from DARK DETECTIVE I, they said so, and (eventually) brought me in on the project because, they said, no one could adapt me as well as me. But afterward, they didn't want to give me any credit. So when they made a movie of DARK DETECTIVE II, they said nothing. And when I turned in DARK DETECTIVE III, it got worse.
…which DC Comics never published. And with both previous Dark Detective volumes out of print, Steve Englehart has decided to rectify that himself – and make them both available, as well as the unpublished third volume, script and art… as a bootleg.
Here's Steve Englehart at Portsmouth Comic Con, with his signage.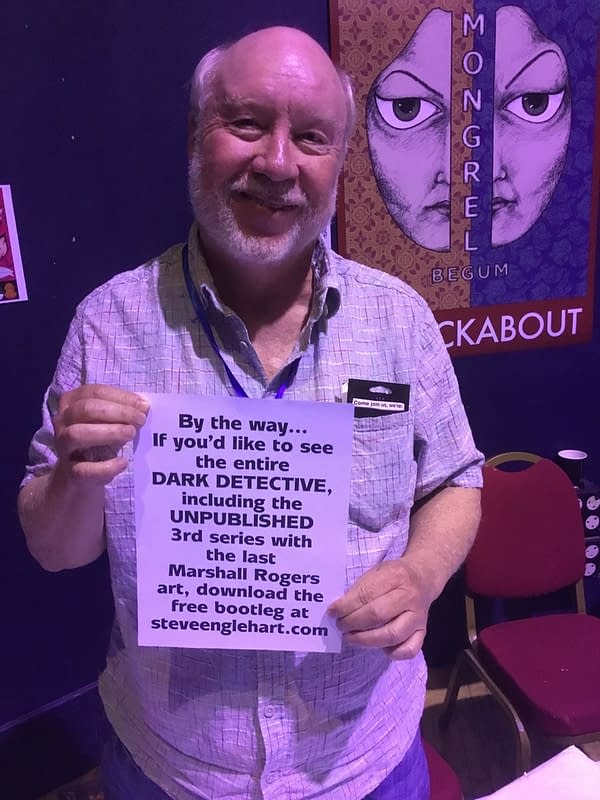 That would be steveenglehart.com…