A New Swear Word For DC Comics – and Harry Potter – in Today's Sandman Presents: Hellblazer
We always like to keep up with DC Comics' policies regarding swear words. And, as ever, John Constantine is often the instigator. You may recall in Books Of Magic by Neil Gaiman how a 'f-cking hell' from Constantine became the frankly, far ruder, 'felching heck' on publication as no one not even the people who monitor the language on the website, knew what 'felching' meant back then. But soon enough, the other f-word became relatively commonplace in DC Vertigo titles.
The first use of the c-word was through editorial illness, that let it through in an issue of House Of Secrets. That word has been a lot rarer – indeed absent – from DC Comics for some time. Although, Garth Ennis did once point out that DC was happy to publish a series called The Kents, which in a certain accent is indistinguishable.
It is also worth pointing out that in British/Irish vernacular, that while one of the most-offensive words used, it's not a gendered form of insult as it is in the USA, and can often be used as a term of affection.
Constantine also managed to introduce both 'bollocks' and 'wanker' to the regular mainstream DC Universe, despite both being high up on the offence scale in the UK – but not in the US.
Today though, Si Spurrier is writing John Constantine in the new Sandman Universe Presents: Hellblazer Special, drawn by Marcio Takara and Cris Peter, intended to kickstart the new wave of Sandman Universe titles. And not only gives us a genuinely sounding Constantine…

…but also has a version of his driver, Chas, bring in a new swear word to the DC Universe, courtesy of the afterlife.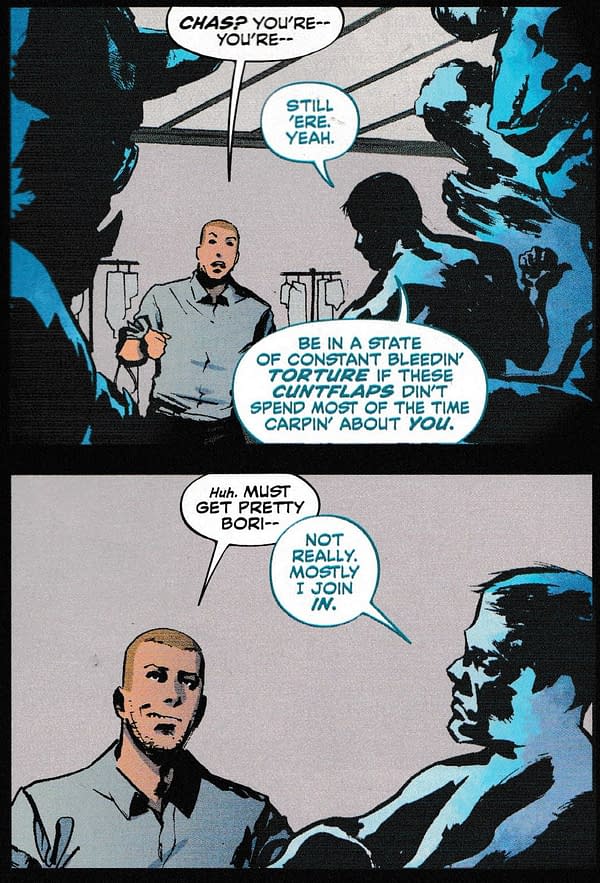 Let's call it Kentflaps, shall we? Less of a term of affection, there… But could another more traditional version of that word have had to be cleared by Warners upper echelons? It does, after all, invoke Harry Potter as well…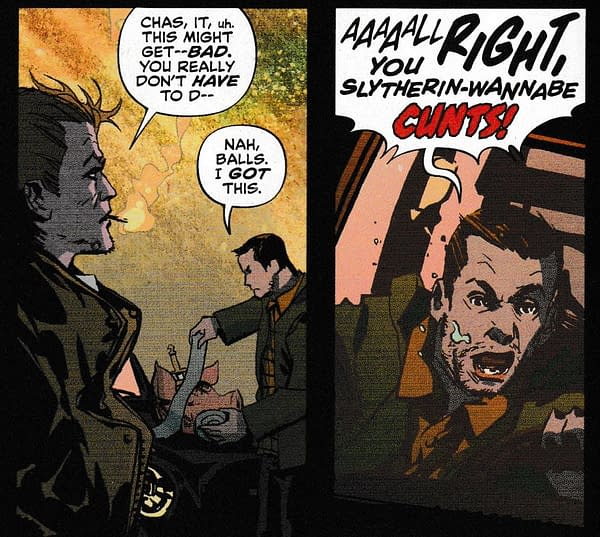 Published today…
SANDMAN UNIVERSE SPECIAL HELLBLAZER #1 (MR)
(W) Si Spurrier (A) Marcio Takara (CA) Bilquis Evely
The second year of the Sandman Universe begins with the long-awaited arrival of one of DC's most iconic characters…John Constantine, Hellblazer!
He's cheated death and damnation more times than he can count, but never like this. Long ago, in the crucible of a magical war waged across countless futures, Constantine was murdered by an all-powerful adversary: a twisted version of Timothy Hunter, bloated with evil.
But over the past year strange forces have conspired to restart Tim Hunter's tale, and somehow-amid sorcery, insanity and secret agendas-this older, wiser, wilier shade of Constantine has been dragged back with it. Unlike young Tim, John remembers every second of a life that went very, very wrong. Now he must ask himself why he, the last person in the world to deserve a second chance, has been given one. Is John Constantine here to put Tim Hunter on the right track and avert a terrible outcome? Or is it because he's the only person in existence with the guts to do what REALLY must be done? After all, he's a nasty piece of work, chief…ask anybody.
This oversize one-shot sets the stage, and is the perfect jumping-on point, for a new era of Sandman Universe tales beginning in November…and is the official start of the strangest chapter yet in John Constantine's long life!In Shops: Oct 30, 2019
SRP: $4.99