Meet Swiss-Army Woman From Jason Martin and Marco Maccagni
Jason Martin writes,
Upon losing her leg in a freak Olympic super-g ski accident in the Swiss Alps, a young woman is outfitted with top secret (yet all too familiar) technology, and becomes a one woman weapons program for a clandestine military from a supposedly neutral country! Now, instead of returning to her normal life, she proudly fights to defend Swiss interests at home and abroad. Chocolate Barons, Evil Bankers, and Giant Alien Clocks… all bent on world domination!! Good thing the Swiss Army have a special operative with every weapon, tool, or gadget their country requires… all attached to her right thigh! She is any tool the Swiss need, for any job her nation requires. She is… THE SWISS ARMY WOMAN!

It's Cherry Darling meets Batman The Animated Series by way of Switzerland!! Hey! I'm Jason Martin, creator of current comics like Vampblade, and Amalgama: Space Zombie, and past works like PRINCE-S STARthief, Night of the 80s Undead and more! I've worked in comics for years, and just launched my second crowd-funded book Swiss Army Woman via Kickstarter.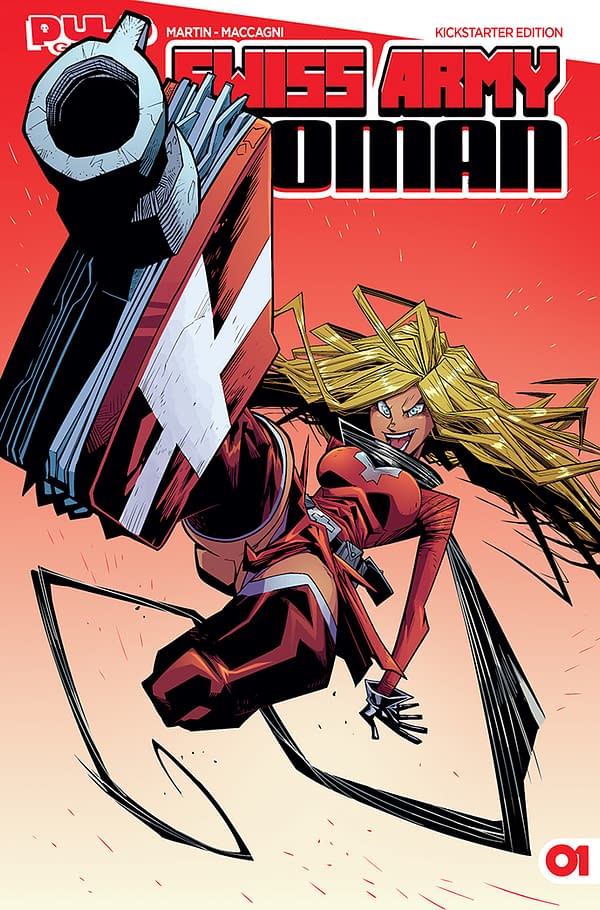 This latest Kickstarter is another of my Pulp Girls concepts, a collection of pulp and genre inspired concepts with death-defying female leads, created by me, and featuring different amazing artists. This title, Swiss Army Woman, features the awesomely kinetic artwork of popular Italian artist, Marco Maccagni (Zombie Tramp, Vampblade, Road Trip to Hell, Monster M.D.).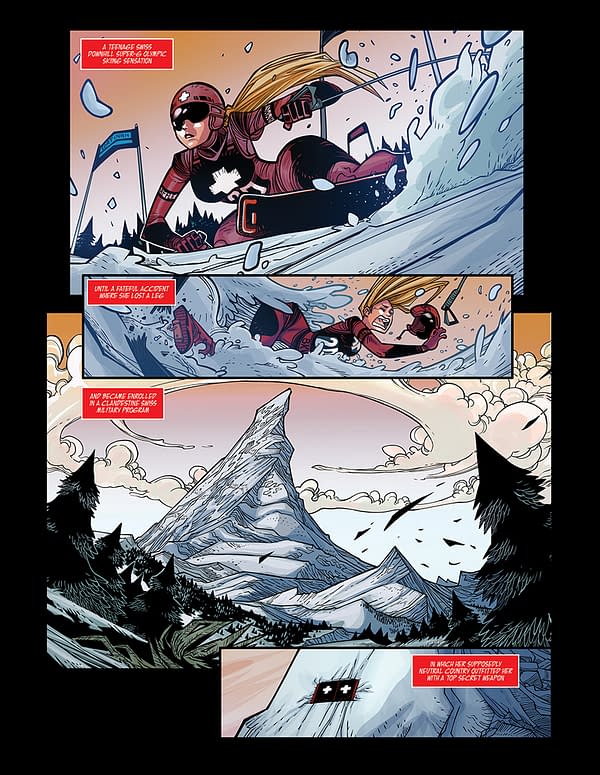 I've been fortunate enough to work with Marco on multiple projects, and he's simply a masterful storyteller and great collaborator. Marco always takes my scripts and elevates them, breathing life and emotion into them and perfectly capturing what's needed to illustrate the story and action on every page. But in addition to that, his expressive animated style perfectly fits the tone of this concept. As Swiss Army Woman is a blend of some familiar inspirations to create an explosive action comic with an animated flavor all its own. A heightened cartoon-like reality.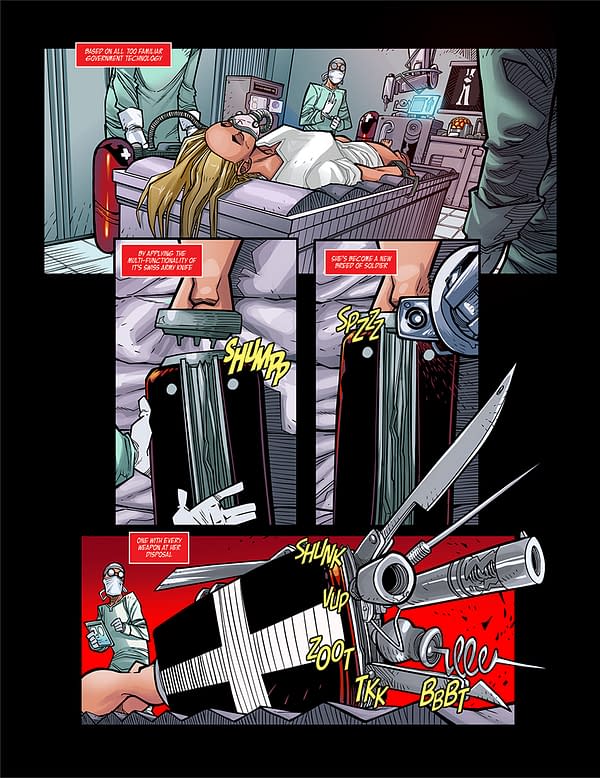 Fans of beloved action cartoon franchises of the 80s and 90s will dig what we're doing here. Taking Switzerland and its rich iconography and mining that for our setting and characters. With a colorful rogue's gallery like you'd find in Batman TAS' Gotham, or the iconic foes from G.I. Joe A Real American Hero or Teenage Mutant Ninja Turtles. It's all very rich to play with thematically, and really lets the character and concept shine. Just all-out fun with a "soldier" from a secret technologically advanced military from a supposedly neutral country, toggling through whatever weapon she needs, below her thigh, to fight bad guys who threaten her dear Switzerland!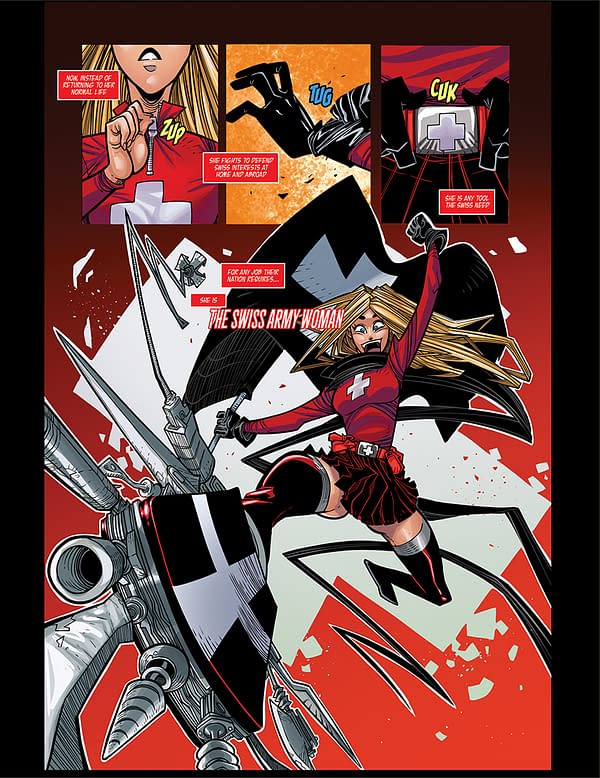 With this Kickstarter we're asking for a modest goal to fund the production of the first issue in a planned run of Swiss Army Woman comics. Please take a moment and peek at our page (see the link below) to see if it's something you might dig. It's chock full of crazy/sexy/fun cartoony action, that crafts something new from a myriad of popular touchstones.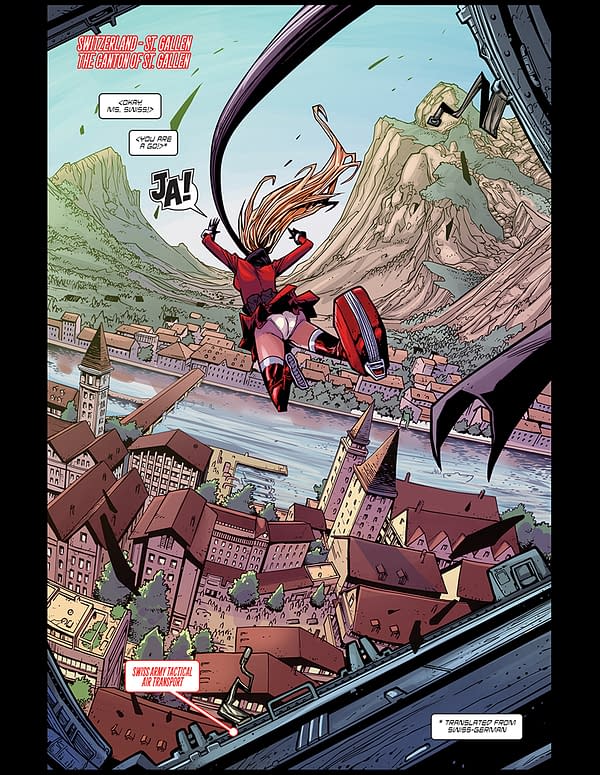 Take a look! Pulp Girls: SWISS ARMY WOMAN by Jason Martin and Marco Maccagni.Closing: Wed, February 12 2020. Books published/delivered in March 2020
---
---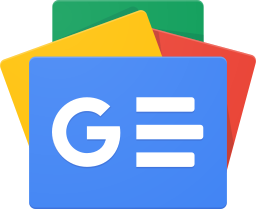 Stay up-to-date and support the site by following Bleeding Cool on Google News today!