Symbiote Spider-Man #1, published tomorrow, does one thing very well. It shows you how superhero comic books have changed at a very visual and visceral level. This Spider-Man comic is written by Peter David, just as Spider-Man comics were written by him in the eighties. And the nineties. And the noughties. And now.
Symbiote Spider-Man #1 looks utterly superb. When Greg Land is on form, inked by someone super smooth like Jay Leisten, backed up by a colourist Frank D'Armata who follows that line but finds spots, such as Mysterio's broken helmet, to introduce muddiness and chaos, his superhero work is spectacular, and the printing process can make all that shine, rather than fight against it. As a result, the comic keeps pace – nay, exceeds on a very surface level with the movies. It used to be that comics did superheroes where film and television, frankly, could not compete with imagination and a pencil. Then movies decided that they could do all that as well. Symbiote Spider-Man seems an exercise in stealing that back.
So we have a Spider-Man and Spider-villains that frankly looks better than the movies and yes even Into The Spider-Verse. It lingers on the moment, the pause, the jump, it sings of pizzazz, of power, of joi de vive of being superheroic – or merely basking in the presence.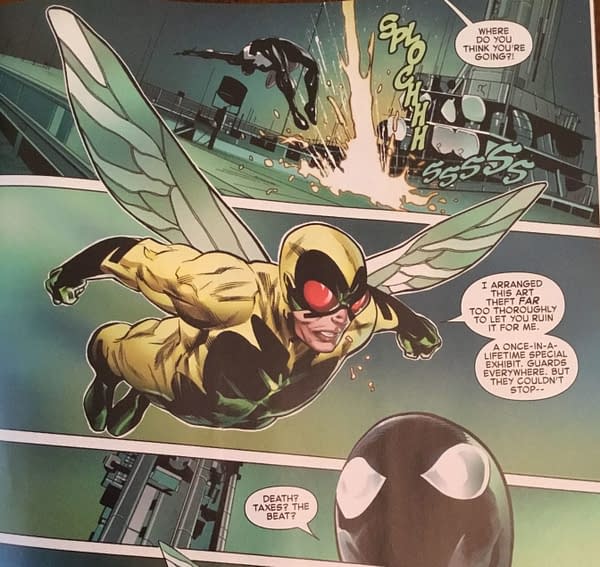 Comparing Symbiote Spider-Man with the comics it intends to be a period reflection does a lot to justify the exponential inflation rate that Marvel comics have endured more than anyone.
There's just one thing. We see Spider-Man making an important jump from one New York building to another.
Like so.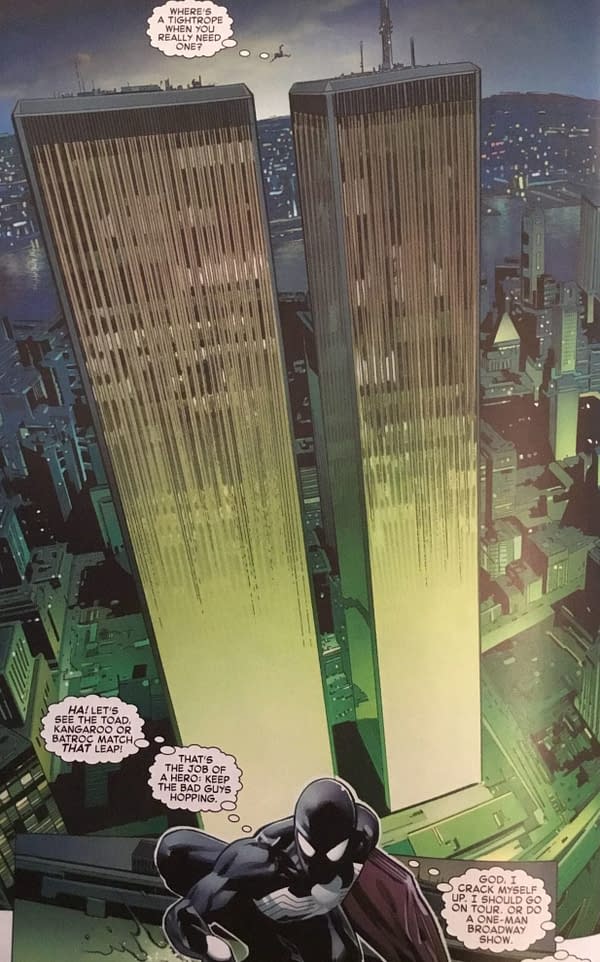 This is a period piece and in the backmatter, Peter David talks about the decision and the process to include the World Trade Center in such a prominent position in the story. And dealing with the issue of whether or not it is too soon.
I'd ask if it's too soon.
Because that would place this story eighteen years ago. With a post-college Spider-Man, working as a photographer, post-Gwen Stacy, pre-Mary Jane, shacking up with Felicia Hardy, the Black Cat. So, you know, making him twenty years old at the earliest. Which means Peter Parker would be pushing forty years old now…
So it ties in nicely with Into The Spider-Verse's Spider-Man I suppose.
Marvel Time, it's a bugger. We'd talked about the Fantastic Four's original trip now having to have taken place post-9-11. Symbiote Spider-Man is a push in another direction?
Does it matter?
Symbiote Spider-Man #1 is published by Marvel Comics tomorrow.
SYMBIOTE SPIDER-MAN #1
(W) Peter David (A/CA) Greg Land
Everyone knows that Spider-Man's infamous black suit would someday become the wicked web-slinger called Venom – but what happened BEFORE Peter Parker discovered the black suit's sinister secret? Find out in this dynamic tale from comics legends PETER DAVID and GREG LAND!
Set during the original "Black Suit Saga," this is an all-new tale that pits the wall-crawling wonder against that most mystifying of menaces…MYSTERIO!
Rated TIn Shops: Apr 10, 2019
SRP: $4.99
Enjoyed this article? Share it!