The Boys Sells Out Of Omnibuses Ahead of TV Series – But Is Free Online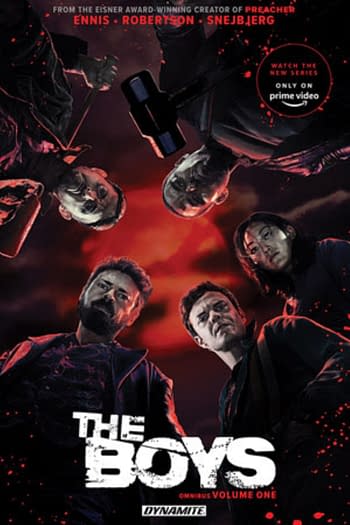 Dynamite Entertainment has announced that ahead of the Amazon Prime TV adaptation of Garth Ennis and Darick Robertson's The Boys, they have been selling out of their collections.
They have sold out of the first six-issue volume collection, the issues originally published by DC Comics until; they got cold feet.
They have sold out of The Boys Volume 1 Omnibus Darick Robertson Art Cover containing the first 14 issues and are almost sold out of Volume 2 Omnibus Darick Robertson Art Cover, containing #15 to #30. The Photo Cover versions, printed later, are still available. Omnibus Vol 3 is out in a couple of weeks.
They are going back to print in Canada on everything. However, if you can't get a copy, don't worry. The first 38 issues of The Boys have been uploaded, for free on the Graphite Comics digital app available on the Android and on Apple iOS.
We are to anticipate more to come.