The Graphic Novel Inspired By a Flooded Comic Book Shop – Rain by Mary and Bryan Talbot
One of my favourite comic books ever is The Adventures Of Tintin: Breaking Free, an unauthorised Tintin comic written and drawn under the pseudonym of J. Daniels and first published by Attack International in 1988, then again in 1999/ More recently it was reprinted by anarchist publishers Freedom Press which includes for the first time a previous strip detailing Tintin's adventures during the Wapping dispute as told in The Scum, a 1986 pamphlet produced in solidarity with News International printworkers. The comic features Tintin and Captain Haddock as Tintin moves from being a disaffected, shoplifting youth to a revolutionary leader. It is an extreme political polemic, which finds not only conflict with authorities and the state but also within the revolutionary movement, and the arguments allow the author to drop a lot of information in a short space of time in a fashion that I can recall today after not reading it for almost two decades.
I get the feeling I will have a similar recall and reaction to Rain, the new graphic novel by Mary Talbot and Bryan Talbot, published by Jonathan Cape, with funding from the National Lottery and the Arts Council of England. That they are both government-funded projects makes the contents of this graphic novel quote ironic.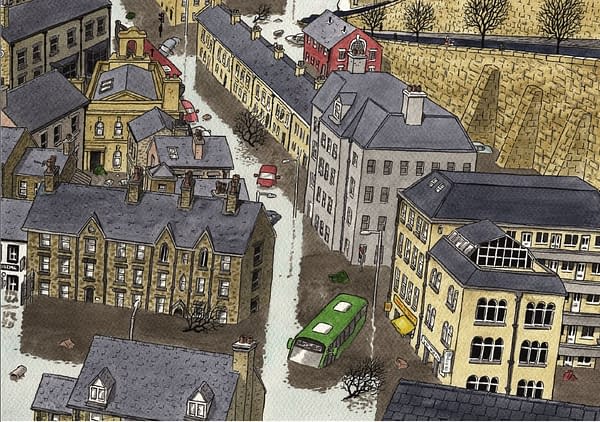 Because Rain is just as political a polemic as Breaking Free, with a similar use of argument. and back and forth discussion within the movement as a way to get information across – although the emphasis here is environmental care over clas struggle – though there is a strong element of that. Breaking Free was of the city, this is of the countryside and county towns.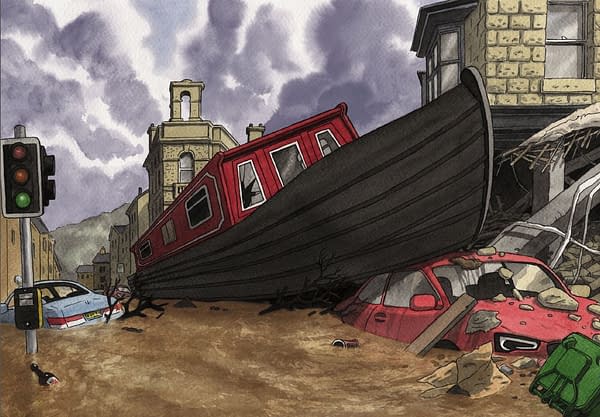 And it seems inspired by the flooding of 2 Tone Comics in Hebden Bridge, covered extensively by Bleeding Cool at the time, as well as their fundraising projects. That all happened around Christmas 2015, and Rain is set in the three years leading up to that flooding, with the people living in and around Hebden Bridge. The comic focuses on the lives of two girlfriends, Cathy and Mitch, living in and around each other's lives, Mitch a committed environmental campaigner, Cathy, dipping her toes into the whole idea. And yes, 'Cathy' and the Bronte moorlands around are noted and notable. And Bryan Talbot uses the skills we saw in One Bad Rat to draw nature in all its detail and complexity around them, as the arguments are made. Some of it is beautiful, some intentionally ugly, with different palettes used for very different moods and events. The scenes inside houses, or around man-made structures are often monochrome, contrasting against the colours of nature – and ints only the plants inside that bring the colour in. The reds jutting out from scenes like warning signs and even a broken plant plot in the opening scenes being given a life story through the rest of the comic.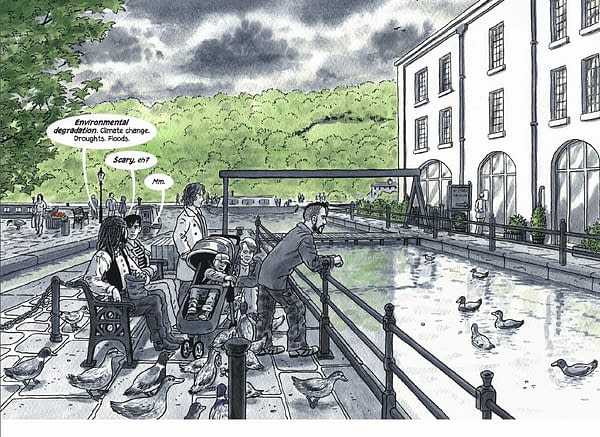 There is conflict within the movement of course, with different agendas, attitudes and extremity of action often butt up against each other, as well as groups coming from very different worlds – with different ideas of what should be preserved and why. Sometimes Rain seems nothing more than a lecture, but usually just before it breaks out into a panoramic view of a world to be celebrated and cherished – just as Mitch and Cathy cherish each other. And we see how one seed planted can grow and grow and grow.
Rain is published by Jonathan Cape in the UK and Dark Horse Books in the USA.