[rwp_box_recap id="0"]
With Star Wars: Galaxy's Edge just a few weeks from opening at the Disney resorts, a few people have been wondering how, and perhaps why, the Millenium Falcon is parked at the attraction.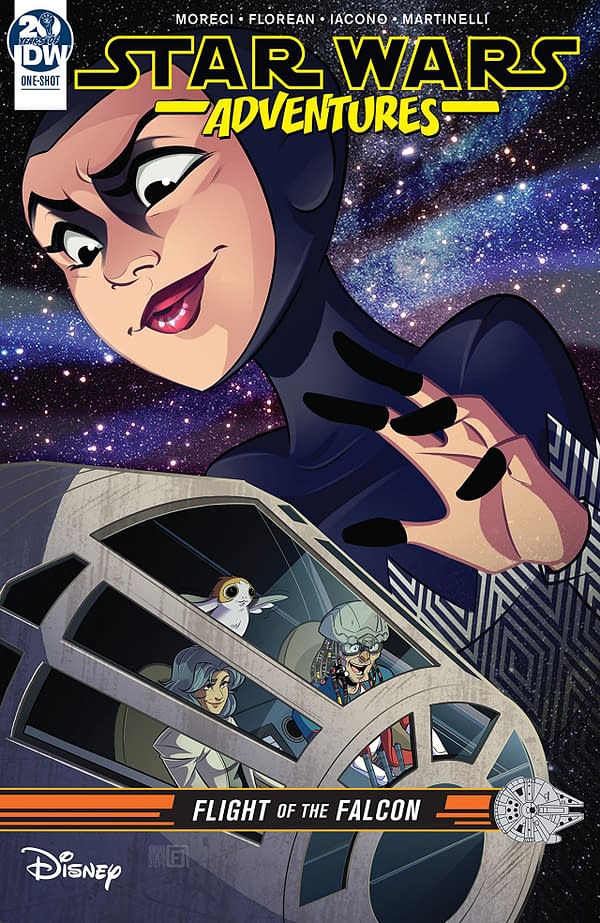 Well, it's the freaking Milenium Falcon. You couldn't have a Star Wars land without it, in my opinion.
Luckily for those of us who appreciated official explanations for things, though, Star Wars Adventures: Flight of the Falcon from IDW has the answer.
It was "borrowed".
And by "borrowed", I mean taken for a spin by Hondo Ohnaka, the greatest character to grace the Star Wars franchise.
Hondo is gambling with Bala-Tik when he gets himself suckered into a race with the Guavian Death Gang enforcer.
Hondo, his friend Mahjo, and their porg buddy, Puffy find themselves in a desperate race against Bala-Tik that is a lot of fun to read. Now, if you're expecting major plot intrigue, keep in mind that this story's target audience skews young, and delivers nicely.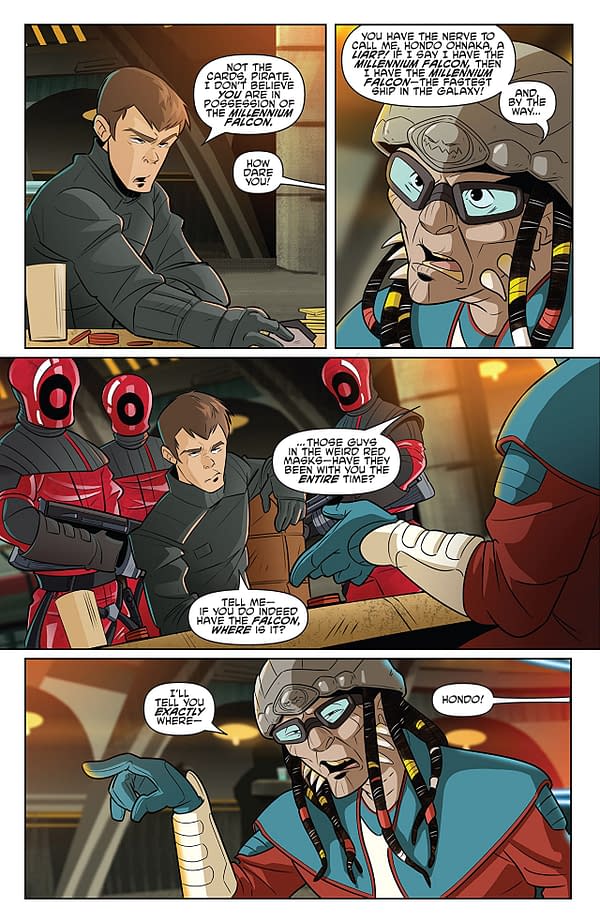 Michael Moreci writes a light and entertaining romp through the cosmos, with a bold, chunky, animated style of art brought to the book courtesy of Arianna Florean. Colorist Mattia Iacono keeps everything big and bright in the color department, exactly how it should be in a comic like this.
Is Star Wars Adventures: Flight of the Falcon worth your hard-earned credits? It's definitely an enjoyable enough read, and would especially be a worthy addition to any household with kids that are fans of the franchise. I could see this issue getting a lot of time from a kid that loved Star Wars, with an art style that might even encourage a young one to take a crack at drawing.
Ultimately, there is a reason why the Falcon is docked on Batuu, and it works into the overall narrative of Star Wars history very comfortably. Plus, you know, Hondo is there, and Hondo equals magic.
SUMMARY: Script: Michael Moreci; Art: Arianna Florean; Colorist: Mattia Iacono; Letters: Tom B. Long; Editor: Denton J. Tipton; Publisher: IDW Publishing; Release Date: May 1, 2019; Cover Price: $4.99, 36 pages
Enjoyed this article? Share it!