Last month's MCM London Comic Con had Jim Shooter as a guest, and at his table were a number of folders, binders, full of memos, sketches, artwork from his long career at DC, Marvel, Valiant and more. He graciously allowed Bleeding Cool to take shots of a few of them, but these are just the tip of the iceberg of the folders he often brings to shows. But for Thanksgiving, Bleeding Cool will be sharing a few of them, and you can check the rest with this handy dandy tag.
We just read a memo from Stan Lee to Jim Shooter about Kyle Baker. Here's one from Jim Shooter, when he was Editor-In-Chief of Marvel Comics, to its editors.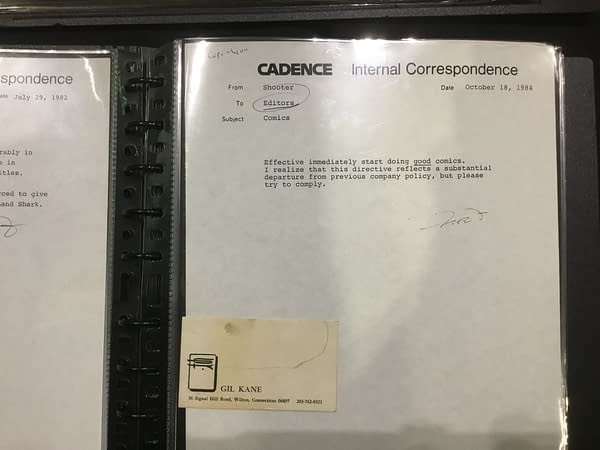 In a memo dated October 18th, 1984, when the publisher was owned by Cadence Industries), it reads,
Effective immediately start doing good comics. I realize that this directive reflects a substantial departure from previous company policy, but please try to comply.
Signed Jim Shooter. Clearly tongue in cheek, and meant to be in good spirits, it is also a sign of a man known for brooking no nonsense. Or at least, no nonsense that he couldn't show the beancounters was worthwhile. It was shortly after this that Shooter would start developing what would become known as the New Universe. Oh and that's the late Gil Kane's business card at the bottom too. Man, I feel like Indiana Jones right now…
Enjoyed this article? Share it!