Ashleigh Jay writes,
Denver Comic Con was held on June 30 – July 2. It was hosted by Pop Culture Classroom, a nonprofit organization that promotes reading and literacy through comics. Pop Culture Classroom helps provide books and other resources for children to learn to read and for them to love reading. Bringing a young kid with you to a comic con can be tough, though, I know. I have a little brother who is eight and has a short attention span. Teaming up with Pop Culture Classroom has allowed Denver Comic Con to be more kid- friendly. Here is a list of areas in Denver Comic Con to take your kid to. The first thing on my list is the most obvious: the Pop Culture Classroom Kids' Lab. The Kids' Lab is a special area that Pop Culture Classroom created to let kids come and experience comic con. They have activities such as creating your own Captain America shield, making a catapult out of a plastic spoon, designing your own set of Wonder Woman cuffs, and several other kid craft projects. The Kids' Lab also has panels featuring some of the creators from around the con. Learning different aspects to draw, being taught about the different voices of cartoon characters, and learning about different writing techniques are all topics of discussion at the panels. They let kids learn how to make their own comics. There are a lot of fun things for kids to enjoy there. There is also seating throughout the area if you just need to stop and take a break. If you have a child younger than twelve, you cannot leave them unsupervised. There needs to be an adult with them at all times.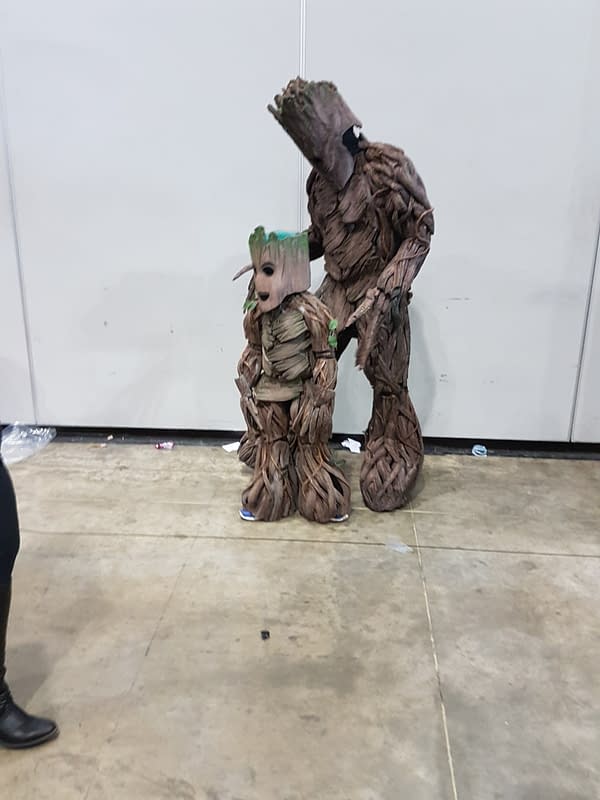 Bolder Games attended this year's Comic Con. They had an array of video games that Denver Comic Con attendees could try for free. I know my brother really enjoyed them by the fact that he asked us to take him back again and again. One of the bonuses of letting them play video games is the seating. There are chairs and couches for you to rest on, so if you would like to just sit, take a break, and relax, while keeping your child occupied, this is handy. The games were also available for purchase. The last area that I will mention is the Legos display provided by the Colorado/Wyoming Lego Users' Group (CoWLUG). This group built various comic related creations out of Legos. (I have seen them previous years, but I don't know if they are planning on returning.) Not only is it interesting to see their creations and to walk around looking at the cool Legos, but they also have an area for kids. Kids can walk up and make their own structures out of the Legos provided. There was seating by the Legos displays as well. Denver Comic Con is a very kid-friendly con, and these are just some of the options of things to do during the day. Know, also, that these are not restricted to kids. Adults can participate and enjoy them as well. These activities, plus seeing more of the usual cosplay participants, added to a fun con for the whole family. Enjoyed this article? Share it!