This weekend, I took the girls into London to meet a couple of their television heroes, Sam Nixon and Mark Rhodes, better known as Sam & Mark, or even "Smart", who present a number of shows on the rather popular CBBC TV channel. And who had moved from television into children's books.
Sam & Mark began life as reality show popstars, coming second and third respectively in the first Pop Idol show (which translated into American Idol in the USA)
[youtube]https://www.youtube.com/watch?v=xB0JnLlZom0[/youtube]
Since their loss, an a blessed failure to ignite they pop careers…
[youtube]https://www.youtube.com/watch?v=vtxJA7cs3oI[/youtube]
They have become rather successful hosts of a number of shows on the BBC children's channel CBBC together.
[youtube]https://www.youtube.com/watch?v=CyG2Q1J5wd4[/youtube]
And now they have a book, by way of a superhero they had created, Long Arm. And this was their first, The Adventures Of Long Arm, two years in the making, illustrated by cartoonist Aleksei Bitskoff and launching at Foyles bookstore. So my girls had to come..
A new superhero's in town in this laugh-out-loud new adventure from children's TV presenters Sam and Mark! Ricky Mitre is always in trouble. When Mr Pinkerton's curried egg sandwiches go missing, Ricky gets the blame and is given the worse punishment ever – cleaning the staff toilet! Ricky dons protective gear and gets to work. But then something VERY strange happens – Ricky's arm gets sucked into the U-bend and when he takes it out again, it's many times its normal length…And the superhero Long Arm is born!
We got there early to get good seats. The pair got a riotous welcome, and they began by giving us an slideshow of their earlier popstar days…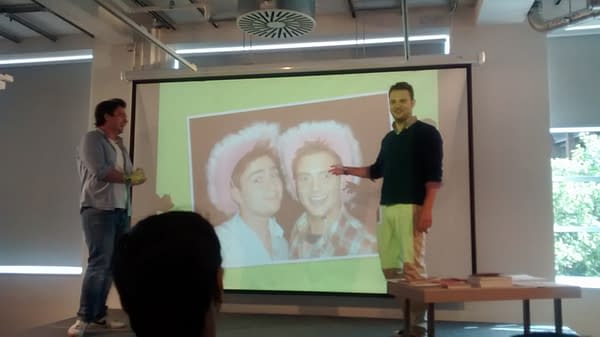 And a look at how the book came about. The very first doodle of Longarm, when he was still an adult…
And the pair gave a reading from the first two chapters, complete with illustration….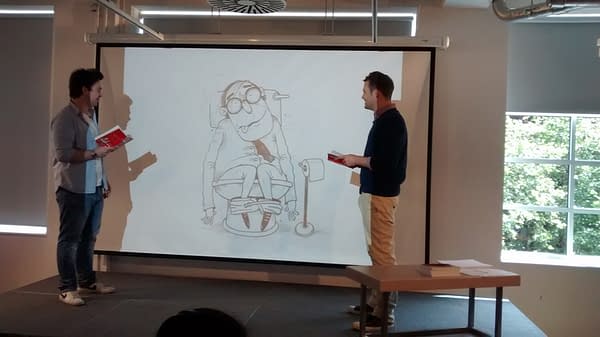 After illustration (Mr Stinkerton there, in motion…)

After illustration.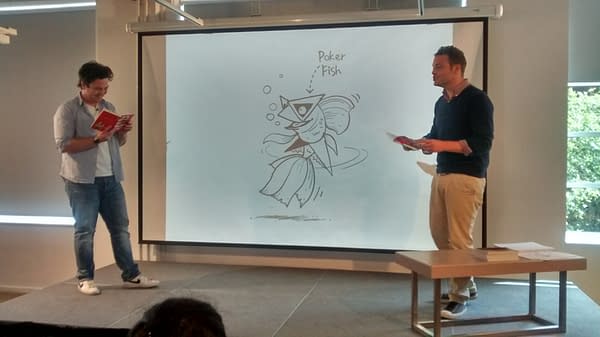 With some very bad puns along the way.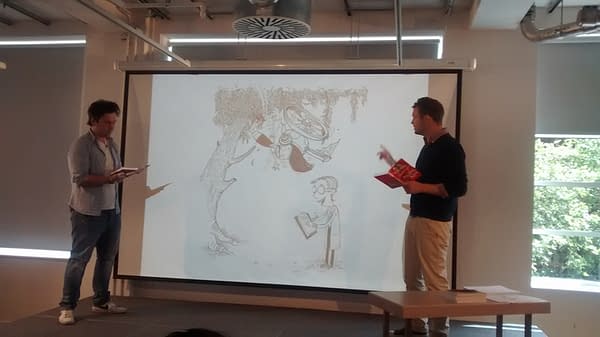 And plenty of technology for boys and girls…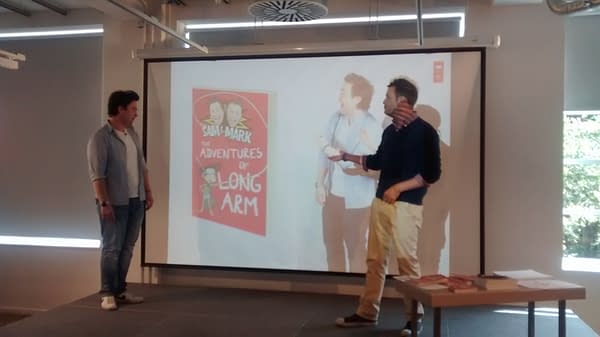 And all for a book! A mix of Dennis The Menace and Professor Branestawm, it's an engaging, silly and fantastical look at kidlife, far away from the mundanities of life, but full of both the cruelties and wonder.
What was a joy to behold was the chemistry the pair have as a double act, always supporting the other, always jumping on top of what the other says, building to a crescendo, always two, working as one. Sorry, reference to a cartoon not even they will remember, there. No wonder they effect such devotion from my two girls, they are best friends and you just want to be part of their gang.

Then the pair reprised one of their TV show regular skits, getting a parent and a child on stage, to find out what the parent actually knows about their child. And the eldest and I were picked –  and I got two out of three. How did I know her favourite TV show was The Last Step? I should have known. Thankfully the other parent didn't know their child's favourite school subject, so we drew, both won a signed copy of the book and both won a signed print illustration.
Bought another book for the little one, obviously. Both currently engrossed, I'll let you know what it's like when they come up for air. Volume 2 is, no doubt, in the works….
Longarm is available here in the UK and here in the USA.
Enjoyed this article? Share it!