The Magic Formula For Breaking Into Comics (The Marvel Way) At ECCC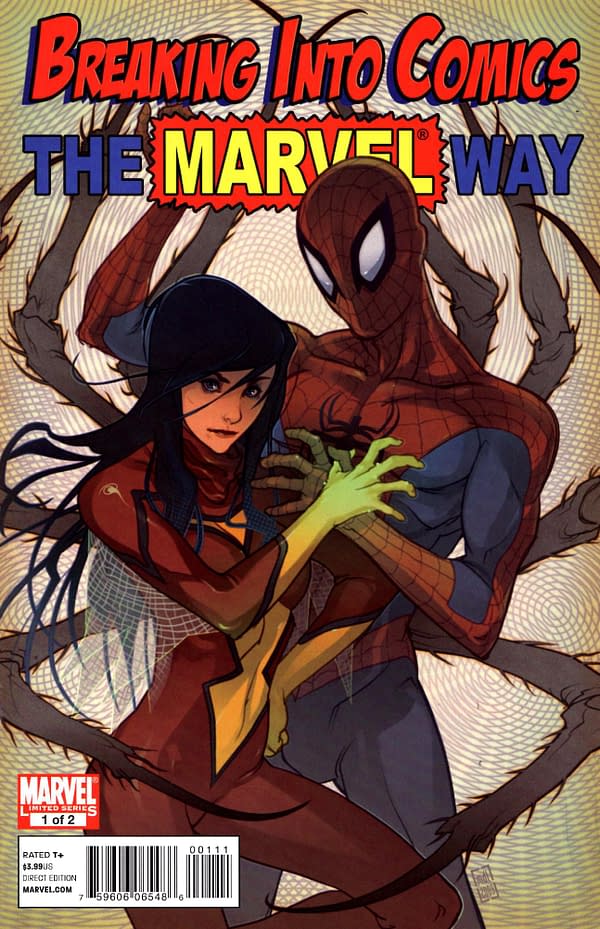 Erik Grove writes for Bleeding Cool from ECCC in Seattle,
Every comic convention I've ever been to has had a "breaking into comics" panel. It's a no-brainer. When you ask creators what question they are usually asked most, most say it's "how did you break in?" I've been to several of these panels. It's how I first met Rich Johnston actually (though I'm sure he doesn't remember it) at NYCC when he was on a panel with C.B. Cebulski back before Bleeding Cool was a glimmer in his eye. [I have tried to block all such events from my mind – Rich] The truth is that a lot of fans(and some journalists) look at comics and think "I want to do that!" and search for a magic formula to accomplish it. Well, it turns out there is a magic formula and it was revealed during the Breaking Into Comics the Marvel Way panel at ECCC this Friday.
The panel had a blockbuster line up of talent. There was C.B. Cebulski (I doubt he can even remember how many of these he's moderated anymore), Tom Brevoort, Declan Shalvey, Jordie Bellaire, Jasons Latour and Aaron and Charles Soule. Cebulski got things started by asking the crowd of attendees how many wanted to break in as writers, artists, colorists, inkers and editors. The number of hands went down with each category. At this panel at least writers looking for an in outnumbered everyone else. My hands remained on my laptop keyboard as I took notes and worked to decipher and deliver to you the secret to success in comics.
What follows is all paraphrased from notes and memory (my audio recorder/iPhone was not cooperating) but I would like the record to show that I'd very much like to know who Latour's haberdasher is and that I think Bellaire was super nice and gracious to the twelve year old girl sitting in front of in a really cool Hawkeye costume. I really hope that girl grows up to be amazing and she gets to give Bellaire plenty of high fives for her pep talk.
Aside from the magic formula, that I promise I've transcribed below, the panelists all had really interesting stories about how they broke into comics and what they did before breaking in. Shalvey delivered coal. Latour drove trucks. Cebulski was a "petroleum transport engineer" (he pumped gas). Bellaire was on her way to selling life insurance. Aaron worked in a warehouse of adult "novelties." Soule was and is an attorney. Brevoort applied for an internship at Marvel and DC through college. He never heard back from DC and the rest is history. Bellaire talked about poverty being the best motivator. She joked that when all you have in your refrigerator is cream cheese, you're very motivated. For most, it took years from wanting to break into comics to getting that first paying gig. For all of them it was a challenging process to end up on their side of the panel. I'm highlighting this because I think it's important for all of the aspiring creators, the writers and artists that will be making Marvel or DC or whatever kind of books 10 years from now, to remember that the work they're doing now can slowly and incrementally pay off.
Of course, now that I'm giving away the magic formula it's going to get a whole lot easier. Without further ado, here it is folks, the magic breaking into comics formula in numbered steps, in no particular order of importance!.
1) Leverage the Internet. The panelists all agreed that networking online has really changed the nature of the industry. Artists in particular can create and maintain portfolios online. Shalvey was careful to add that it's important to keep posting to a blog or Tumblr so that prospective editors see your dedication and productivity. Talking about your online presence, the panelists stressed that you should be professional. They suggested keeping the cat .GIFs to a minimum and using your real name rather than something like "darkelf31rocks" (Cebulski's example – apologies to any DarkElf31Rocks Smiths out there that feel they were unduly prejudiced against). Soule suggested that you want to present yourself online as a friendly positive person that people would want to know. No one wants to work with a jerk that negative, he said.
2) Be professional. This was a theme during the panel. Professionalism, geniality and respect for the industry and the people working in the industry were frequently stressed. Have empathy, Latour suggested for the editors you're pitching and understand that a human being is on the other end of the inbox.
3) Develop relationships. The panelists stressed that comics are a community. Breaking in can happen when a friendly colleague recommends you. Bellaire talked about working with artists, experimenting with coloring their work and learning from and with them. Latour suggested that it's important to imagine your work existing outside of your hands, that critique and feedback are critical. Shalvey had the best quote of this topic – 'it's not who you know, it's who you drink with."
4) Do or do not, there is no try. Cebulski borrowed from Marvel's Disney-brother to reiterate that that just creating something tangible is what gets most creators noticed. Brevoort stressed that it is very uncommon for someone to pitch something to Marvel (or DC) "cold" – it is far more common for editors to become aware of work done by indie or small press publishers and then contact a creator when a good fit might come up.
5) Fish, don't hunt. Soule talked about his experience with networking. He talked about how when he was starting out he would pursue editors and pitch them his work, he would contact them and follow up (a process he called "hunting") but ultimately he found a more successful way, "fishing." Soule suggested putting out a lot of lines and waiting for them to follow up with you. He talked about how cons are a great place to meet and develop a relationship but not necessarily the best place to pitch a project. The panelists talked about being strategic with who you contact and how you contact them. Brevoort joked that if you can't find the address to mail something to Marvel, you're not ready for Marvel. Aaron talked about identifying editors that worked on books you like and that match your strengths and focus your pitches for them. They stressed that you should make your contacts personal and avoid making a pitch sound like a form letter.
6) Start small. Latour said that's important to learn to write sentences before you write a paragraph. The panelists talked about really focusing your efforts on shorter stories (especially for pitches) and avoid mammoth 128 page epics when you're just starting out. In all things, they stressed, perseverance and continuing to work show progress and dedication. Learn from the small projects to build to the bigger ones.
Cebulski started the panel by saying that breaking into comics is like breaking out of jail. As soon as someone does it one way, that option disappears. Later he quoted Skottie Young by saying that breaking into comics isn't the hardest part, it's staying in comics. The final part of the magic formula that was revealed during this panel (the #7 that Cebulski didn't get around to specifically numbering) is there is no magic formula except the one you make.
Follow me on Twitter for ECCC live-ish Twitterisms @ erikgrove and check out my webpage www.erikgrove.com where I write stories that have comics in them sometimes and blog about writing. And if any of you use this formula to break in, give me an interview or something, will ya?