By The Maker – Where is the Ultimate Reed Richards Today? Absolute Carnage and Beyond…(Spoilers)
The Maker is the Ultimate Universe version of Reed Richards, turned bad guy by Brian Bendis, renamed to this new identity by Jonathan Hickman, and since the events of the Secret Wars, messing around in the Marvel universe, usually under the thumb of Al Ewing.
But he's been spreading out and today he seems everywhere, even more than Mephisto. He may possibly be Charles Xavier in House Of X…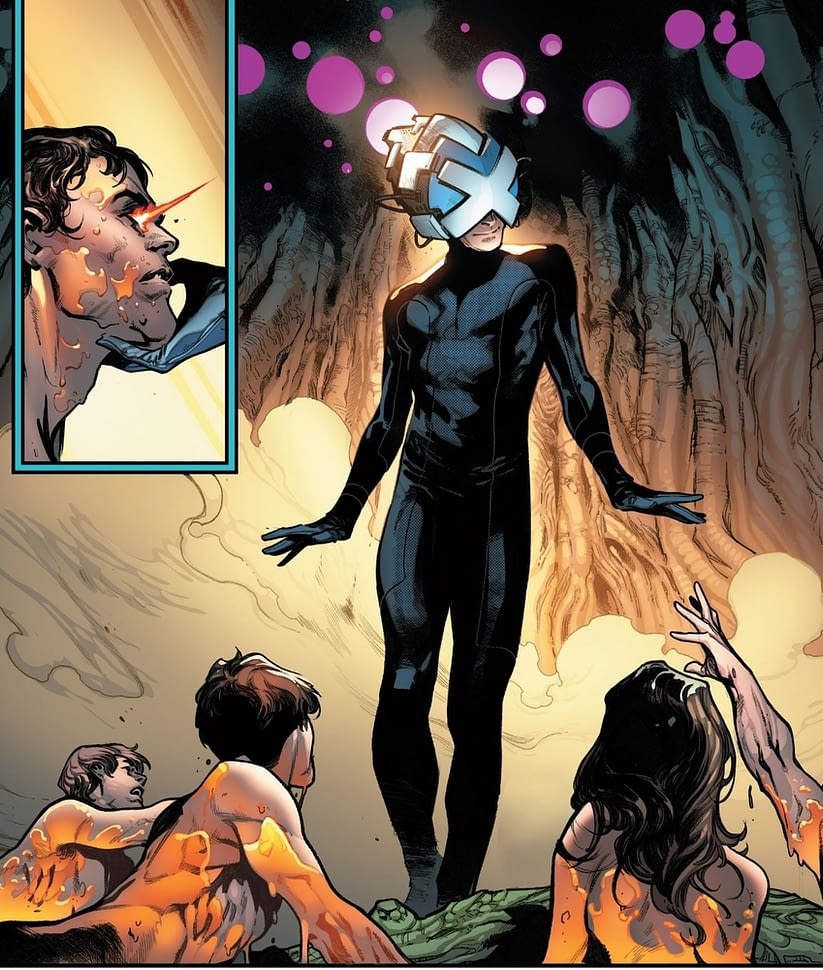 He is doing an impersonation of Ozymandias in Absolute Carnage #1 with his own very special plans for all those symbiote cortices…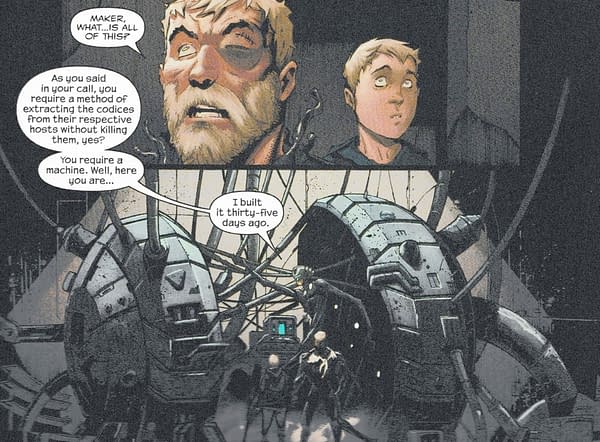 And in today's Future Foundation #1, with Julie Power suffering an unfortunate shaving experience, with he world on her shoulders…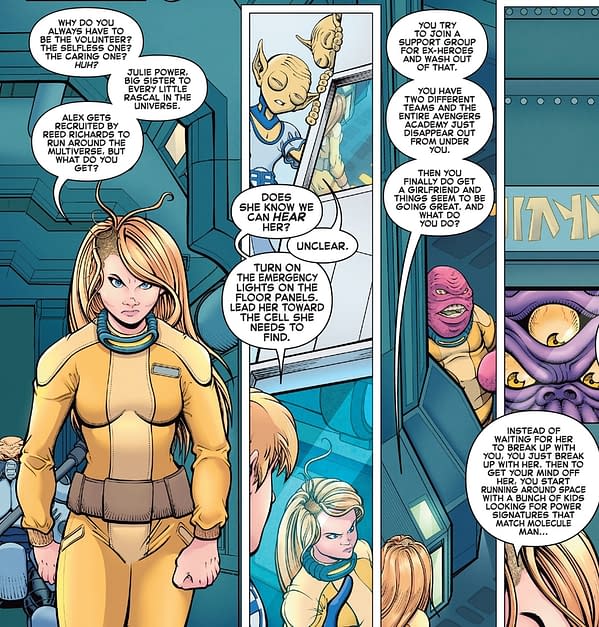 …it looks like she now has something more to worry about. The ending of the Secret Wars is tied up with the Future Foundation and the Maker, a slice of whom was meant to be present in every generated reality, so this may only be expected.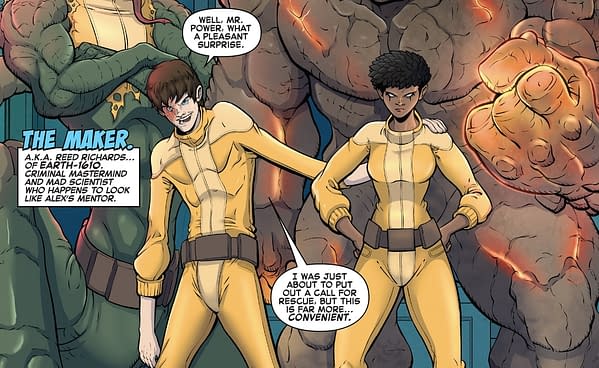 But it also reminds us that the Fantastic Four appearing in House Of z may have something to say about this 'Charles Xavier' – if that's who he is…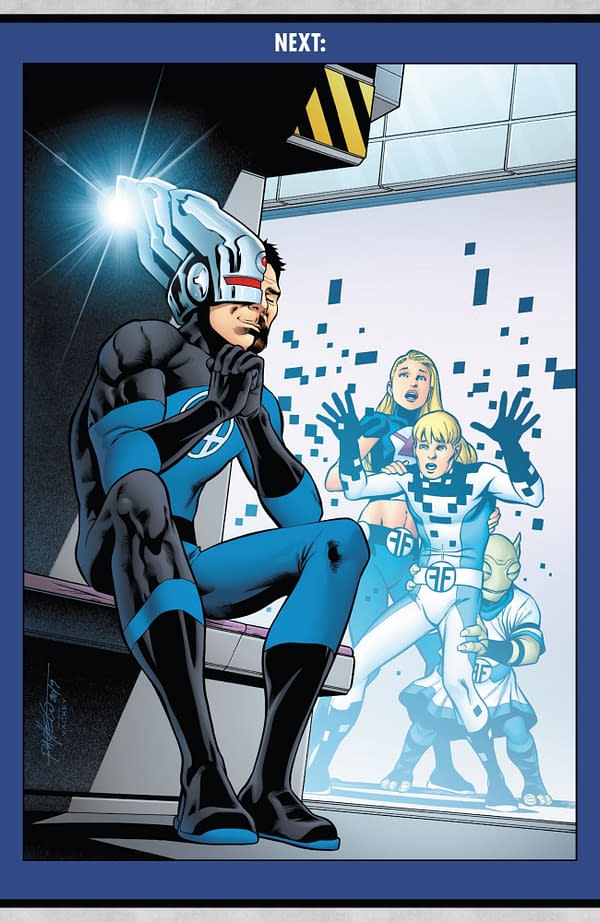 So… Mephisto Vs The Maker. Who wins?
HOUSE OF X #2 (OF 6)
(W) Jonathan Hickman (A/CA) Pepe Larraz
Learn the truth about one of the X-Men's closest allies…and then begin the fight for the future of mutantkind! Superstar writer Jonathan Hickman (AVENGERS, SECRET WARS, FANTASTIC FOUR) continues reshaping the X-Men's world with Marvel Young Gun artist Pepe Larraz (EXTERMINATION, AVENGERS)!
Rated T+In Shops: Aug 07, 2019
SRP: $4.99

ABSOLUTE CARNAGE #1 (OF 5) AC
(W) Donny Cates (A/CA) Ryan Stegman
After turning Venom's world upside down a year ago, DONNY CATES and RYAN STEGMAN are about to put the Sinister Symbiote through hell again, only this time CARNAGE has come calling, and everyone who's ever worn a symbiote is dead in his sights! He's skirted the periphery of the Marvel Universe for months, but Cletus Kasady at last stands poised to make his grand return to New York in a blistering 60-PAGE story… and he wants to paint the town red!
Rated T+In Shops: Aug 07, 2019
SRP: $7.99

FUTURE FOUNDATION #1
(W) Jeremy Whitley (A) Will Robson (CA) Carlos Pacheco
A BRAND-NEW SERIES STRAIGHT FROM THE PAGES OF FANTASTIC FOUR!
When the Richards family is called back to Earth to be the Fantastic Four again, they left behind the Future Foundation – a think tank of the most brilliant young minds in the universe – with one mission: to find the pieces of and rebuild their friend Molecule Man. But that's proved harder than imagined as this crew of young geniuses, Atlanteans, Mutants, Moloids and androids have run into every problem in the Multiverse. Now, with the leadership of Alex and Julie Power and a little extra firepower from guest professor Yondu Udonta, the team will undergo their most dangerous mission yet – a PRISON BREAK! Jeremy Whitley (UNSTOPPABLE WASP) and Will Robson (GREAT LAKES AVENGERS; Spawn) take the Future Foundation on a heart-pounding journey across time and space!
Rated TIn Shops: Aug 07, 2019
SRP: $3.99