 We'd talked about this before. A couple of times. But now it's hit the schedules for February 2014. Jonathan Ross and Ian Churchill's new comic for Image, The Revenger.
Regular readers will know just how big Jonathan Ross is in the UK. Basically, he's John Stewart as a chatshow host with the comparative audience of Leno and Letterman combined. He's proper funny, has championed the causes of comics, he's presented the Eisners (and kissed Neil Gaiman and John Barrowman in the process) and now has Turf and America's Got Powers on his comics headboard.
And Ian Churchill made his name on Marvel's Xbooks, DC's Superman and more recently Marineman for Image.
And here they are together. So what's the comic?
The more time you spend on the Hollywood B-list (or in Griffin Franks' case, the C-list), the more the value of being on the top of the heap increases, but with fame comes an increased number of enemies, too. A new series of violence and vengeance in the Hollywood Hills, THE REVENGER #1 is the beginning of a face-off between one man and the people who took away his dream.

When Franks shoots to the top of his game and gains the recognition and Hollywood fame he's always dreamed of, he becomes a target. He's a star celebrity, his movie's a hit, and his wife leaves men drooling in her wake. But just when he feels like he's finally "made it" someone decides to rip the rug out from underneath him… and the face off his skull.
Here's an earlier art example. Can't fucking wait.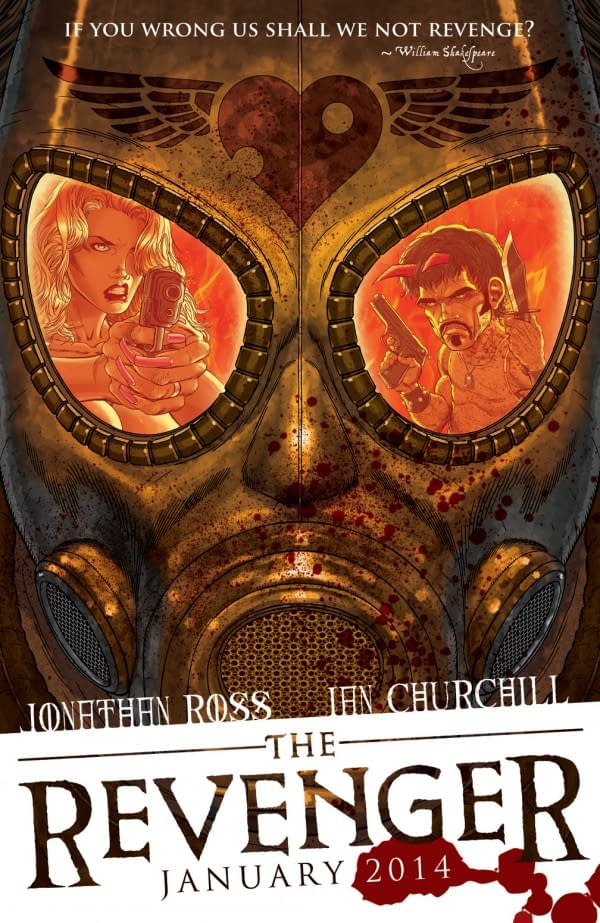 Enjoyed this article? Share it!