The Oni Press RevoluONIze Comics Panel
Joshua Stone writes for Bleeding Cool:
The panel included: James Lucas Jones, Oni Editor in Chief. John Schork, Director of PR at Oni. Joe Harris, Writer – Great Pacific, Wars in Toyland. Rick Spears, Writer – The Auteur. Natalie Nourigat, Artist – A Boy & A Girl, Thrilling Adventure Hour. Jill Beaton, Editor. Rich Stevens – Diesel Sweeties. Charles Soule, Writer – Letter 44.
Oni's big push for SDCC were two new comics, both being sold with SDCC exclusives this weekend, Mysterious Strangers and Letter 44. Issue one of Mysterious Strangers was given away as part of the most recent Free Comic Book Day, so you may want to find copies now before they start being hard to find. The book is written by Chris Roberson, with art by Scott Kowalchuk. Every two issues are their own story arcs, with the first issues ending with cliffhangers. They compared it to the 1960s sci-fi series and see it as a love letter to the Adam West Batman tv series and The Prisoner. For the SDCC exclusive, Oni released the first two issues with covers by Mike Allred and Laura Allred. Letter 44 was being sold as a black and white exclusive here at SDCC, but it will be in full color when it comes out in October. Written by Charles Soule and art by Alberto Jimenez Albuquerque, the story deals with the incoming president reading the letter from the previous president which reveals the US had been secretly preparing for an alien invasion, as the government had found an abandoned alien base in our solar system.
Natalie Nourigat was there promoting A Boy & A Girl, which she did the art for and Jamie S. Rich wrote. It will be out this November. It is Natalie's first book with Oni. I had the pleasure of actually hanging out with Natalie and her brother Nick that same evening of the panel as Natalie is one of the artists on the Thrilling Adventure Hour book released by Archaia. They were in attendance at the 9:30pm show that the Thrilling Adventure Hour cast performed on Friday night, and I ran into them at the VIP party after. Don't be too impressed with my being at the VIP party, it was part of the cost of my ticket. Both were very nice, and Natalie was a little embarrassed when I asked her to sign the book.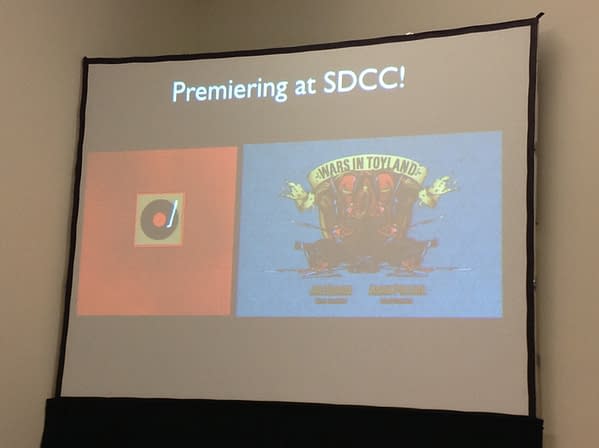 The biggest name on the panel was probably Joe Harris, writer of Image Comics' Great Pacific. Joe is the writer for the Oni book Wars In Toyland, with art by Adam Pollina. Wars in Toyland is a hardcover book that is in landscape format and is made up of mostly two page spreads. The story involves a boy who is taken to Toyland to lead his toys in a war to save his lost brother. I asked Joe if he felt this book might be too similar to Grant Morrison's recent book Joe The Barbarian. He didn't feel it did as he thought his book read more like a storybook and that it was more skewed to something younger people can read. He said because of the way the pages were laid out, his book had a definite epic feel to it. He also said that he had never even finished reading Joe The Barbarian. Next, Rick Spears talked about The Autuer, his first ongoing series. He said the book is about a film director who is kind of like Felinni if Fellinin was a terrible filmmaker.In the books the director hires a consultant for the horror movie he is working on. The director ends up hiring a real serial killer to serve as consultant on the film.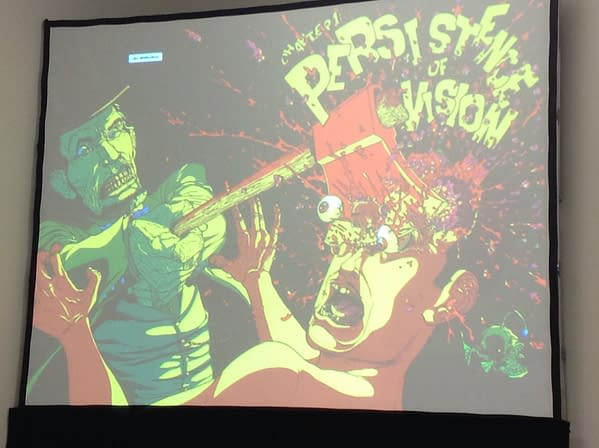 I asked whether we could expect to see anything else from Scott Pilgrim Creator, Bryan Lee O'Malley. I was told that Oni would be releasing an anniversary edition of Lost at Sea to celebrate the 10 year anniversary of its release as O'Malley's first book with Oni. It is going to be released in a completely new format, which will be announced in a couple of weeks.
Finally, I asked whether we might be getting more Stumptown. James Lucas Jones said there will be more in 2014 and that 2014 will be a big Greg Rucka year at Oni.