The Ten Most Kick-Ass Moments in Quentin Tarantino's Official Django Unchained Sequel, Out Today
Today saw Django Unchained come to Netflix. It also saw the release of the official sequel to Django Unchained, written by Quentin Tarantino. It is the only sequel to any of his works he has written.
It just happens to be a comic book. That crosses over with Zorro.
Django/Zorro by Quentin Tarantino, Matt Wagner and Esteve Polls was published today from Dynamite. And here are a few of the reasons why this first sixth of the complete story may be worth your attention.
1. Zorro offers Django a cucumber sandwich. In Django Unchained, Django eats cucumber sandwiches offered to him by Dr Schultz offered Django cucumber sandwiches for their "picnic".
2. No wonder Zorro reminds Django of a certain someone…
3. Django shoots first and asks questions later. Of course, there's not that much to ask.
4. Oh and Django also shoots a horse in the head. He's one mean bastard that Django.
5. Oh yeah, and don't even think about using the N-word in his presence. He's had that up to here.
6. Zorro is loaded wit gold – could it have anything to do with that gold mine he was once involved with? Very, very probably.
7.
And Zorro doesn't fight by Queensbury rules either.
8. He will even chop someone's gun out of their hands with hi sword? And the evidence of his identity?
9.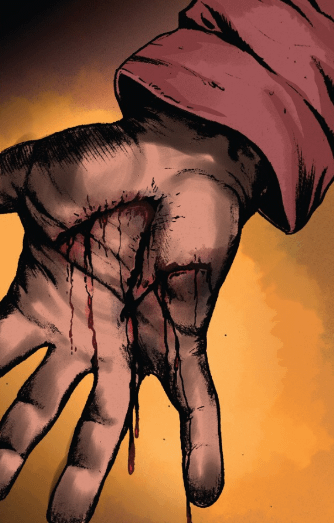 Yeah, I think you're goin to lose your little finger, mate. Septicaemia setting in…
10. And their foe has an alliterative name!
Second issue out in December. Odds are that's when we'll see them fight together…