The Walking Dead's Maggie Wonders If She Still Loves Glen
One of the most interesting trending news items this week was AMC's order of the new The Walking Dead spinoff, Isle of the Dead. It wasn't the fact that there would be a new spinoff that got people talking, as that was expected, but rather the characters involved: Maggie and Negan. Those who haven't stayed up-to-date with the TV series may wonder why Maggie would be walking with Negan, who infamously came onto the scene by playing batting practice with Glen's head. While there's a lot to catch up on for many viewers, I had this upcoming series in my mind when exploring Heritage Auctions today. Today's artwork selection features a page from The Walking Dead where Maggie wonders what many fans are now wondering: what does she feel about Glen? This was an early issue, so readers know that Maggie would go on to love Glen deeply and, later, cherish his memory. So now, as Maggie is paired with Negan, let's look back to one of not only TV's but also comics' most iconic couples with this Maggie moment illustrated by Charlie Adlard.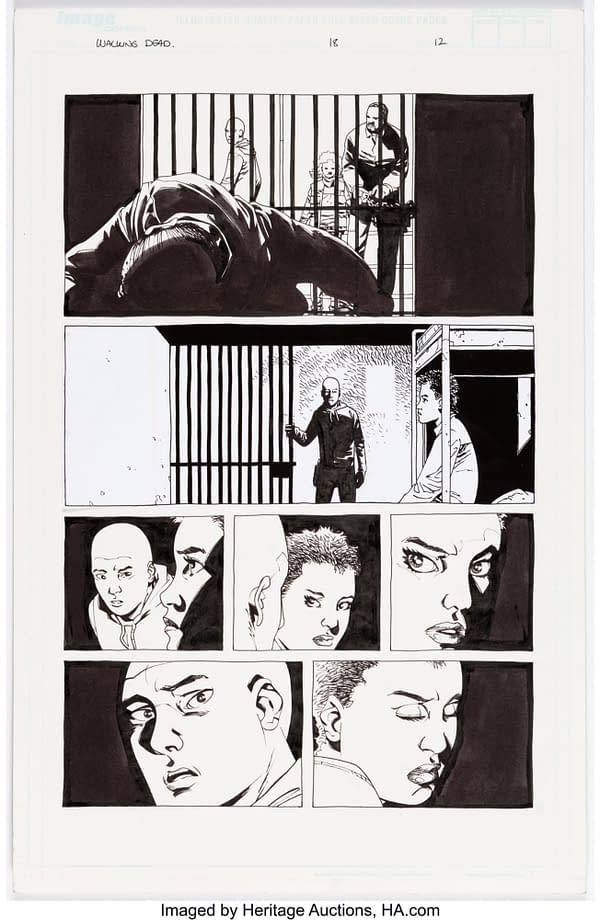 An emotional panel page where Maggie thinks that she's not going to love Glen anymore. Ink over graphite on Image Bristol board with an image area of 9" x 13.75". The entirety of Panel 2 is a paste-up, corner dings, and some smudging/handling wear; otherwise, in Excellent condition.
This is a unique opportunity for The Walking Dead fans to get this page. As one of the most successful creator-owned titles of all time, this franchise-spawning comic has some of the most intense fans on planet Earth. An original page is sure to be a hot commodity, even if it doesn't include zombie action. You can now head over to Heritage Auctions to place your bid.