Archie has released a preview of Archie 1941 #2 ahead of final order cutoff, and as is tradition, the publisher created a short comic strip to teach readers how to preorder the comic, because as we all know, if you don't preorder comics, you're personally killing the comic book industry. But in their zeal to promote comics' archaic ordering system, Archie committed a major continuity gaffe in this strip, which sees Jughead lamenting not getting a comic he wanted because he forgot to preorder it.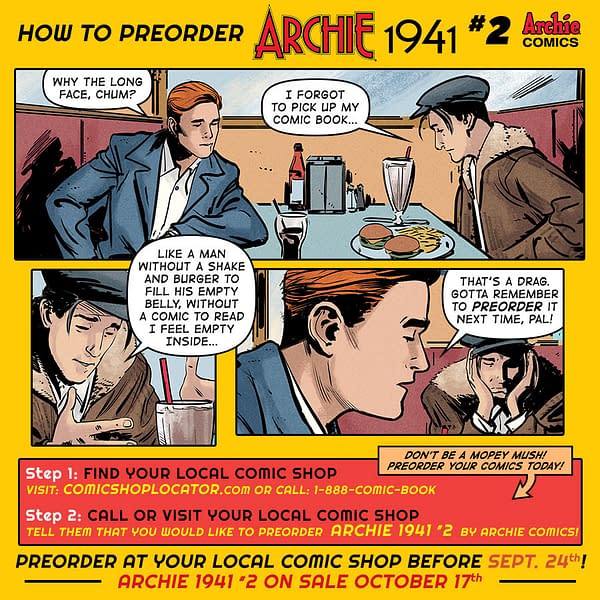 But savvy readers know that, back in 1941, Jughead could have simply walked up to a newsstand and picked up a copy of whatever comic he wanted, since they were mass-produced and distributed rather than sold in specialty shops as luxury items for exorbitant prices. Does Archie have a version of the No-Prize? Somebody needs to fix this problem, quick!
Below, check out the preview of Archie 1941 #2. Final order cutoff is next Monday, September 24th, and the book hits stores on October 17th.
ARCHIE 1941 #2 (OF 5)
IT'S WAR! As the United States makes its entrance into WWII, the teens and parents in Riverdale are faced with some difficult situations as they reflect on how this will dramatically change their lives as they know it.

Script: Mark Waid, Brian Augustyn
Art: Peter Krause, Kelly Fitzpatrick, Jack Morelli
Cover: Peter Krause, Rosario "Tito" Peña
Variant Covers: Audrey Mok, Marguerite Sauvage
On Sale Date: 10/17
32-page, full color comic
$3.99 U.S.
Enjoyed this article? Share it!