Things to do in London in November… if you like comics, of course. Exhibitions followed by events… let us know if we missed any,
Exhibitions: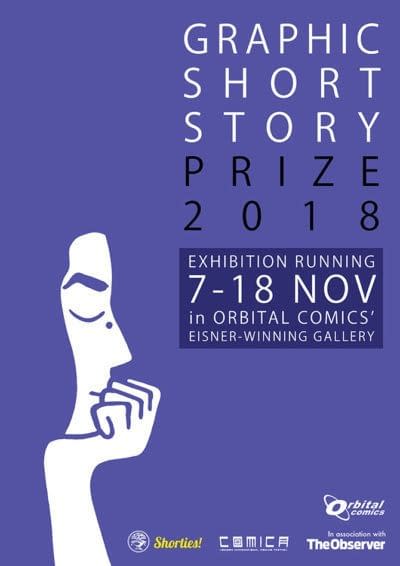 Observer Short Story Graphic Prize 2018, Orbital Comics. For the last few years, Orbital Gallery has been very pleased to host a series of exhibitions featuring the finalists from the prestigious Observer Graphic Short Story Prize, a fine showcase for upcoming British cartoonists. Previous winners have included Stephen Collins, creator of The Gigantic Beard That Was Evil and Julian Hanshaw, who created Tim Ginger. This year will continue the great tradition, and we'll be displaying the work of as many finalists as we can fit in the gallery this November between the 7th and 18th, with the winner scheduled to be announced in the Observer newspaper on November 11th.
Britain's Best Political Cartoons 2018, Putney Cartoon Gallery. An exhibition of original cartoons covering the major events of 2018 by Britain's leading national newspaper cartoonists such as Steve Bell, Peter Brookes, Gerald Scarfe, Christian Adams, Dave Brown, Chris Riddell, Morten Morland, Steve Bright, Peter Schrank, Ian Knox, Ben Jennings and Patrick Blower amongst many others. 31 October 2018 to March 2019
The Art Of Arthur Ranson, Orbital Comics, An exhibition by British comics legend Arthur Ranson. The show will run from October 5th to November 4th, and will feature original artwork spanning Arthur's illustrious career.
I Object, British Museum. A wide variety of objects (including comics and cartoons) will be on display in the exhibition – from graffiti on a Babylonian brick to a banknote with hidden rude words, from satirical Turkish shadow puppets to a recently acquired 'pussy' hat worn on a women's march. See what tales these objects tell – sometimes deadly serious, often humorous, always with conviction. Unlock the messages and symbols these people used, and get closer to understanding them. September 6th to December 31st
The Art of Sunbeam: A Tillie Walden Exhibition. Orbital Comics. Coinciding with the release of this major new graphic novel from Avery Hill Publishing, a collection of original pages from On a Sunbeam and a selection of other classic Tillie Walden works on display. September 21st – 4th October
100 Figures: The Unseen Art of Quentin Blake, House Of Illustration, Until 27 January 2019
John Vernon Lord: Illustrating Carroll and Joyce, House Of Illustration, Until 4th November
Journeys Drawn: Illustration from the Refugee Crisis, An exhibition telling refugee stories, both observed and experienced first-hand, Multi-media work by 12 contemporary illustrators will include Olivier Kugler's portraits from Calais and George Butler's reportage from Syria, animation by Majid Adin and manga by Asia Alfasi. House Of Illustration, 9th November to 10th March 2019
Events:
Thursday, 1st November
House Of Illustration Open Late – Until 9pm
Saturday, 3rd November
Family Workshop: Dream Home with Christopher Sacre – British Sign Language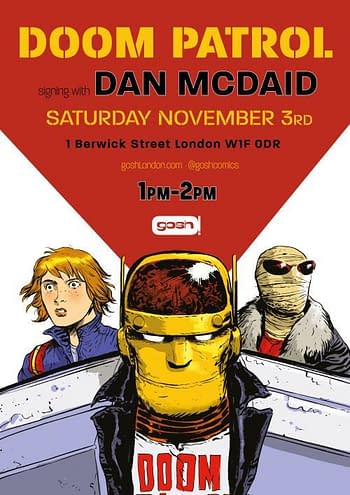 Doom Patrol Signing with Dan McDaid, signing of Doom Patrol #12: Into the Daemonscape! Gosh Comics, 1-2pm
Sunday 4th November
November Comic Mart, Royal National Hotel, Noon – 7pm
Tuesday, 6th November
Shoe Lane Comic Forum, Shoe Lane Library, Little New Street. 5.30-7pm
Islington Comic Forum, North Library, Manor Gardens. 6.30-7.30pm.
Saturday, 10th November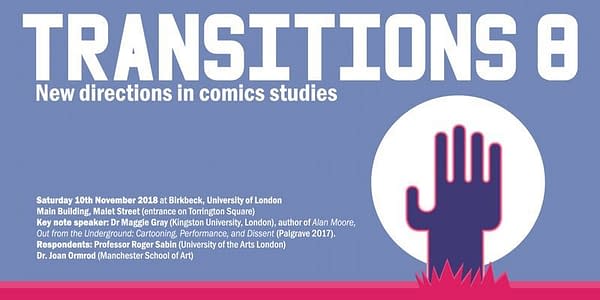 Transitions 8: New Directions in Comics Studies with Hallvard Haug (Birkbeck), Nina Mickwitz (University of the Arts London) and John Miers (Kingston), with Dr Maggie Gray (Kingston), author of Alan Moore, Out from the Underground: Cartooning, Performance and Dissent (Palgrave Macmillan 2017) as this year's keynote speaker. Free to attend.
WIP (Work In Progress Comics), Royal Festival Hall, South Bank, 11.30am
Sunday, 11th November
Dan Fogler signing Brooklyn Gladiator Vol 0, Forbidden Planet, 1 – 2pm
Monday, 12th November
Laydeez Do Comics with Teresa Robertson and Christina Peake, The Koppel Project, 6.30-8.30pm, Free, Book in advance.
Church Street Library Graphic Novel Club, Church Street Library, Marylebone, 6:30 – 8pm
Brompton Library Graphic Novel Reading Group, Upstairs in the Brompton Library Learning Space, Old Brompton Rd, 6:30 – 7.30pm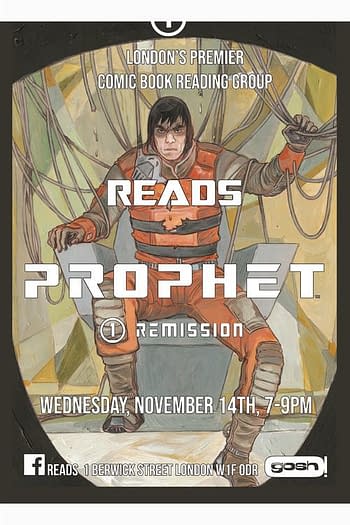 Reads November: Prophet Vol 1, Gosh Comics, 7-9pm. London's premier comics reading group returns, this month taking a deep dive into the first volume of Prophet, Brandon Graham's reimagining of Rob Liefeld's 90's creation.
Peter Milligan, David Manly-Leach and Rian Hughes signing Prisoner: The Uncertainty Machine, Featuring an exclusive Forbidden Planet cover by Rian Hughes. Forbidden Planet, 6 – 7pm. Featuring an exclusive Forbidden Planet cover by Rian Hughes.
Ram V signing Grafity's Wall, Batman Secret Files #1 and the Christian Ward White Noise variant of These Savage Shores #1, Forbidden Planet 6 – 7pm!
Tuesday, 13th November
Peckham Library Graphic Novel Book Group, Peckham Hill Street SE15 5JR, 6pm to 7.30pm
Thursday, 15th November
Barbican Comics Forum, Barbican. 5.30pm-7pm. A fun and informal book group dedicated to the understanding and enjoyment of the multifaceted medium of comic books and graphic novels.
Friday, 16th November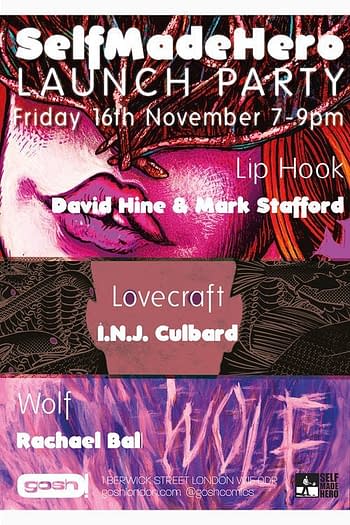 SelfMadeHero Party with Rachael Ball, David Hine, Mark Stafford and INJ Culbard, Gosh Comics, a quartet of SelfMadeHero stars here to help hold back those winter blues on to celebrate the release of their new books. 7-9pm
Saturday, 17th November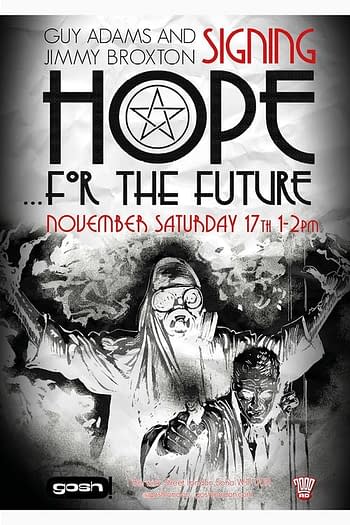 Hope Signing with Guy Adams and Jimmy Broxton, Gosh Comics, first collection of Hope, from the pages of 2000AD, on Saturday the 17th November, 1-2pm
Local Comic Shop Day 2018, Forbidden Planet, All Day
Tuesday, 20th November
Drink & Draw November Special, Gosh Comics, partnering up with Institut Francais for this months event. French comics veteran Alexandre Franc will be joining us on November 20th for special edition of Drink and Draw. 6.30-9pm.
Wednesday, 21st November
Al Ewing signing Immortal Hulk Vol 1 and You Are Deadpool Deluxe Box Set, Forbidden Planet, 6 – 7pm.
Saturday, 24th November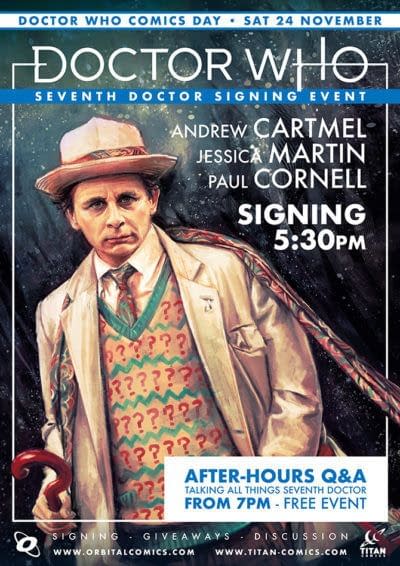 Doctor Who Comics Day Signing and Q&A with Andrew Cartmel, Jessica Martin and Paul Cornell, Orbital Comics, from 5.30pm, Q&A from 7.30pm. Free drinks.
Doctor Who Comics Day signing with Richard Dinnick signing The Thirteenth Doctor issue #0, and Brian Williamson and James Peaty signing The Road To The Thirteenth Doctor, Forbidden Planet, 1-2pm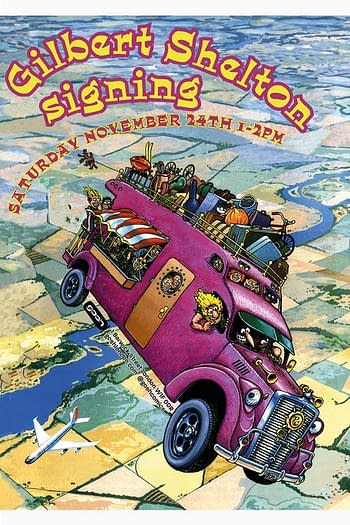 Gilbert Shelton Signing, Gosh Comics, 1-2pm
Family Workshop: Moving Pictures with illustrator Sion Ap Tomos to create illustrations with moving parts, House Of Illustration., 2-5pm
Monday, 26th November
Dalston Comic (creators) Club, Dalston CLR James Library, Dalston Lane, 6:30 – 7:30pm
Tuesday, 27th November
An evening with Wolf graphic novelist Rachael Ball with Alex Fitch, courtesy of Laydeez do Comics and SelfMadeHero, including Q&A and signing, House Of Illustration, 7-9pm
Wednesday, 28th November
Comica Social Club, The Central Bar, Royal Festival Hall, South Bank
Enjoyed this article? Share it!